Roxana De La O Cortez
Educating During a Pandemic
BA '16, Sociology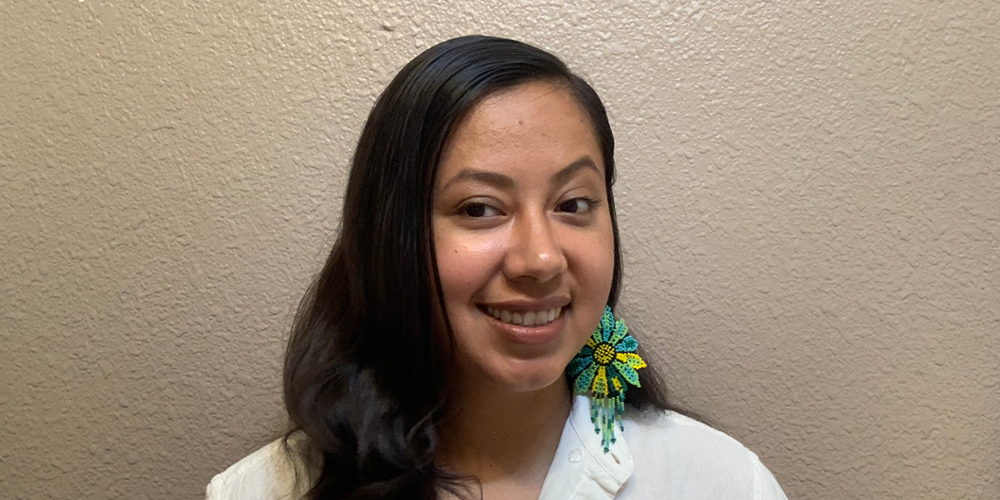 School is back in session, albeit a much different experience due to the ongoing pandemic. Roxana Del La O Cortez ('16), an Oakland Unified School District educator, had to quickly pivot to learn how to educate and make her students feel welcome through a computer screen. Virtual instruction is no easy feat for her students. "This pandemic has really shed even more light on the opportunity gap, the inequities that work within this system, the lack of resources in schools and so much more," said Roxana. 
Q&A with Roxana
Why did you decide to attend Cal State East Bay?
I decided to go to Cal State East Bay because if I remember correctly, it was the first college that accepted me. My mind was set on going to SoCal for college, but that went out the window when I got my acceptance letter. I just wanted to go to college and being a first generation student, I just didn't think about options or research on schools, it was just about getting in.
How has your education here at East Bay helped you with your endeavors?
Where do I begin? I can confidently say that the professors at CSUEB taught me so much that has been a part of the foundation of all my work. My major was sociology and my minor was in Ethnic Studies which has allowed me to approach all my work and life in general with that lens. I thank every single one of my professors for holding safe spaces to have discussions and push my thinking every time I crossed paths with them.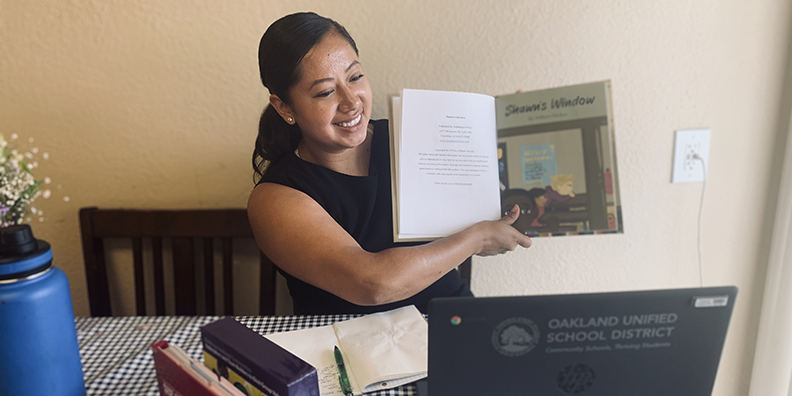 Tell us a little bit about your career journey and your job.
I like to jokingly say that my career journey started the second I walked into my 6th-grade classroom because my 6th-grade teacher is the reason why I wanted to teach. He taught with his heart, had the highest expectations, and most importantly introduced me to confidence. From that year on, I knew that my goal in life would be to try and be half the teacher Mr. Perdue was. In high school, we were required to do internships and I made sure mine were in education.
When I graduated East Bay I could not wait to be in the classroom. I taught for the first three years and in my fourth year I decided to sub and travel with my mother because it was a promise I had yet to accomplish. This year is my 5th year back in the classroom, but this time I am a STIP (Substitute Teachers Incentive Plan) at Manzanita Community in Oakland. As a STIP I get to do small group intervention which has allowed me to work with many different age groups.  Although I have only taught in elementary, I make sure to go back to Camp Phoenix every summer where we work with middle school youth from Oakland and work on that summer slide.
How has the pandemic affected your career and how have you pivoted as an educator?
The pandemic has affected my career a lot, as I am sure you may have heard on the news. I do not get to see my students in person, I am learning how to make students feel welcomed through a computer screen, I am learning what works and does not work via zoom, I am learning about so many different online programs while thinking about which program can be close to meeting student needs, I am learning how to build relationships with student families without meeting them in person, I cannot go out and play at recess with students,  and unfortunately I can go on and on. However, I am also very well aware that although many things are currently affecting my career, I have the privilege of having strong wifi at home, I have a quiet space at home where I can focus when working with students, I thankfully still have a job and do not have to worry about making ends meet, etc.
I say this to say that out of everything I just mentioned and did not mention, my career has been affected the most by seeing how it has affected students. This pandemic has really shed even more light on the opportunity gap, the inequities that work within this system, the lack of resources in schools and so much more. This has made me pivot as an educator by making sure I do more. More for me most recently has looked like getting more involved with our union even if I am only capable of doing so at my school, getting involved locally by being apart of the Hayward Community Coalition in order to make sure the city of Hayward is doing better and more for our community and making sure I am not only attending Oakland School Board meetings, but Hayward's as well because we cannot continue to fail our most vulnerable families.
Any words of advice for Pioneer alumni parents at home with little ones?
My piece of advice would be to be patient with the little ones and one's self. This is new for everyone and realistically students are not used to only sitting in front of the computer when they are at school. I think listening to their needs will go a long way and communicating that with their teachers in order to best meet their needs.
What is your fondest memory of CSUEB?
Oo, this would have to be between studying abroad in London and a simple moment I had. I'll keep it short and sweet and share about the moment I had.
My fondest memory would have to be me rushing out of class to serve some burgers on one warm afternoon while there is music playing in the background and looking at the time knowing I had to eventually make my way to the library. This event was thrown by ASI Event Squad, which I was a part of and loved. It is my fondest memory because I remember taking it all in knowing that one day I would look  back and miss college life.
If you can share one piece of advice with Pioneer students, what would that be?
My advice would be to take advantage of all the resources CSU East Bay has to offer. From the gym, to office hours, SCAA, Health Center, counseling, study abroad, bible studies, clubs, free events, etc. These are all chances for you to meet people and network. If there is something that you may think is missing, start it up!
What's next for Roxana?
You know, I haven't told many folks this because it is easier to say no down the line, but law school may be next for me. I want to do more and I think law school is the way I may be leaning towards. I have started studying for the LSAT so wish me luck!