Tamara Martin
Celebrating 50th Anniversary of the Nursing Department
BS '16, Nursing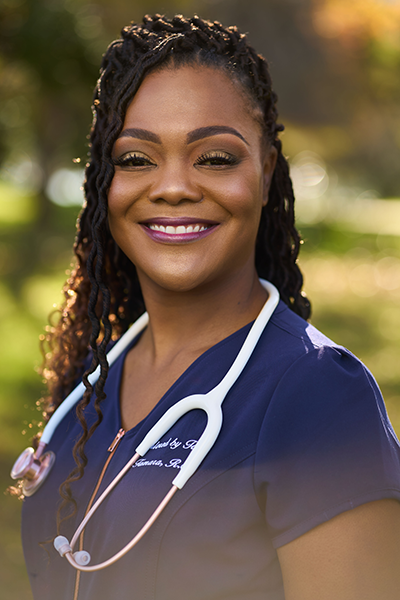 "Nursing for me is not about the money. It's something that comes natural to me. If you can do what you love and get compensated for it, It's not work. So there's something that you have a knack for. If it's art or singing, or computer science, or whatever it is that you feel called to, my piece of advice is Don't ignore that calling, Pursue it. You will be able to see that money will come when you are chasing what is true to you. People of different ethnicities, people of different walks, people of different socioeconomic backgrounds, and we are all in one collective melting pot.'' says Tamara Martin
Q&A with Tamara
Why did you decide to attend Cal State East Bay?
I decided to attend Cal State East Bay because I wanted to pursue nursing. Though I received a rejection letter and was put on a waiting list, I still did not give up on attending Cal State East Bay. I turned in various letters to the secretary and asked if I missed something. But anyhow, after having back and forth conversations with the secretary, I was finally off the waiting list and got admitted to Cal state East Bay.
How has your education at East Bay helped you with your endeavors?
I think nursing is very nurturing, and I feel like the professors were super super nurturing and super-knowledgeable. Also, the class-size was very decent, with neither less nor more students at a time, and there were tons of follow ups and most importantly, it felt like a home to me. Even my classmates. I still keep in touch with some of them, and we like to follow each other's journey, and they're seeing so it's like you make these friends that are your lifelong colleagues, and you all are rooting one another along, and I truly enjoy that.
Tell us about your career journey and your job. What is something that you love about your profession?
I originally started my college career at Laney College. But after, I started with the LVN program at San Francisco City College. And I did special needs nursing for school in San Jose for a year, and then I went back to ADN at College of San Mateo and started working at Sutter urgent care. I really loved it there because it was one of the best medical foundations. And then I finally enrolled at CSUEB for the nursing program and post completion of this course, I worked for Kaiser and then finally, I opened up my own venture in Pleasanton. It's called Serendipity Beauty Lounge, and we offer Botox and dermal fillers, hydrafacial and micro needle and skin care, and it is what I like to call happy medicine.
What is your fondest memory of East Bay?
The campus is beautiful. First off, it's a great place to come and study. It's a great place to come and clear your mind going up and looking at the fountains going up and looking at the amphitheater like it's just beautiful.
If you can share one piece of advice with Pioneer students, what would that be?
I would like to say that Nursing is not a profession where you can sit behind a computer and learn like you have to be hands-on. You have to be compassionate. You have to want it, and you have to want to feed your young so much in nursing. Also, There was a healthy, pulling up people by the hand and making sure that you guys all were standing at the end of the class. It wasn't the thing like, oh, this one is failing, and I am passing. We can stand together and say, look at what we accomplished, so I love it.