Welcome 2021 Graduates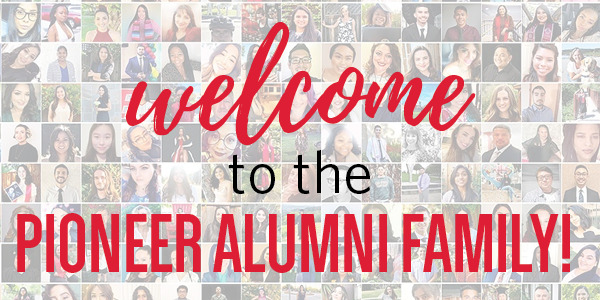 Congratulations to the Class of 2021 and welcome to life as a Pioneer alum! We celebrate you, your hard work, your perseverance, your resilience. We are so proud of you and look forward to seeing what you will accomplish!
Pioneer alumni sent in some congratulation notes for the Class of 2021. Read them below!
Congratulation Notes to YOU from Pioneer Alumni
Congratulations c/o 2021! You made it to the finish line. Celebrate how far you've come. You focused on your goals and followed your dreams. Now you are here. Blessings to you as you write the next chapter of your life, being and becoming. Join our Pioneer Family.
Elizabeth Bronson (B.A. '17, Ethnic Studies)
CONGRATULATIONS CLASS OF 2021!!! YOU DID IT!!!! Keep pushing & moving forward towards your goals!!! This is only the beginning!!! I wish everyone the best in their future endeavors!!!! God Bless...
Carissa Guidry (B.A. '12, Sociology)
Congratulations, graduating class of 2021. You did it! Be so proud of yourself and this amazing accomplishment. Welcome to the Pioneer Alumni Family and best wishes to you on your new journey as a graduate!
Jessica Whitacre ('19/'20)
I'm sure the road was tough at times but you kept on trucking! Congratulations class of 2021! There are so many opportunities waiting for you!
Tiffany Garcia (B.A. '04, Sociology & M.S.W. '12)
CONGRATULATIONS, CLASS OF 2021! If you were able to graduate during a whole pandemic you can do anything. Keep your head to the sky. Continual blessings to you on your journey!
Ronné Wingate Sims (B.A. '09, Sociology)
Congratulations on your accomplishment! Your class is one of a kind - overcoming college stressors during a global pandemic.
Therese Gonzales-Cortes (M.S.W. '18)
You will carry your college experience forever. Enjoy the trip.
Christopher Stier (B.A. '72, Anthropology)
Congratulations! The future will be even brighter now that you have that degree behind your name!
Samantha Calvillo (B.A. '17)
I attended what was then Cal State Hayward for just my senior year - in order to complete a bachelor's degree in SOMETHING. I had attended a science college for three years, gotten married, moved to California and worked for three years before I decided to finally get my degree. It was the best decision I could have made! My degree in experimental psychology got me a fascinating job in sleep research when we moved to Toronto for two years.

It was one quick year (4 quarters) at Cal State, of mostly psych classes, but I have all good memories. Use what you learned, in many ways and make the world a better place. Congrats!
Bernadette Benz (B.A. Psychology)
I honor your accomplishment. Completing undergraduate studies is no joke. I'm sure many of you faced hardships to get to this point, but take this moment to celebrate your accomplishment!
David Matz (B.A. '00, Sociology)
I went to get my degree and teach high school.
Did it.
6 years later I'm a farmer, and happy about it.
Point: Be flexible. Do what makes you happy. Just because you have a degree in X, doesn't mean you have to do X.
Be yourself, be happy.
J Marc Ackerman (B.A. English Literature)
Congratulations Class of 2021! You've just achieved a major accomplishment during one the most trying periods of our lifetime. I'm not sure if I could have done it. Best wishes as you begin the next chapter of your lives! Forever Pioneers!
Stefanie Ali (B.A. '15, Political Science)
Congratulations on your graduation after what must have been a most challenging year. I hope that you have as gratifying and satisfying a career as I have had thanks to the degree I received from Cal State East Bay.
Barbara Hempill (M.P.A. '76)
Live with a purpose, live with integrity, serve with love and forever be a pioneer!
Zerubabel Zeleke (M.S. '19, Economics)
Congratulations to my big brother Jose Ortiz Jr. And the graduating class of 2021! Well done!
Congratulations on making it all the way through! This is just the beginning for you. Celebrate by buying some crypto!
Matthew Schneider (B.S. Business, Finance)
So very proud of our Pioneers. Congratulations to the Class of 2021!
Stan Hebert (B.S. '76, Business Administration)
Welcome to the Pioneer Alumni Family. Always remember your "why" and you will know it was all worth it.
Erick Bell, CPA (B.S., Business Administration)
I understand your pain! I received my MBA at Notre Dame de Namur in 2020 and we have a virtual graduation coming up. However, there are those who lost loved ones, including myself, to this virus. Life goes on and CONGRATS GRAD! This is HISTORY.
Congratulations on your fantastic accomplishment class of 2021! You did it!
Victoria Murphy (B.S. '19, Business Administration-Finance)
Through the 2020 and 2021 adversity you succeeded. Congratulations 🎊🍾🎈🎉 Class of 2021!!!
Congratulations class of 2021!! You did it!! The best investment that you can ever make is in your education. Your education will always be yours. Your hard work and dedication are worth it. Stay strong and always look towards the next step in your journey and stay present in what is happening today. Congratulations.
Maria Perez (B. S. Business Administration/ Corporate Management and Human Resources)
Congratulations on persevering through on-line classes and reaching your goal! I wish you success in the future!
CONGRATULATIONS 2021!! You did it!!!
Congratulations Class of 2021! You did it! Special Congratulations to America Hernandez! Well earned!
Congratulations and welcome to the alumni squad. I truly feel that attending and graduating from CSUEB has played every role in the career I have today. Enjoy this moment and how hard you have worked, your next chapter has just begun. #classof2021
Jordan Camacho (Business - Corp Management, option in Supply Chain)
Congratulations c/o 2021! May you shine bright in our world and succeed with grand prosperity.
Janellelise Ondevilla (B.A. '18, Hospitality)
You Did It!!!!Congratulations
Tammy Bankston (B.A. '16, Psychology Human Development)
Congratulations Heather Brown
Congrats!
What a great accomplishment! It was a lot of work but you did it. Be proud you graduated from Cal State East Bay. If you did this, you can do anything.
Karen Beck (B.A. '81, Education)
Graduates, congratulations on your all your hard work and perseverance. This is your time to take on the challenges of this world. There no limit to what you can accomplish for yourself and mankind. Go forth and do what you do best. Shine Pioneer Shine!
Alvin Burns (M.S. '06, Education Technology & M.A. '12, Education Leadership)
I want to say Congratulations! Your efforts have paid off and you should be extremely proud. This has been one of the most challenging years and you persevered. Lean into that courage when things get rough and you will be successful. Welcome to the Alumni Club💜
Nikita Gibbs-Nolen (B.A. '99, Psychology)
Congratulations to all of you for working so hard to complete your education especially during such a difficult time. Graduation is definitely not the end of your education. I encourage you all to continue working hard, keep learning, and continue to use your education to improve yourself and your community. You all have such a solid foundation from an excellent school regardless of your chosen programs. I wish you all the best in your future endeavors!
Jeremy Einowski (B.S. '19, Microbiology)
Congratulations to all Graduates that endured the hardest two years of any academic years one's could've endured in a lifetime. I applaud your resilience and commitment to higher education and love to further your future. Congratulations and well wishes from the class of 2012.
Doveenic Cacacho (B.S. '12, Health Science)
Congratulations to the 2021 graduating class! This past year has definitely been a tough, unprecedented, and crazy year, but you all were able to persevere and commit to excellence! Here's to all of you and continue to be great!
Kwa'Wayne DeFils (B.S. '19, Criminal Justice Administration)
Congrats to all graduates. Consider a career in eye care, as I did. There is a severe shortage of Black and Hispanic optometrists. Financial aid is available. There are 3 colleges in California, including mine: Southern California College of Optometry, also; UC Berkeley, and Western.
Michael Molamphy, (B.S. '72, Biology)
Congratulations class of 2021!
Ja'Vecia Horton (B.A. '16, Psychology)
Congratulations to the graduates of class of 2021! You all will have unique memories to share because you all did it in spite of COVID and other challenges. Wishing opportunities and success coming your way. Way to go PIONEERS!!
Elhaam Omar (B.A. '19, Psychology)
Congratulations on your graduation. I think Cal State East Bay is an outstanding academic institution
Eric Wasiolek (MS '08 & MBA '11)
Follow your dreams and the money will follow! Congratulations 🎉! Go travel the world while you can!
Jeannette Valencia (B.A. '01, Recreation Therapy)
Congrats to the newest bright future ones coming into the professional world in open arms!
Congratulations Class of 2021! Welcome to the Pioneer Alumni Family!
Cristian Colimote (M.S. '19, Construction Management)
You made it! It wasn't easy, but you made the decision, did the work, and pushed through. You changed your life forever. Next: the world! Congratulations.
Morgan Jones (M.S. '15, Geology)
Congratulations to all of you with a Special congrats to Shauntrise Hill.
Congratulations and keep on moving ahead!
Laura Tea (B.S. '99, Nursing)
Congratulations April Reyes. You have worked so hard for this day. You did it! Wishing you the best that the future holds for you!!!
Congratulations Class of 2021!
Facing challenges with strength, determination, and confidence is what matters, and you have done it.
Zebib Teklyes (M.S. '19, Construction Management)