INSPIRE

Incoming Student Program for Inclusion, Retention, and Excellence
Cal State East Bay's INSPIRE provides a brave space for students to grow, learn, and engage with faculty, campus life, and each other. INSPIRE's social justice themed graduation pathway builds community and bridges academics with lived experiences.
Eligibility
INSPIRE welcomes incoming CSUEB students who are Pell Grant eligible, First Generation college students, from an underrepresented group, or required to take Early Start
No minimum GPA required. No cost to join the program.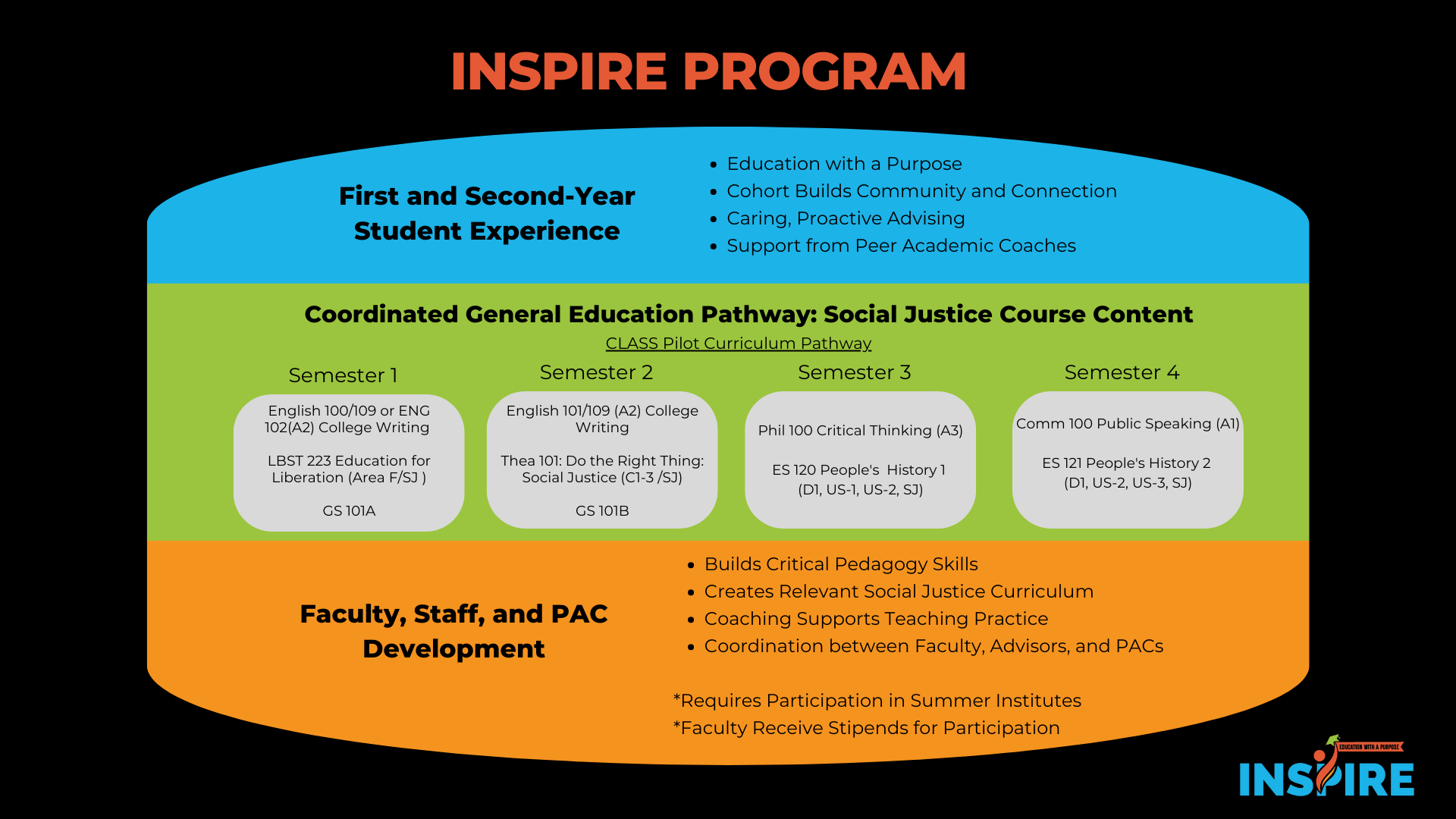 Open to the following majors:
Anthropology
Art
Business
Communication
Criminal Justice
English
Environmental Studies
Ethnic Studies
French
Geography
Global Studies
History
Human Development
Liberal Studies
Music
Philosophy
Psychology
Political Science
Sociology
Spanish
Speech Pathology & Audiology
Theatre Arts
Undeclared
Key Components for Student Experience
Students cohorted to build supportive community, connecting them to each other and the university
Articulated INSPIRE GE pathway in Freshman and Sophomore years
All courses integrate social justice as a theme and provide BIPOC students with a critical lens to view their lives, communities, role in the world
"I love the interconnectedness with our group of students. We're all struggling a bit, but it's okay because we're also getting help and learning together."
"The workload. I really appreciate it being small but also impactful. Like in ENG, we have that essay but it was so nicely spaced out that I can take my time and feel less stressed which is great compared to my harder, more demanding classes. I also appreciate LBST and GS classes, it's important to me that students are finally getting a say in the world of education and are learning about other ethnic groups and privilege."
"I like that all the courses are social justice based and even though they are all around that concept, each course is a little different & we get to learn about different aspects of social justice. I find [LBST] inspiring because it encourages us as students to use our voice and speak our thoughts & opinions."