Smith Center Start-It UP!
Start-It UP! Series Overview
Each year, the Smith Center organizes the Start-It-UP! Series with the UP! Club, where student entrepreneurs are mentored to create the perfect pitch for their startup. Students attend a series of workshops to develop their ideas and prepare to present to a panel of judges made up of VCs, entrepreneurs, CEOs, and industry leaders for a chance to win $10,000 in prizes.*  
*Subject to CBE approval and not a cash prize.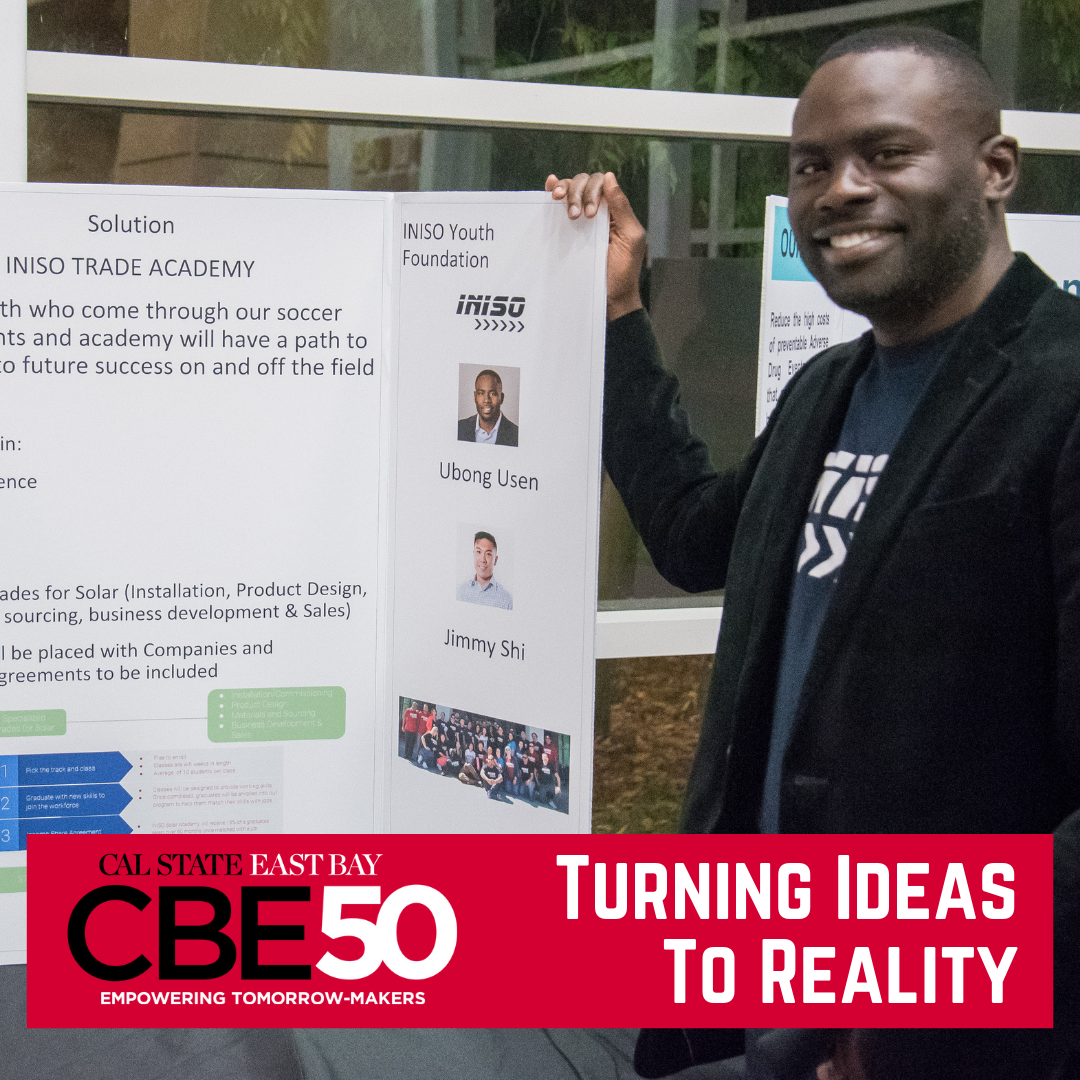 Start-It-UP! offers students at Cal State East Bay a place to collaborate, innovate and support each other's aspirations; whether that is creating their own start-up or working with a team to realize theirs.
2022 Start-It UP! Series Calendar of Events
(Click on title of each event to register)
Start-It UP! Launch Month
Get to know more about the UP! Club, how to enter the Pitch Day Competition 2022, how to get accesss to exclusive events*, and career opportunities
With guest speaker Gary Prioste- President of Cloud Solutions at Quisitive.
Start-It UP! teams learn about finding a need for a business to address, researching and estimating the market size for the business idea, and work on related parts of the pitch deck. Resources to be used: https://bit.ly/1st-Workshop https://bit.ly/2nd--Workshop
Startup Grind
Exclusive Access Apr 12-13* Sign up at the Start-It UP! Launch/Ideathon event on Mar 22nd or contact us directly.
Teams learn about proposing commercially viable products/services and delivery systems; they work on a symbolic prototype and related parts of the pitch deck. Resources to be used: https://bit.ly/3rd-Workshop
Access the Pitch Deck Template using the link above.
Pitch Day Finalists Announced
Finalists present in front of a panel of judges and a winner will be chosen. CLICK ON THE EVENT NAME (PITCH DAY) TO RSVP.
Start-It UP! Success Story
I can confidently say that the Smith Center's Start-It-Up! Series and pitch competition changed my life. Half a year prior to this Series, with the help of a team, I designed a card game that expands emotional intelligence, soft skills, and improves the quality of in-person communication. Playtesters loved it and there was a need for it in this world, but I didn't establish any plans to bring it to market because there was nothing giving me that direction and push. Then came the Start-It-Up! competition.
The Start-It-Up! Series gave me the opportunity to turn a passion project of mine into a career upon graduation. Participating in the workshops and winning second place in the competition fueled my ambition to dedicate my all to this product. I received fantastic mentorship from the Smith Center directors, Christian Roessler and Izzet Darendeli, and advisor Tim Wat. They genuinely cared about the success of our startup idea and provided constructive, practical feedback.
The workshops guide you in developing a business around your idea through an accelerated process which is challenging yet rewarding. We accomplished so much in such a short amount of time. The opportunity to conquer a challenge like this simply isn't possible in a typical classroom setting. The pitch competition was the highlight of my student experiene.
Sophia (Romanov) Weissman, CEO of Jest
Bonty
Bonty
A gentle approach to skincare.
Flip Back
CreARTivity
CreARTivity
We will help you inspire your inner artist, so you can create life's masterpieces!
Flip Back
EzTruckin
EzTruckin
Helping truck drivers adapt to the technology era.
Flip Back
GIG-E
GIG-E
A next generation gig marketplace that provides an all-inclusive solution for "on-demand" employment and economic opportunities.
Flip Back
Hook It UP
Hook It UP
Easy way for students to complete tasks.
Flip Back
Iniso
Iniso
Impacting society not only in Etinan, Nigeria, but in the world at large.
Flip Back
Jest
Jest
Ridiculously funny way to expand emotional intelligence and social skills.
Flip Back
Lend-A-Hand
Lend-A-Hand
An AI based credit scoring, risk assessment and tracking system that enables POS financing through merchants within minutes.
Flip Back
Mayvenn Hair Artelligence
Mayvenn Hair Artelligence
Dynamic style options with unique tailored results for each user.
Flip Back
PentaRx
PentaRx
Better Data. Better Health.
Flip Back
Play2Save
Play2Save
An affordable monthly subscription for our sustainable toy.
Flip Back
Shelter Tonight App
Shelter Tonight App
Providing a dynamic easy to use app in real time connecting available resources for homelessness.
Flip Back
Student Engine
Student Engine
Inspire, engage, achieve.
Flip Back