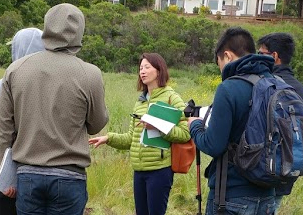 Galindo Creek Field Station offers faculty with an on-campus area suitable for scientific research. As East Bay creeks have been seriously compromised by damming, stream bed alteration, dumping, the introduction of non-native plant species, and other consequences of urban development, creek restoration and continuous stewardship presents the university with a practical problem that requires practical solutions—one that provides faculty with an opportunity to engage their students in experiential learning.  

Furthermore, the development of a field station at Cal State East Bay reinforces the California State University's 2014 Sustainability Policy, which launched the "Campus as Living Lab" (CALL) grant program. The program has as its primary goal the partnering of interested faculty and facilities operations staff to "work together to incorporate a specific university challenge into the curricula of courses."  
If you are interested in conducting research at Galindo Creek Field Station, send a brief overview of your proposed project, your institutional affiliation, and a projected time frame to gcfs@csueastbay.edu.