Eric Fricke, Ph.D.
Associate Professor of Finance
E-mail:
Phone:

(510) 885-2064
Office:

VBT 423
Office Hours:

WED. 4:30 PM - 6:00 PM & THURS. 12:00 PM - 1:30 PM
Vitae: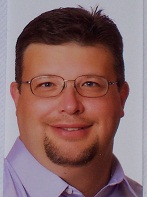 Dr. Fricke joined Cal State East Bay in 2008 after earning a Ph.D. in Finance at Pennsylvania State University.  He teaches corporate finance (FIN 3300) and investments (FIN 4310 and FIN 6310) with a research focus on capital investment, corporate governance and stock returns.  Prior to academia Dr. Fricke earned Mechanical Engineering and MBA degrees from Cornell University and worked as Director of Business Development and Strategic Planning at Emerson Electric focusing on acquisitions, financial analysis, product line planning and business development.  On the job he used the same tools taught in class and strives to incorporate "the real world" into class material.
Professional Focus
Published Research:
"Can momentum and other risk factors predict capital investment growth?," 2012 with Scott Fung.  Advances in Financial Planning and Forecasting.
 "Capital investment, cash holdings, and the role of corporate governance," 2012.  International Research Journal of Applied Finance.
 "Board compensation, holdings, and mutual fund expense ratios," 2013.  Managerial Finance.
Working Papers:
"Board compensation, holdings, and mutual fund manager turnover," 2012.  Revise and resubmit at Journal of Financial Services Research.
"Google Search, Information Uncertainty, and Post-Earnings Announcement Drift," 2013 with Scott Fung and Sinan Goktan.  Under review at Managerial Finance.
"Online Course Design:  Student Preferences for Content Delivery, Communication and Testing Methodologies," 2012 with Jagdish Agrawal.  Under review at Journal of the Academy of Business Education. 
"Capital Investment and Managerial Myopia," 2011.
"IPO Underpricing and CEO Compensation," 2009.
Education
Ph.D. in Finance, Pennsylvania State University
M.B.A., Cornell University
B.S. in Mechanical Engineering, Cornell University
Courses
Service
College Curriculum Committee, Chair
University Appeals Committee, Member
Delta Sigma Pi Fraternity, Advisor
FAME student finance organization, Co-advisor