Michael Hall Faculty Profile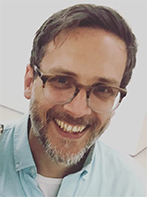 Michael  Hall
Assistant Professor
E-mail: michael.hall@csueastbay.edu
Phone: (510) 885-3111
Office: AE 275
Office Hours: Tuesdays and Thursdays 10:00-11:30 and by appointment
Home Page: www.michaelhallstudio.net
Note: CSUEB does not pre-approve, monitor, or edit personal pages. Faculty members are solely responsible for their content, and are expected to conform to the policy guidelines of CSUEB.
Michael Hall is an educator and artist whose work is concerned with finding empathy and complexity in situations that are often polarized and oversimplified. As an artist whose perspective was strongly shaped by his family's military heritage, he looks to add a more nuanced approach to necessarily critical but discordant conversations. Through painting and participatory works he addresses these dynamics within a larger, multifaceted cultural context: one of complicated family webs and communities, structural pedagogy, systematized aesthetics and the tenuous space between control and protection.
Hall is a recipient of both a Joan Mitchell Foundation Painters and Sculptors Grant and a MFA Fellowship at the Headlands Center for the Arts. In 2014 he was awarded an Alameda County Arts Leadership Award. His recent Bay Area exhibitions include Catharine Clark Gallery, Patricia Sweetow Gallery, Southern Exposure, SF MOMA Artist Gallery and Blankspace Gallery. His work has been featured in group exhibitions nationally and throughout California as well as numerous online and print publications, including New American Painting.
He was born in San Diego, California to military parents and has lived around the world in Japan, Russia, England, and France. Hall received his BFA from the California College of the Arts and his MFA from Mills College. He currently lives and works in Oakland, California. Since 2003, he taught at Creative Growth Art Center, where he began the first video production class for artists with developmental disabilities. Additionally, he taught painting at Mills College, UC Berkeley and has participated on the curatorial board at Southern Exposure in San Francisco. In the Fall of 2016 he joined the Faculty of the Department of Art at California State University East Bay as Assistant Professor, Painting and Drawing.