Ken Hanley Faculty Profile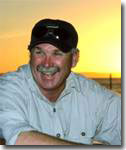 Masters Degree: Environmental Recreation Mgt. (CSUH, 1984/ Phi Delta Kappa)
BA Degree: Fine Art and Recreation Management (CSUH, 1982)
Instructor, California State University East Bay (formerly CSU Hayward)
…Hospitality, Recreation, and Tourism Department / 1995 to present.
…Business Management and Marketing Department / 1998 to 2006
Founding Board Member/Certificate Program
Outdoor Education Programs at DeAnza College and College of San Mateo
(Program instructor 1976 to 1995).
Coordinator of "The B.A.E.E.R. Fair"
(The Bay Area Environmental Education Resource Fair)
The largest environmental education fair in the western U.S., targeted toward the professional teaching community. (1985 to 2014)
Owner of Adventures Beyond / Pacific Extremes
(Established 1977 – programs conducted with over 18,000 students)
Adventure travel business and field seminar/workshops.
Member of the adventure recreation & environmental education industry since 1970
Hall of Fame Inductee, Federation of Fly Fishers (California Chapter), 2005
Author of Seven Books
Sample… Tying Furled Flies for Trout, Bass, and Steelhead (2008, Headwater Books)…Book of the Year Award 2008…The Outdoor Writer's Association of California
Freelance writer and photographer
Columns and articles appear in numerous national and international publications.
Public Speaker, Seminar Presentations, and Video Personality
Public education outreach programs in venues around the US, Europe, and Mexico.
Pro Staff and Sponsors: SAGE Instructor, SIMMS, Hatch Reels, RIO Products Intl, Daiichi, Renzetti, Umpqua, and Patagonia
Ken's extensive field experience spans the globe; from the highest peaks in Tibet and the Himalaya, to the remote wilderness regions of Asia, New Zealand, Mexico, Europe, and North America.
Ken's website: www.pacificextremes.com
MS, California State University, Hayward
Fall Semester 2023

| Course # | Sec | Course Title | Days | From | To | Location | Campus |
| --- | --- | --- | --- | --- | --- | --- | --- |
| REC 100 | 03 | Intro to Rec and Rec Therap | ARR | | | WEB-ASYNCH | Online Campus |
| REC 230 | 01 | Intro to Youth Development | ARR | | | WEB-ASYNCH | Online Campus |
| REC 300 | 07 | Wellness Through Leisure | ARR | | | WEB-ASYNCH | Online Campus |