Jeffrey Sykes Faculty Profile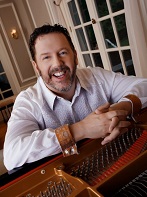 Jeffrey  Sykes
Lecturer, Collaborative Piano, Vocal & Instrumental Coaching
Acclaimed by the Frankfurter Allgemeine Zeitung as "a commanding solo player, the most supportive of accompanists, and a leader in chamber music," pianist Jeffrey Sykes has performed across four continents and collaborates regularly with leading instrumentalists and singers. In the fall of 2018 he gave a recital on Chicago's prestigious Dame Myra Hess concert series, and he recently returned from a tour of France that culminated in performances of French solo and chamber music at the Musée des Impressionismes in Giverny, home of Claude Monet.
Together with violinist Axel Strauss and cellist Jean-Michel Fonteneau, Sykes is a founding member of the San Francisco Piano Trio, an ensemble noted for its virtuosic interpretations of works ranging from the trios of Haydn and Beethoven to those of Leon Kirchner and Astor Piazzolla. He is the co-founder and artistic co-director of the Bach Dancing and Dynamite Society of Wisconsin (www.bachdancing.org), a highly-acclaimed and innovative chamber music festival now in its thirtieth season. The festival is noted for integrating dance, drama, and visual art into the concert setting and creating an approach to chamber music that makes it more easily accessible to audiences. He is a regular guest artist with the Brooklyn Chamber Music Society; the Cactus Pear Music Festival and the Olmos Ensemble in San Antonio, Texas; and Music in the Vineyards in Napa Valley, California; and in 2007, he served as the guest artistic director of Music in the Vineyards. He has recorded for the Albany, CRI, Mandala, Centaur, and Cactus Pear record labels, and in spring of 2018 released the world premiere recording of Kevin Puts' song cycle In at the Eye on the Albany label.
For eighteen years, Dr. Sykes served as the Music Director of Opera for the Young, a preeminent producer and presenter of opera for children that has introduced more than two million children to opera.  He teaches piano, voice, and chamber music at the University of California at Berkeley and California State University, East Bay. He coaches regularly for CMNC and ACMP and coaches chamber music groups across the Bay Area. A recipient of the Jacob Javits Fellowship from the United States Department of Education, he completed his doctorate at the University of Wisconsin-Madison.