Alumni Mike and Shirley Coke Donate to Launch Student Investment Fund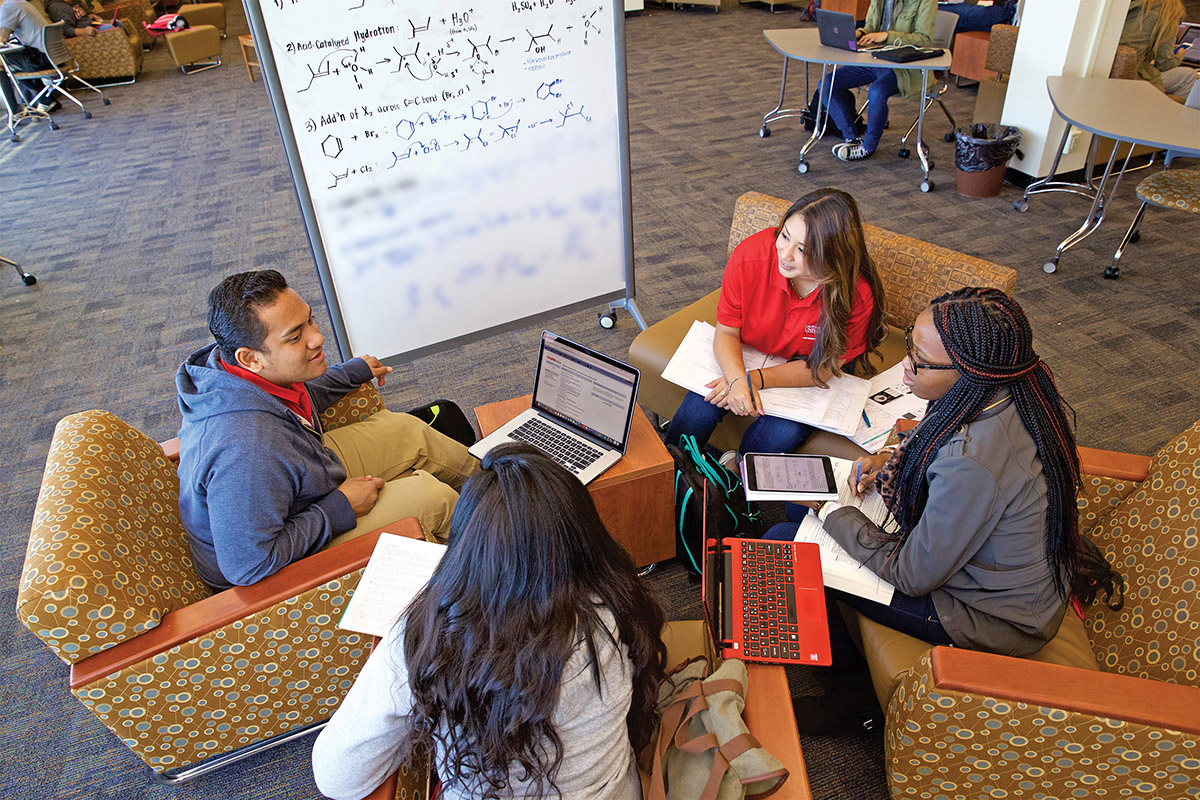 About the Donation
"I think anytime a student can spend time thinking through investment rationale, that is applicable all across their life." — Mike Coke '90
Today's students can do just that, thanks to a generous donation of stock worth over $100,000 by Cal State East Bay alumni Mike and Shirley Coke.
Starting this fall, students in the College of Business and Economics will learn what it's like to work at an investment firm through a new program called the Student Investment Fund (SIF). The program will focus on investing in Bay Area companies and include an elective course in accounting and finance.
"The SIF will give students hands-on experience in how to effectively invest in the stock market, using real money, with real profits and losses," said Dr. George Low, dean of the College of Business and Economics. "These investment decisions will be based on data analytics, in-depth economic analysis of industry sectors, and a thorough analysis of companies' past, current, and future financial performance. There is no better way to learn how the stock market, industry sectors, and overall economy interact and work than by making financial decisions that result in immediate feedback."
As students go through the program, they will have the opportunity to gain additional leadership experience by taking on investment firm roles such as "Sector Leader," "Assistant Fund Manager," and "Fund Manager." Students from other majors are also allowed to become "Analysts."
By definition, investing is putting down money with the expectation that it will grow and multiply. 
"The basic idea is to 'buy low, sell high,'" said Dean Low. "This particular fund will have a long-term investment objective, so that the overall portfolio will increase in value over time, at a rate higher than the market average."
About the Student Investment Fund
Dean Low has worked to establish the Student Investment Fund since he joined the College of Business & Economics in 2018. 
"When I discovered that we did not have such a fund, something most leading business schools have had for many years, I worked with our associate dean, finance faculty, and the chair of the Accounting & Finance Department, to develop a proposal based on best practices around the country," Low said.
With the framework in place, the next step was to find investment capital—the fundraising goal is $500,000. Connecting with Mike Coke was truly a moment of kismet. 
"Mike understands the benefit this program will bring to our students, as he has experience with a similar fund elsewhere," Low said. "He was immediately interested in helping us make it happen with his founding gift. He is also staying involved as a volunteer and advisor and we are grateful to be able to draw upon his expertise."
"Donors of any amount can support programs that are meaningful to them—and know that their gifts will have an impact," said Penny Peak, director of development. "Some donors choose to invest at Cal State East Bay because their degree helped them in their careers, they appreciate their time as students, or they want to help current students afford an education or have a special educational experience. I think several of these factors were true for Mike and Shirley in choosing to make this generous gift."
About Mike and Shirley
Mike initially started at UC Davis studying math. He quickly realized huge class sizes weren't for him, but he knew he wanted to do something with numbers. After finding out that Cal State East Bay (then Hayward) had a business program, and that his high school girlfriend Shirley was going to school there, he made his way to the Bay Area where the two would eventually settle down and marry. An accounting class taught by lecturer Bruce Raine sparked his interest in accounting and put his penchant for numbers to use.
After graduating in 1990 with a B.S. in Business Administration, Accounting, Mike worked for the accounting firm Arthur Andersen and continued in the accounting and real estate fields at companies including AMB Property Corp. In 2007, Mike co-founded Terreno Realty Corporation, a nationally traded industrial real estate company.
Shirley graduated with a B.A. in Liberal Studies, minor in sociology. She became a counselor and social worker and then transitioned into focusing on raising their family. "She's more than 50% of our success," Mike shared.
Launching the Student Investment Fund is Mike and Shirley's way of sharing some of the good fortunes they had after graduating and growing in their careers.
In a conversation, Mike revealed why he is passionate about sharing the knowledge of investing with students, and the pieces of wisdom he's acquired throughout his decades of experience.
Investing is a Skill Applicable to Life
When discussing investing, Mike said, "The whole goal in life is to go to school, try to earn a living, and ultimately create a little bit of wealth so you can take care of your family and retire. All those decisions along the way, how you invest your 401(k) money, buy a piece of real estate for your house...all those things to me are investment decisions."
Mike continued, "I think the rationale and thought process that can be taught in the program can have a wider impact on a student. I feel like experience with the investment fund would be a great way to get a broader view on life and get something that's applicable to their whole lives."
Shift Expectations When Starting Your Career
"There's a lot of practical things that I tell kids. But as far as a more philosophical piece of advice... People are so focused right now on: 'I want the perfect job to be my first job.' It just doesn't exist."
"I recommend that students do well in school, work hard, get out, and get a job," said Mike. "Do that first job for a couple of years and start figuring out what you really like and enjoy, then figure out how to tweak your career path to do something you really enjoy. I think ultimately when you approach growth in your career strategically, you can be much more successful in life, rather than trying to hunt down enjoyment first thing out of the box. Because you're just going to be disappointed."
Continuing the Legacy
The College of Business and Economics strives to equip business leaders with the skills to create an impact in their lives, companies, and communities. Mike and Shirley's generous support of the Student Investment Fund ensures that students will be able to develop significant and practical new skills while they are still in school, which will benefit them for decades to come.
To support the Student Investment Fund or learn how a gift of securities or assets can impact Cal State East Bay's programs, please contact Penny Peak, director of development, at (510) 885-4156 or penny.peak@csueastbay.edu.