MESA Empowers Science Minded Students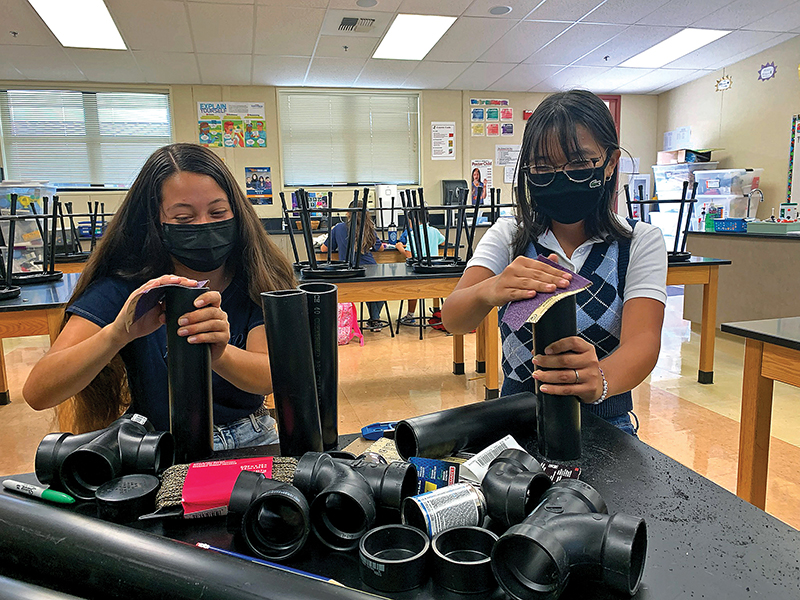 Over 50 years ago, the Mathematics, Engineering, and Science Achievement (MESA) program was founded at Oakland Technical High School to develop academic and leadership skills, raise educational expectations, and instill confidence in students historically underrepresented in engineering, physical science, or other math-based fields. The goal was to increase the number of African American, Latinx American, and Native American graduates from four-year universities.
In the 1990s, the MESA Program adopted a new goal: to serve educationally disadvantaged students and — to the extent possible by law — emphasize participation of students from groups with low rates of eligibility for four-year colleges.
Today, MESA's success comes from a combination of academic support, hands-on learning, supportive student communities, career preparation, exposure, and more. Most of MESA's 22,000 students are the first in their families to attend college, are low-income and attend (or attended) low-performing schools.
More than 75% of students come from historically underrepresented ethnic groups.
"Cal State East Bay MESA opened my eyes to the possibilities of engineering," said Hillary, a local high school senior. "I always loved math and science, but never considered or learned about engineering until MESA."
The Cal State East Bay MESA College Prep Program supports students and teachers from 6th through 12th grades in Antioch Unified School District, Fremont USD, Hayward USD, Pittsburg USD, and the West Contra Costa USD.
The program builds a community where students and teachers develop their confidence, competence, and love of STEM that fosters curiosity and a drive for students to excel in math and science, and go on to college in math-based majors.
"The Cal State East Bay MESA College Prep Program has been a part of our community for more than a decade and, in the past few years, we have seen an increase in student and family engagement, an increase in STEM content knowledge in the teachers we support, and 97% of graduating seniors go on to college directly after high school," said Janiene Langford, MESA director. "Key to this success is the ability to leverage resources from our campus to connect our MESA community to our students, faculty, and staff, all of whom help demystify the college
experience. We are incredibly fortunate to have the expertise and guidance of Dr. Cristian Gaedicke, associate professor in engineering, to help guide our work, as well as our Cal State East Bay MESA Industry Advisory Board."
One critical element to the continued outreach and success of the Cal State East Bay College Prep Program is the philanthropic partnerships of Chevron Richmond, Boehringer Ingelheim Cares Foundation, Broadcom Foundation, the Dean & Margaret Lesher Foundation, and Marathon Petroleum.
"Our ability to consistently serve five school districts and more than 600 students and 25 teachers annually is made possible by the generosity of our partners," said Langford. "These organizations have a vested interest in seeing historically excluded students thrive in STEM fields, and are helping to ensure that the future of the STEM workforce reflects the communities they serve. In addition, our Industry Advisory Board helps to guide our work to ensure that we are preparing students for success beyond middle and high school."
"We're proud to support the MESA Program in its pursuit to increase STEM participation among educationally disadvantaged students," said Karen Iannella, president of Boehringer Ingelheim Cares Foundation. "By funding programs that foster intellectual curiosity and lift up young minds, Boehringer Ingelheim Cares Foundation helps to ensure the next generation has equal opportunities for their future success."
Lily Naaz Rahnema, community engagement manager for Chevron Richmond Refinery, said, "The Chevron Richmond Refinery is a proud supporter of the Cal State East Bay MESA College Prep Program.
Chevron's investments in education are long-term and far-reaching, and partnerships like these facilitate STEM positions for the next generation of problem solvers to tackle the most complex future challenges."