Tech for Good
BY STEPHANIE HAMMON
June 1, 2016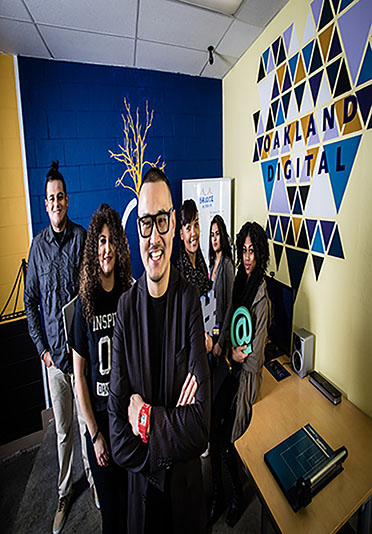 GARVIN TSO
Shaun Tai (B.A. '02, Digital Arts) began his digital media and marketing career by striking out on his own, and it's a decision the Cal State East Bay alumnus has repeated time and again — even when choices with less risk were offered to him.
"After I got my master's from San Jose State I actually turned down a pretty decent architecture job to start a hip-hop show," Tai recalls.
Driven by his love of music, Tai debuted "Pushin' The Bay," a retrospective on rap/hip-hop in the Bay Area, in 2006.
"That hip-hop show really helped me understand how powerful technology was at a time when YouTube wasn't what it is today," he says.
In just a year, the gamble paid off — Tai's show generated millions of views, laying the groundwork for his digital future.
By 2009, the young entrepreneur had taken a marketing job with the chief scientist at Amazon.com when he decided to once more walk away from the safety of secure employment to pursue his own vision: Create a nonprofit that simultaneously helps underprivileged students and communities struggling to keep up with technology.
It's a challenge that Tai himself has had to face.
"My mom didn't understand (the importance of being online), and people still don't. She was a small business owner in Oakland and went through the traditional era of advertising. In the late '90s her sales were going down. I wanted to help her, and created a website and digital presence for her. She was able to evolve into the next level and had sales from all over the country."
Through the experience, Tai also realized the need for students to gain real-world experience and create professional connections for their careers.
"I thought, 'What can I do that bridges students to businesses in a way that helps both groups?'" he says.
It was a risk, to be sure. The country was going through a recession at the time, the technology boom had not yet reached the East Bay, and Tai had just $300 to invest in a venture.
"It's real people from the community that are eager to get ahead. That's exactly what Oakland Digital is about."
"Even my own mom said, 'Shaun, you're crazy,'" he says.
But seven years later, Oakland Digital Arts & Literacy Center is thriving. Its hip downtown Oakland studio has the traits of all the hot startups — a colorful workspace, bikes, snacks and energized young people committed to a simple, powerful mission: To use technology for good.
Kind of like Google's company motto, "Don't be evil."
Yet, Oakland Digital is different.
The people who work for Tai aren't superstar software engineers from prestigious universities. Instead, they are regional students, often from disadvantaged backgrounds, who share his desire to make an impact on small businesses and the local economy.
In fact, if Oakland Digital resembles any place it may be Tai's alma mater. 
"One of the things I really love about Cal State East Bay, to this day, is the diversity from an authenticity standpoint," he says. "It's real people from the community that are eager to get ahead. That's exactly what Oakland Digital is about."
Last May, Tai was named the university's Distinguished Young Alumnus of the Year, and a few months later, Oakland Digital honored Cal State East Bay President Leroy M. Morishita at its annual Inspiration Awards.
"Morishita (told me) 'We and Oakland Digital are one and the same. We're about providing people who don't have resources or have less resources (with education) and (helping) them to get ahead in life,''' Tai says.
Through summer internships, Oakland Digital connects students who need hands-on experience with businesses that need digital marketing and social media plans. The students also have opportunities to tour corporate campuses and network with some of the area's tech giants. "We're trying to bridge young people who lack the resources to get ahead with these amazing technology leaders: Google, Twitter, Yelp, IBM, The Clorox Company.
"(But) it's not just about getting people into tech. It's about making them feel confident in themselves and getting them to work in a professional environment, doing something of good for the community while building skills."
Besides impacting 4,000 East Bay students, entrepreneurs and youth, Oakland Digital reports boosting the local economy by $3.2 million and enhancing job opportunities for 21st century employment and economic independence in underserved communities throughout the region. 
"It's really inspiring to be educating and empowering communities to succeed in the digital economy," Tai says.