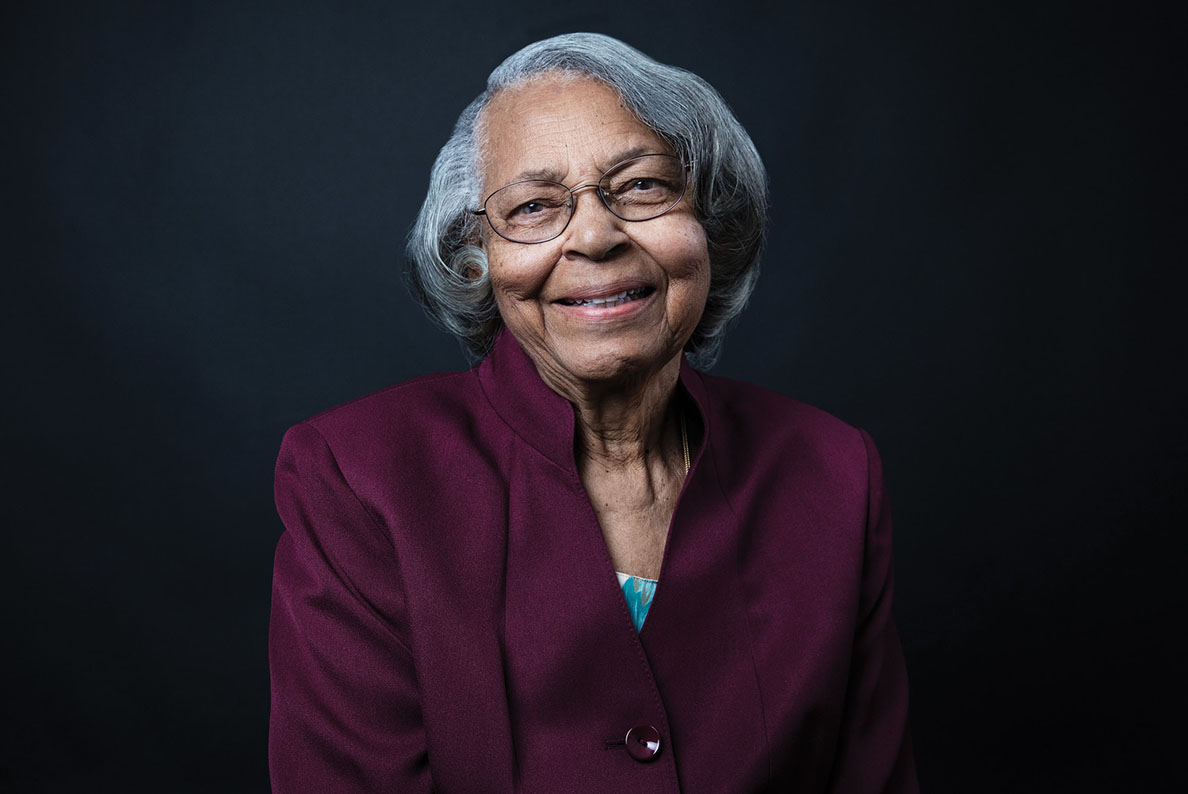 Sixty Years, Six Alumni
BY KRISTA DOSSETTI AND NATALIE FEULNER
PHOTOGRAPHY BY GARVIN TSO
November 9, 2017
Sixty years. Many universities have been around longer, but you'd be hard-pressed to find any that have had a more transformative impact on their alumni. Since the beginning, Cal State East Bay has been home to nontraditional students: working parents; police officers and teachers looking to elevate their careers; business men and women obtaining terminal degrees; nurses, engineers and computer scientists digging into rich regional opportunities; and local teens who never could have hoped to afford college if it hadn't been for the surprising addition of one in their backyard.
Over the years, as the university has grown in size and reputation, our students have become more typical in age, but not in their aspirations or in what they achieve after graduation. Here, — a tribute to 60 years as the East Bay's university — you'll find memories from our alumni across six decades. Whether you attended the Hayward, Concord or Oakland campus or took online classes, whether you called this place the Alameda County State College, CSU Hayward or Cal State East Bay, we hope you'll find and embrace your place within our proud legacy. 
We are all Pioneers — all 131,089 of us. We thank you for your contribution to making our great university what it is today.
Beginning with the 1960s and ending with the 2010s, alumni share their memories of times gone by and how the university impacted their lives. 
DAVID BLASQUEZ (B.S. '64, PHYSICAL EDUCATION)
It was the early 1960s. Outside the walls of then-California State College at Hayward, the Vietnam War raged, but high in the East Bay Hills, a small university was an idyllic sanctuary.
"We didn't talk much about it, but the war was at the forefront of a lot of people's minds," says David Blasquez, Class of '64. "And there was the sex, drugs and rock-and-roll of the 60s, but most of us were getting our degrees and focused on that."
Blasquez played on the Pioneers baseball team and worked as the public announcer for the basketball team (because, as he says, he had no skill on the court). He also sang in the choir and was in the university's very first play, William Saroyan's "Time of Your Life."
After graduation, Blasquez spent 30 years teaching high school and lights up talking about his alma mater. He recalls classes with seven people in them, saying, "I felt like I was either at Cambridge or Oxford. We got to know all of our professors by name — I loved it, we all loved it." 
LARRY BROOKS (B.S. '77, SPEECH PATHOLOGY; MPA '84)
For alumnus Larry Brooks, his years at Cal State Hayward were a "time of discovery." Brooks, who grew up in Oakland, says he attended schools with predominantly white and black students, but when he arrived at the university, he encountered people from all over the world.
"I was meeting people from Europe, the Middle East, Mexico, Africa, and was being exposed to different cultures, languages, older adults who had life experience and veterans coming home from war sharing their stories," Brooks says.
Those experiences led him to pair his undergraduate degree in speech pathology with a Master of Public Administration. Today, he serves as the director of Alameda County's lead poisoning prevention program.
While in school, Brooks was heavily involved in activism on campus, through both the student council and academic senate. He recalls fighting for the university to host more cultural events such as black history week, organizing sit-ins and pushing for more student life activities. These days, he's still engaged with the campus, but now as a member of the university's Alumni Association Board.
"We were there on campus to bring the cultures together, which is why it's so gratifying to see how diverse the university is today," Brooks says. "I've been able to see it evolve into the campus it is today."
MEEDIE MONEGAN (M.S. '81, EDUCATION)
She graduated from Cal State Hayward in 1981, but Meedie Monegan was already well-known as one of the first, if not the first black teacher in town. Monegan says recruiting teachers of color in 1956 marked Hayward as progressive, but, "There was surprise on all the faces of the people who came into my classroom. It replayed itself over and over — they'd come in, see me and look for the teacher."
Monegan taught at Markham Elementary for 24 years and applied for four positions as a principal before realizing she needed to do more to advance her career. She decided to complete her Master of Education at the university, and 36 years later still has her old I.D. card — with her Social Security number on the front.
"People didn't steal identities back then," she says.
Immediately following graduation, Monegan was assigned the first of two administrative positions and finally became a principal in 1985. She says it was her secondary degree that not only made the difference, but that helped her deal with the rapid changes of education in the 1980s, when computer and science labs were new trends.
"I learned at Cal State Hayward to be ready for anything," Monegan says. "To take opportunities as they come and to be prepared for whatever might come my way."
CHRIS BRANNAN (B.S. '98, BUSINESS ADMINISTRATION; MBA '03)
Chris Brannan says he was 60 percent of the way toward becoming an architect when he had a change of heart.
"I got burned out and was interested in investing and the stock market at the time, so I thought, 'OK, I'll go get my business degree,'" Brannan says.
Today, as chief financial officer of Lawrence Livermore National Laboratory, Brannan oversees a $1.9 billion budget and approximately 150 employees. He accepted an entry-level job there one year after graduating from then-Cal State Hayward.
"I originally didn't intend to stay for more than a few years … but when 9/11 happened in 2001, it really clicked for me what this laboratory does for the nation in terms of national security," he says. "The laboratory is truly an amazing place to work."
And he picked up some lasting skills during his time at the university that have contributed to his success. 
"The analytical perspective has helped me throughout my career and also translates to what I do today at the laboratory," he says. "I learned [at the university] that numbers tell a story and that you can't just take things at face value."
Brannan also recalls what well might be a haunting mistake from his past — and a telltale sign of the decade.
"In my capstone class during my senior year, we did a study on Apple and concluded that Apple had it all wrong and should not be a product company and should focus solely on software," Brannan says. "Not long after, I remember looking at Apple at $12 dollars a share and deciding not to invest." 
LOI LUU (B.S. '05, BIOCHEMISTRY; M.S. '08, CHEMISTRY)
In her work for CytomX Therapeutics Inc., an oncology-focused biotech company, Loi Luu wakes up in the wee hours of the morning to make calls to drug product manufacturers and raw materials sellers across the world. As a supply chain manager, her job is to forecast the entire supply chain of clinical materials for cancer patients.
Luu, a first-generation student who immigrated to the Bay Area at 9 years old, is 100 percent certain her career — and the scholarships, and paid internship and temporary contract she obtained with Genentech during her graduate years — wouldn't have been possible without Cal State East Bay.
"Being a part of the [Genentech] research lab enabled me to be a medicinal chemist alongside people from Harvard, Yale, Berkeley — and most of the other chemists were Ph.D.s. But all I needed to do was bring in my poster from the research I did in Professor [Michael] Groziak's lab, and the hiring manager looked at me and said 'I can tell from this poster you know how to do everything I need. What else are you interested in?'"
Luu, who completed dual degrees from Cal State East Bay, recalls the year she graduated was the same year President Obama was elected.
"I remember another girl in the lab who had the multicolor picture of him on a sticker on her car," Luu says. "That image was just everywhere. And for the life of me, I didn't think it was going to happen — but when it did happen, it was amazing."
ELISA MÁRQUEZ (B.A. '01, SOCIOLOGY; MPA '11)
The 2010s were marked by themes of resistance. Occupy Wall Street was in full force and the housing crash of 2008 left thousands fighting for too few homes at too high of price points.
But for Elisa Marquez, a lifelong Hayward native, they were also a period of self-transformation. She balanced being a full-time employee, mother and graduate student all while advocating for her community.
These days, Marquez serves as vice mayor of the Hayward City Council and also works full time as a probate court investigator for the County of Santa Clara Superior Court, both of which she says require the skills she learned at Cal State East Bay.
"I learned a lot about team building, I was being exposed to different lifestyles, people from various socioeconomic backgrounds," she says.
Marquez is using that experience to show her daughter and fellow city councilors the impact having diverse voices at the table can have on leadership.
"As a woman and a person of color, I've been able to connect to our community," Marquez says. "We all have different life experiences and a lot of us have had to fight and struggle to get where we are, and it's important to keep that in mind when thinking about decisions that impact a city."