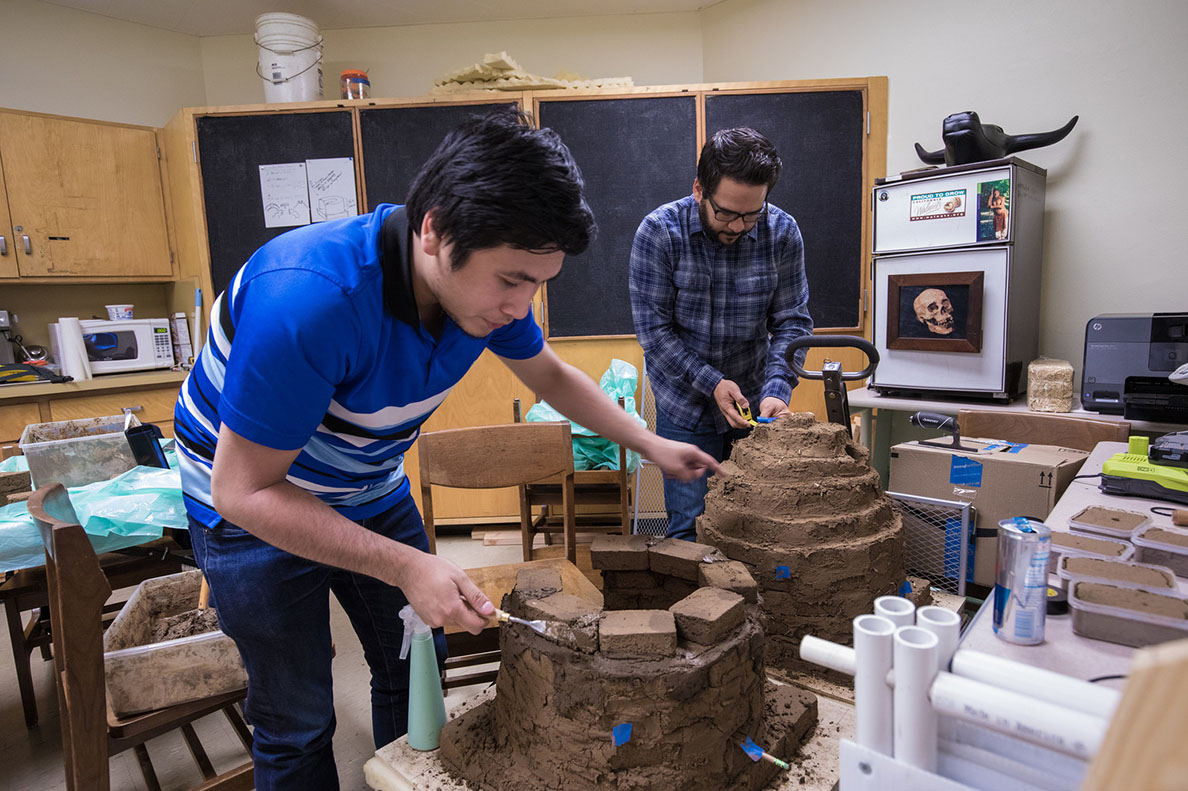 Of Dirt and Community
BY NATALIE FEULNER
PHOTOGRAPHY BY GARVIN TSO
March 15, 2018
Cal State East Bay Professor Albert Gonzalez has long been fascinated by the community aspect of the "enjarrando" or "mudding" days in Taos, New Mexico, where he worked for several years. And now, he's bringing that tradition to the East Bay with a scientific twist.
Gonzalez and several of his archeology undergraduates are currently studying the physical and chemical properties of adobe bricks in hopes of gleaning information that will allow archaeologists to differentiate between adobe used to build walls versus ovens. The distinction may seem obvious, but as Gonzalez points out, when you're digging for dirt, in dirt, it can all start to look the same.
"They end up buried like all the other artifacts, and we have to make them out from the dirt around them, but the tricky part is they're made of dirt too," he said. "You run your trowel over adobe, and it feels like dirt so it takes specialists to know what to look for or you'll just dig through walls."
"Every brick unearthed is connected to so many people."
Once the research is concluded, the team will design and build a life-size adobe brick oven at Peralta Hacienda Historical Park in Oakland that Gonzalez hopes will draw the community to a Taos-style enjarrando event.
There, adobe bricks aren't a thing of the past. Rather, thousands of people still live, worship or work in adobe brick buildings, and that means they have to be maintained.
"It's not just museums and missions there, and rain and weather eat away at the exteriors, so they need to be tended to on a yearly basis," Gonzalez said.
So, each year, communities gather — many times with archeologists like Gonzalez alongside them — to restore the buildings, repairing bricks and adding a new layer of plaster over the top. In academia this hands-on participation with the locals living near or in historic buildings is known as "community archeology."
"Every brick unearthed is connected to so many people, so archeology is directly connected to their ancestors," Gonzalez said. "It really put some meat to the bones of the artifacts and the bare adobes that I was working with because every brick I find is connected to so many people in some kind of way."
Grandparents would spend the day barbecuing and making enchiladas; there would be prayers, singing, and dancing. And of course, work. Broken bricks are repaired, and new mud is added to the existing walls creating a new, weatherproofed layer.
"You get to know [the families] at these enjarrando events … that's often where we'd have the most fun."
TESTING THE BRICKS
In Taos, Gonzalez said, families often have a designated person who can find the type of dirt needed to build adobe simply by feel. But at Cal State East Bay, there's more science (and students) involved.
On a recent day in the lab, undergraduate student Hai Vo was bent over a beehive-shaped structure built using bricks without straw. He carefully spread mortar between them, building up the oven layer by layer.
Pencils stuck into the walls of the oven will later be removed once the dirt dries. They leave behind holes that Gonzalez and Vo will use to insert thermometers and test the heat retention of each oven.
The idea is that the physical makeup of the bricks that retain more heat will likely be closer to that of bricks used hundreds of years ago to build ovens. Having this knowledge of the ovens will allow archaeologists to differentiate them from walls.
Vo is a biology major and never planned on working in archeology. But after taking a class with Gonzalez and starting to work on the bricks project, he decided to pursue a graduate degree in archeology.
"I was just interested in this and wanted to learn more, and now I'm directing the construction of the second oven," Vo said.
Gonzalez says the two degrees should have a natural crossover and serve him well given the importance of soil science in archaeology.
PARTNERING WITH PERALTA
In addition to the work happening in the university's archaeology lab, Gonzalez has developed a flourishing partnership with Peralta. The park is the only 6 acres of what's left of an original 44,800-acre 1820 land grant rancho spanning what would become eight cities stretching from Albany to San Leandro. And at one point it was home to adobes.
But in the 1890s, a group of  Boy Scouts took down one of the remaining adobe structures, moved the bricks and used them to build a scout hut at nearby Dimond Park. All that remains of the hut is four walls — three made of wood and one of adobe.
Now, 122 years later, Peralta wants the wall back.
In the coming year, the historic park will be working with Gonzalez, his students and the public to move the wall from Dimond Park back to Peralta. Gonzalez's team will excavate the bricks, and the park will hold a competition for local artists to use them in a newly-designed installation.
Once the bricks are moved and testing of the ovens at Cal State East Bay is complete, Gonzalez also hopes to build a full-size brick oven at the park with the goal of holding enjarrando-style yearly events celebrating the East Bay's rich and storied adobe history.
"They were initially concerned but then excited that real mud takes real maintenance … but that's the best part; this is what draws the community together, you make it an event," he said. "It would be an echo on the scale of what happens in New Mexico … but still, if we can accomplish a fifth of the community bonding that's accomplished similarly there, then we are much better off than we were before."