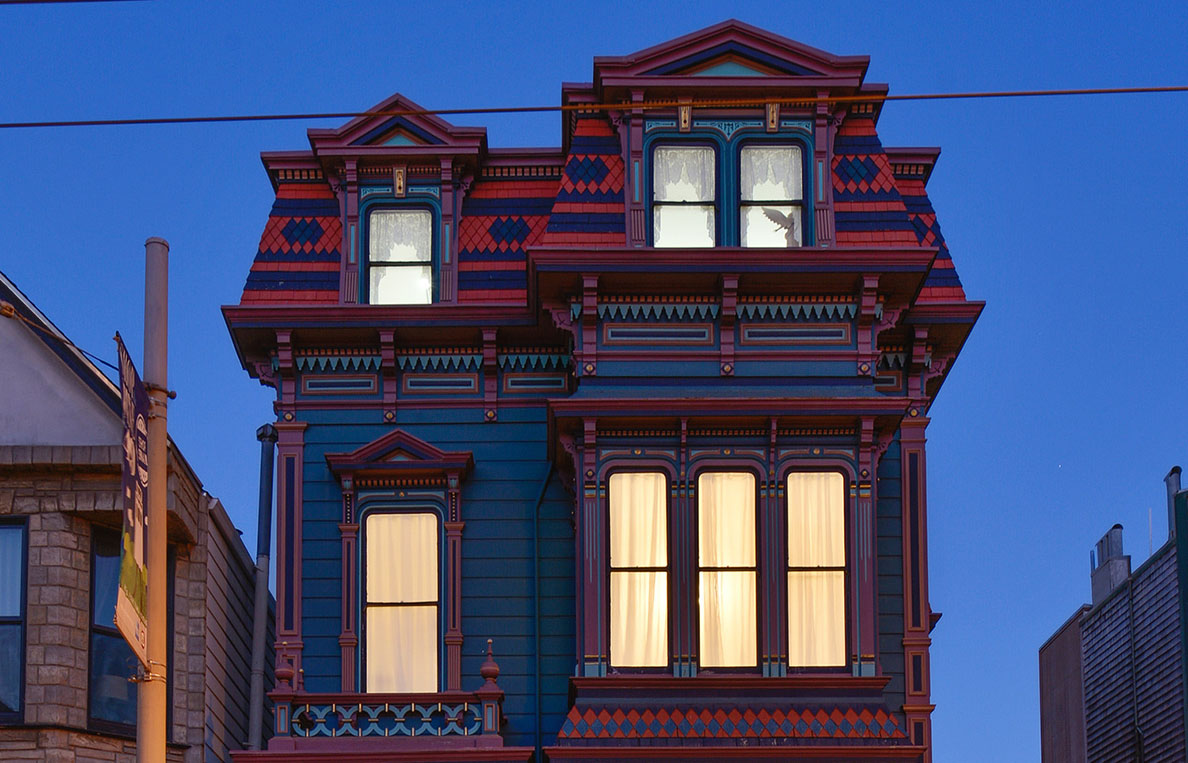 Trading the Boardroom for a Hard Hat
BY ILENE LELCHUK
PHOTOGRAPHY BY OPEN HOMES PHOTOGRAPHY
May 15, 2018
Gina Centoni's midlife career change started with fire.
The Silicon Valley executive had just returned from a business trip to Japan and, despite her jet lag, was in the midst of presenting a new software platform to Sun Microsystems' leadership team when it happened.
"My phone was burning up like mad," the Cal State East Bay alumna said. "I had all these calls and messages. My home was on fire."
Flames were consuming her 1906 house in San Francisco's Cole Valley, which Centoni had spent the previous year diligently renovating and restoring to its Arts and Crafts architectural glory.
When the flames died down, Centoni realized she now faced another year of construction. The thought of it might have driven anyone else mad.
"I absolutely loved it, I loved the entire process of renovation," she said. "I've always been the kind of kid who loved construction. My dad used to keep me busy in the garage with him, making Barbie doll tables with cut off pieces of two-by-four and nails."
FROM BARBIES TO BUSINESS OWNER
Today, Centoni, 53, is president and CEO of Centoni Restoration & Development, a licensed contractor specializing in historical restorations of all eras in San Francisco. She not only made a dramatic career change — trading in her boardroom seat for a hard hat — but also cracked a male-dominated industry.
Her winding career path began with a bachelor's degree in business administration from then-Cal State Hayward in 1986. She landed her first job for a winery within days of graduating.
"That's what I appreciate about the university. It's a practical school," said the San Leandro native. "They are programming people to think about the real deal. It's about people who want an education because they want to work."
Centoni migrated from the winery to Silicon Valley where she specialized in product development for companies including Apple, Openwave and Macromedia.
"If you think about it, renovating an old house is just another kind of product development," she said.
To switch from tech to construction, Centoni returned to school and studied construction management and hands-on trade work for her contractor's license. She began buying, renovating and flipping houses. And in 2007, she founded a residential design-build firm.
A 'WOMAN-RUN OPERATION'
Her presence in the male-dominated contractor business is rare.
Women make up just 9 percent of the country's construction industry and are largely represented in sales and office work, according to the U.S. Bureau of Labor Statistics.
"I don't think women are encouraged from a young age," Centoni said.
Centoni said if she could find a skilled female carpenter to hire, she would. While her office operations are run by women, her hard-hat team is male.
"Every job is completely different [and] I love that."
Meg Vasey, director of Tradeswomen, Inc., an Oakland-based training and advocacy group, applauds women in the field like Centoni.
"Women in the construction business have many barriers," Vasey said, adding that schools must work harder to attract female students to career technical education classes.
Cal State East Bay has joined in outreach efforts, helping organize the first Women in Construction Workshop, held at the University of Central Florida in partnership with universities from China and Brazil in 2015.
Cal State East Bay assistant professor Reza Akhavian, from university's School of Engineering and construction management program, attended the workshop and said female students should be empowered with the knowledge that they have a place in this industry. Studies show that universities could do more, including providing female mentors and promoting their construction programs better to elementary, middle and high school girls.
"As a 
woman-run
 operation, we are different from everybody else."
The ongoing challenge, Akhavian said, is that construction continues to be perceived as man's work. "However, numerous studies indicate that women exhibit higher levels of persistence and perseverance than men," he said.
When Centoni had her own home renovated, not one woman was involved in the construction.
"As a woman-run operation, we are different from everybody else," she said of Centoni Restoration & Development. "We have a different ear, a different way of interacting. There is no silly question from our clients."
Those clients often demand intensely customized and detailed projects.
Her current favorite: the Charles L. Hinkel House, San Francisco Landmark No. 190 on Divisadero Street. One of the city's Victorian "painted ladies," it was built in 1885 and is victoriously still standing despite earthquakes, fires and odd interior changes.
For the job, Centoni dug into the property's history, marveled at the structure's "good bones" despite the lack of building codes in the 1800s, replaced the original brick foundation with a modern one, and added 21st century electrical upgrades.
Next up for Centoni: renovating a national historic landmark built in 1860.
"Every job is completely different," Centoni said. "I love that."