Inspiring the Next Generation of Engineers
BY Cal State East Bay
June 25, 2018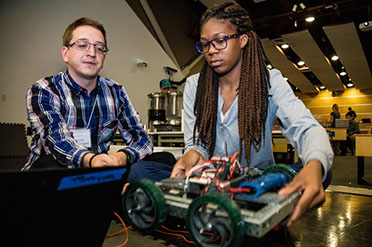 GARVIN TSO
High school is a critical time to engage students in engineering, a field that for years has seen a talent shortage. 
Many teenagers become overextended with jobs, family, sports and extracurricular activities, leaving little time for studying. According to Cal State East Bay Associate Professor of Engineering Cristian Gaedicke, high school — and even middle school — is also a time when math classes become more challenging, making it that much more difficult to hold the long-term attention of students. 
Cal State East Bay is hoping to change that. A weeklong Discover Engineering! camp will engage 72 high school students from underrepresented communities in Contra Costa County in engineering while offering the experience of living on a college campus. 
The students' tuition, room and board for the camp, which runs from June 24-29, is being fully funded by Chevron and Andeavor. 
"This program changes lives," Gaedicke said. "We hope that the guidance, mentorship and five-day residential experience gives students the opportunity to see college and perhaps engineering as a viable path. We want them to leave here understanding what it might feel like to be an engineering student and what it might actually be like to work in the industry."
Cal State East Bay faculty and graduate students along with teachers from Contra Costa County schools will teach students the fundamentals of engineering. Students will then work in teams to program a robot, and design and build a bridge from balsa wood. Once completed, each team will test the functionality and strength of their creation in a competition.
The camp is the culmination of a yearlong experience that started with Cal State East Bay student ambassadors visiting the high schools, midyear visits to campus and interaction between the students, high school teachers and Cal State East Bay faculty.
"So many students, especially those in underrepresented communities don't think college is an option because they do not have the money or resources," said Farzad Shahbodaghlou, director of the construction management program at Cal State East Bay. "We want to challenge that kind of thinking, get them interested in engineering school and let them know there is support. They cannot only get a college degree but step into a life-long career."
The camp provides the tools to make this a reality, by providing information about the university application process, advising and financial aid.
"Students will engage and work with others from diverse backgrounds and be able to experience different kinds of engineering," Shahbodaghlou said.
There will also be two off-site field trips to local engineering and tech companies, giving students the opportunity to see firsthand how STEM related businesses are working and growing in the Bay Area. The camp also includes an evening with engineering professionals from different fields during which the students can ask questions about the profession.
Some of the professionals participating in the camp are employees at Chevron — the founding funder of the Discover Engineering! camp.
"Working with our partners, we take a comprehensive approach to investments in education by getting students excited about STEM and encouraging them to pursue STEM courses and, ultimately, STEM careers," said Andrea Bailey, Community Engagement Manager at Chevron. "Chevron supports programs like Discover Engineering! and [Project Lead the Way] as we believe our support for education helps whole communities prosper and helps provide access to engineering curriculum across the United States."