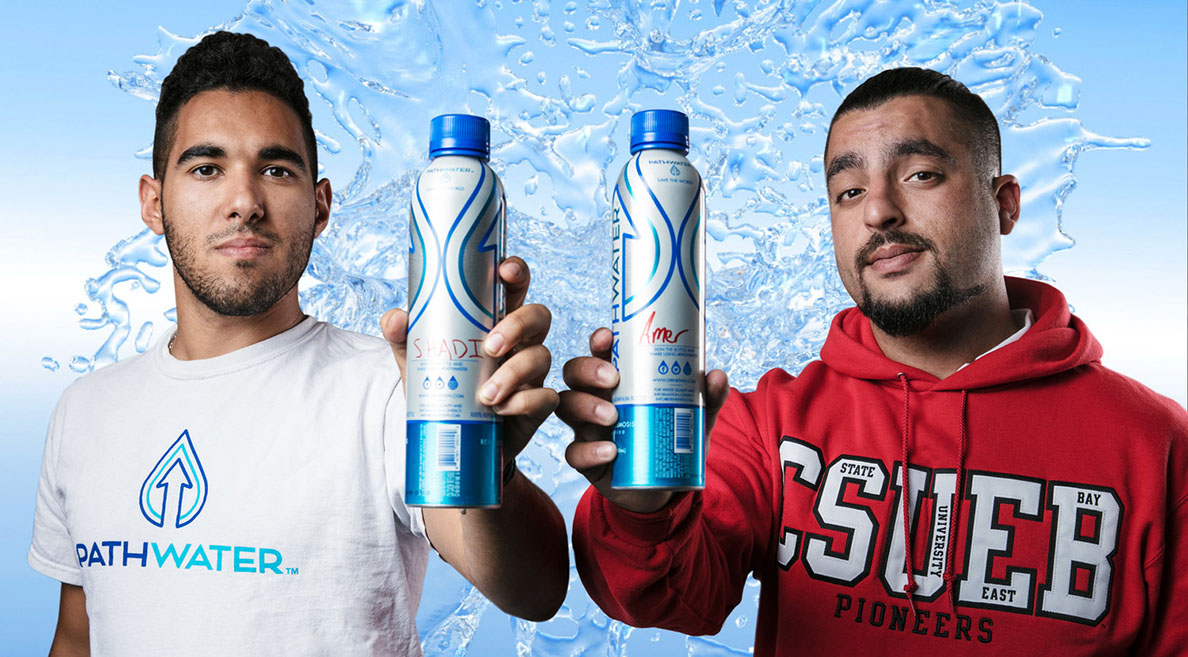 Drink This, Not That
BY NATALIE FEULNER
PHOTOGRAPHY BY GARVIN TSO
September 6, 2018
In 2017, Americans used upwards of 50 billion plastic water bottles, according to the advocacy group Ban the Bottle. Those billions of bottles litter streets, fill landfills and are contributing to a body of tiny plastic particles known as the Great Pacific Garbage Patch, which the Ocean Cleanup Foundation says measures more than 600,000 square miles, just under four times the size California.
But one Cal State East Bay alumnus is doing his part to change the nation's plastic problem.
Amer Orabi, 26, is the co-founder and chief operating officer at Pathwater, California's only aluminum bottled water company tailored to the everyday consumer — the person who might otherwise pick up a plastic bottle at his or her local convenience store or workplace vending machine.
"[We] were inspired by the problem, and envisioned ourselves as part of the solution."
Pathwater is not Orabi's first business venture, although it is most definitely his most successful. He and co-founder and chief executive officer Shadi Bakour call themselves "serial entrepreneurs," always looking for ways to build names for themselves.
Born and raised in Jordan, Orabi moved to the U.S. when he was 12-years-old,  and recalls a childhood where trash and plastic, in particular, was a part of life. And as he got older and more aware, the sight and smells of the garbage stayed with him.
"Growing up in the Middle East, you're surrounded by trash, and people don't recycle … [Shadi and I] were inspired by the problem, and envisioned ourselves as part of the solution," he said.
With the savings he and Bakour had from smaller business ventures, the pair began building Pathwater — a purified water brand in reusable, aluminum bottles (instead of conventional plastic) that are available at convenience stores at the same price point as plastic competitors such as Aquafina and Dasani.
"We always wanted to start a business and do something for ourselves, but hopefully for the community as well, and this is a way to do both," Bakour said.
A WORLDWIDE PROBLEM
According to the Ellen MacArthur Foundation, it is estimated that by 2050, the ocean will contain more plastic by weight than fish, increasing the risk of ingestion by seabirds and marine wildlife.
Why?
For one, according to a recent report in "The Guardian," globally humans buy a million plastic bottles per minute, and two, 91 percent of all plastic is not recycled, even if it is recyclable. And those numbers are growing with a report by Forbes estimating that more than half a trillion plastic bottles will be sold in 2020.
Bottled water is commonly made from a material known as "Pet" — polyethylene terephthalate, which takes 400 years to decompose naturally. And while Pet is highly recyclable, the vast majority of bottles are "downcycled" which means instead of becoming a new bottle, recycled infinitely, the plastic becomes synthetic fabrics for clothing, carpet, packing material or small toys.
To combat the staggering statistics, several cities and other public entities, including school districts and community colleges around California, have rallied to ban the sale of plastics on campuses. Companies such as Salesforce (which recently partnered with Pathwater) have also banned single-use plastic, creating a niche market for Pathwater and no doubt, catapulting their success.
"Consumers and companies alike recognize the importance of sustainability and the need to ensure that sustainability is not just a marketing catchphrase but a necessary part of the products we make and consume," said Patrick Devine, a Cal State East Bay lecturer and Orabi and Bakour's mentor. "There is a global recognition of the importance of a zero carbon footprint and eliminating waste for the generations that come afterward. Amer is making great strides in ensuring that sustainability is at the heart of his products."
RELIANCE ON RESOURCEFUL CREATIVITY
Pathwater's humble beginning started as an idea in the halls of Cal State East Bay, and Orabi and Bakour continue attributing their success to the mentors Orabi had at the university.
"What you are today is a combination of all your past experiences," he said. "From my classes to the relationships I've built with my teachers, I owe a lot to this place."
The pair passed their business plan by Devine and others for feedback and often leaned on professors for advice and support.
"The people that are at the university are so amazing, these are people who've had their own success, and they want to pay it back and give it forward. That's a huge lesson I've learned from Cal State East Bay," Bakour said.
With a business plan in hand, the duo went looking for investors in 2015, but it wasn't easy.
"Everyone we knew told us 'you guys are young, you're never going to make it,'" Orabi recalled.
But two investors gave them a chance (and $75,000) which set the wheels in motion. Next came product development and plenty of growing pains as they discovered a bottled water industry designed to support plastic.
Pathwater's first run of 50,000 bottles was produced by a juice co-packing company in Virginia, but as the two eagerly opened the first bottles and took big sips, they realized they had a problem — the water had a light tea-like aftertaste. It went on the shelves anyway, and they ended up selling enough to show their initial investors and secure an additional $200,000.
"You really get to know somebody when the times get tough," Bakour said. "This has allowed us to look at life a different way. It's not a way to make $10 million by selling something; it's more about building the business, building a legacy and making a huge impact."
$1 MILLION AND GROWING
In September of 2017, Pathwater hit the "$1 million raised mark," a milestone Orabi and Bakour had only dreamed of hitting.
"Nowadays, students are very environmentally aware and forward thinking, and we went after that."
"To start a beverage company takes a lot of money and a lot of work," Orabi said. "You're competing against Pepsi and Coke; these guys have millions of dollars."
But what began as two friends with a dream has turned into a flourishing company of 16 employees with products and contracts with hundreds of vendors throughout California, Arizona and Nevada.
Pathwater bottles are in 200 California schools, major Bay Area museums such as the Academy of Science in San Francisco, in 700 7-11 convenience stores and several hotel chains including MGM in Las Vegas and Marriott. This year, they are co-branding a bottle with Salesforce, which Orabi says he hopes opens the door to opportunities with other Silicon Valley giants.
But both young men will always have a soft spot for schools, the market where Pathwater first started gaining traction.
"When I was in high school, it was all about who had the car with a v8 engine, and now it's who has a Tesla or electric car," Orabi said. "Nowadays, students are very environmentally aware and forward thinking, and we went after that."
These days, he's grateful and also proud of the success he can show his once-skeptical parents.
"My dad really thought I was crazy, and he didn't understand why with two degrees I couldn't just go get a job at a big tech company," Orabi said. "But my family was very supportive … and one thing I have proved [to them] and everyone around us was that if you put your head down and work, you're going to do well. There is no such thing as wasted work."