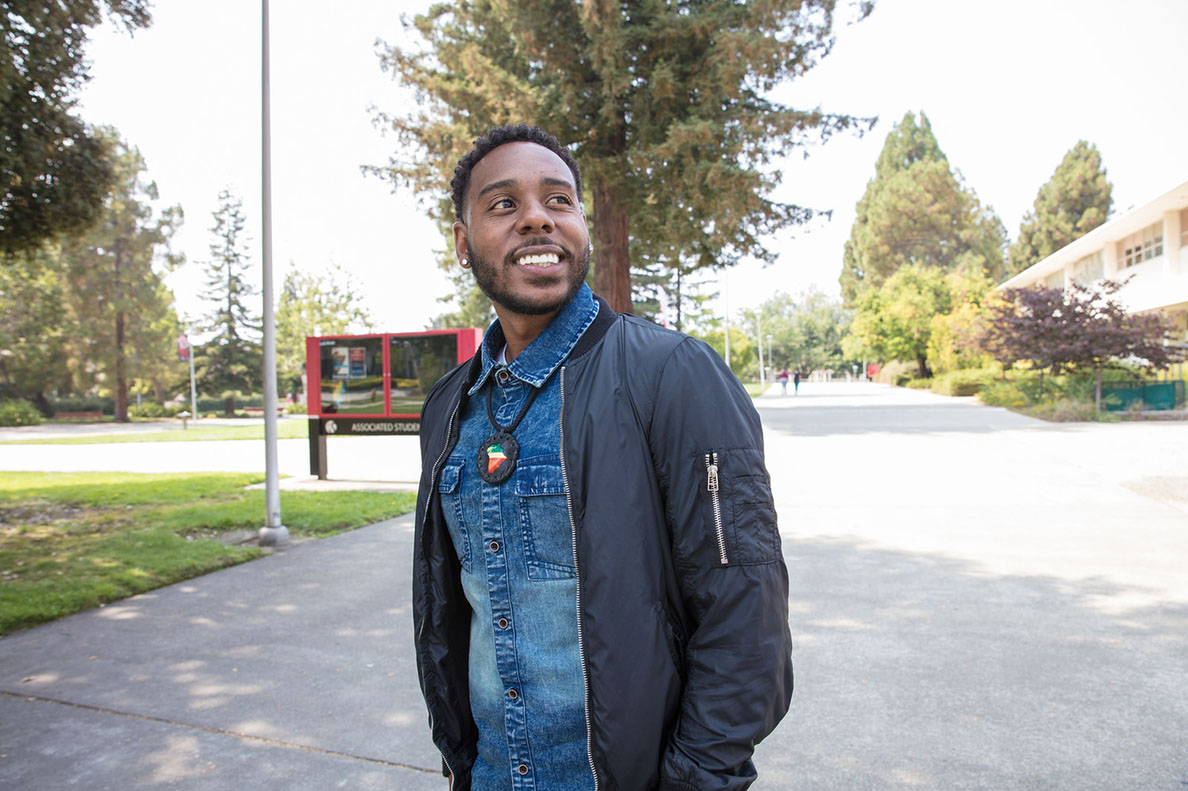 From Prison to the Classroom
BY ERIN MERDINGER
PHOTOGRAPHY BY GARVIN TSO
September 14, 2018
"Kiss your son and your family goodbye because you won't see them again." These were the words that echoed in the mind of Asani Shakur the morning of October 10, 2007; the day he was arrested on federal drug charges. It was just eight days after his first son, Jah'Morris, was born.
"This was like the movies," Shakur said. "They came swarming in with guns drawn, assault rifles, and they were yelling at me. My only concern was just don't shoot; my son is right here. He's a week old."
Growing up in Richmond, Shakur says he was exposed to violence and poverty at a young age. By the time he was 9-years-old, he had already witnessed his first murder at a local community center and experienced firsthand the crippling effect of parents battling with substance abuse. Before long, he found himself dabbling in the "family business" – selling drugs.
Shakur said he was pushed through the public school system, and after receiving discouraging news from a high school counselor during his senior year, he gave up on the idea of college and decided to embrace street commerce as a way of life.
"Some guys when they go to prison, they wait until they get home to make the changes. I did it in there."
At this point, Shakur, or "Geno" as he was known on the streets, had accepted the fact that he probably wouldn't live to see adulthood.
"In my mind, I wasn't going to live past 18 because everybody around me was dying at a young age," said Shakur. "At the time, Richmond was considered one of the most violent cities in the U.S."
After high school, Shakur ended up going to county jail for a drug charge and was encouraged to leave Richmond after he was released.
By 2007, he had reached a turning point in his life. His county jail charge had been dropped; he was living in Sacramento and working hard to get his life back on track as he prepared to become a first-time father.
Unfortunately, his criminal past wasn't done with him quite yet.
Looking back, Shakur describes that morning back in October 2007 as confusing.
"[During the arrest], I was trying to figure out what I was being arrested for because at the time I really did not know," he said. "I was done with everything. I had given it all up. I was working at Apple computers."
It wasn't until he went to court that he found out that he was facing up to life in prison for conspiracy to distribute, said Shakur. Knowing that there was a high conviction rate where he faced charges, the then 20-year-old decided to plead guilty and was sentenced to serve seven years in prison with three years of probation.
"I was okay with [the sentence] because I knew I had an out date," he said. "I knew I was coming home, and that's all that mattered to me."
"Sometimes I feel like I have to pinch myself ... I never thought that this would be my life."
While in prison, Shakur says he rediscovered his love for reading — a passion that he developed as young as 8-years-old but had since been overshadowed by the harsh realities of life. He recalls secretly going to the library as a youth— back when reading wasn't considered cool — to read books and look up words referenced in the lyrics of one of his favorite artists, Tupac Shakur.
In 2012, after serving five years in a federal prison in Oregon, Shakur was released.
On the day of his release, one phrase came to his mind: "It's show time."
"Some guys when they go to prison, they wait until they get home to make the changes," Shakur said. "I did it in there. [In prison], I had written this long list of goals, which I called my goal timeline. I had a timeline of everything I wanted to accomplish by certain times, and school was at the top of that list."
Four years later, Shakur graduated summa cum laude with a bachelor's degree from UCLA.  And in August, he completed Cal State East Bay's One-Year MBA Program at the Oakland campus.  He and his wife (Jozalynne) live in Sacramento with Jah'Morris, now 10, and Jh'Sani, 3.
"One thing I've learned in life is that people will help you when they see you want to help yourself," said Shakur.
Looking ahead, Shakur hopes to continue to use his own life experiences to motivate and inspire others in a positive way through speaking engagements and also his writing. The 31-year-old is currently working on his first book — "Unpacking: Release to Elevate" — a motivational book that will focus on how to unpack the things that are bringing you down.
"Sometimes I feel like I have to pinch myself," said the recent Cal State East Bay alumnus as he looked around the university's Hayward campus, eyes beaming with genuine awe. "I never thought that this would be my life."