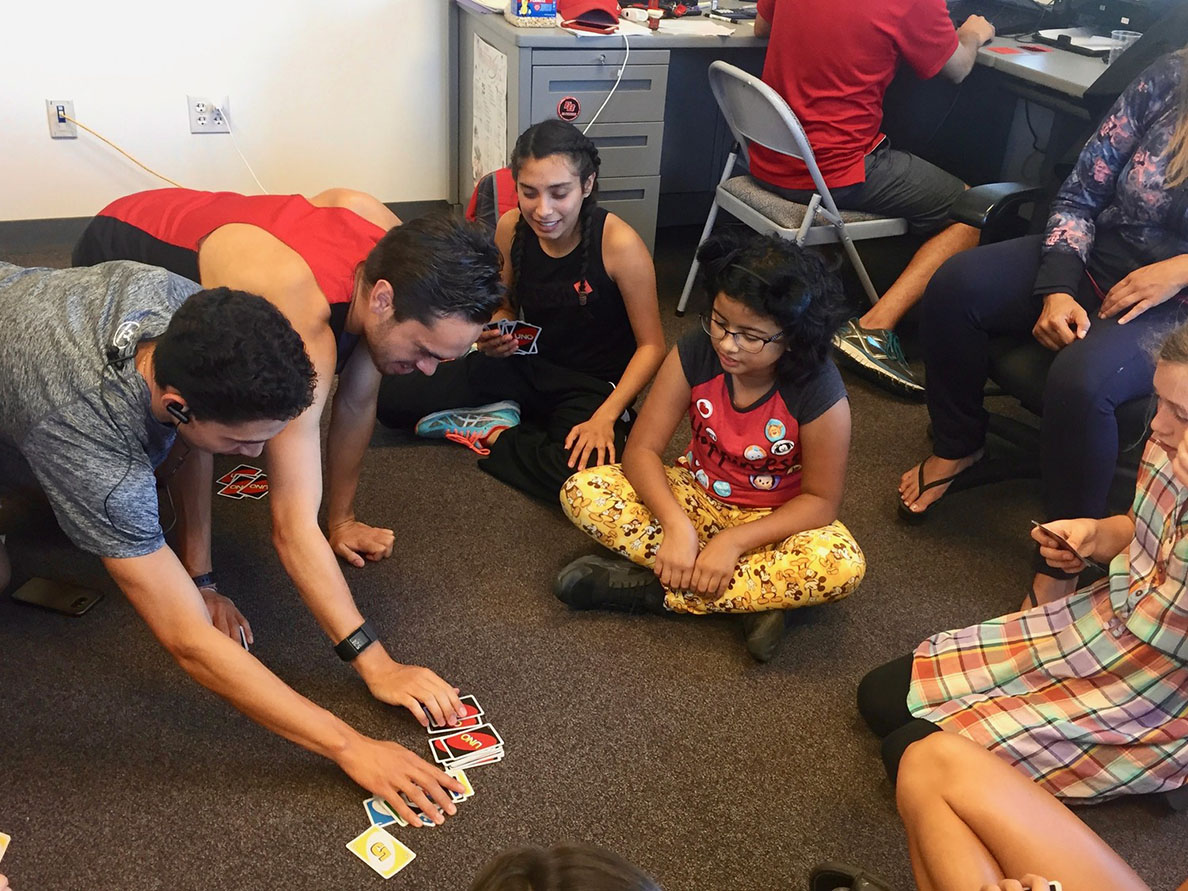 A Team's Impact
BY ILENE LELCHUK
October 25, 2018
During the last few years, Dylan Hernandez has spent a total of 47 days in the hospital, including right before school started this fall at James Logan High School in Union City.
Dylan, 14, has ulcerative colitis, a painful inflammatory bowel disease that preoccupies his world — crippling his academic life as well as his dreams of playing high school and college baseball. At times it leaves him feeling isolated and depressed.
But Cal State East Bay's baseball team has a message for Dylan: He is not alone.
The baseball team is one of two Pioneers teams this year that "drafted" a Bay Area youth who is facing a critical or life-threatening illness.
Dylan joined the baseball team last spring just before their game against Sonoma State. And 12-year-old Bella LaVigne of Hayward, diagnosed with a form of cancer called neuroblastoma, has been hanging out with the track and cross-country team since her signing ceremony last fall.
Dylan and Bella were matched with Cal State East Bay through Team IMPACT, a nonprofit that fosters relationships between ill children and collegiate athletes across the nation. Some bonds become lifelong and impact the university students as powerfully as the children.
"What our program aims to do is improve children's perspective, their sense of belonging, and their confidence," said Team IMPACT case manager Lynn LaRocca.
So far, Team IMPACT is a grand slam with the children, their parents and their teammates, who are enriched by serving their community.
"Having Dylan join our team was something that brought us together as a group, both on and off the field," said former baseball team captain Andrew Fernandez, a 2018 graduate who now plays professionally in Australia. "Dylan's presence made the tense game day environment lighter and more relaxed, which was a big deal to most of the guys on the team."
Off the field, teammates have taken Dylan to a golf course driving range and attended one of Dylan's Little League games last spring. They text to keep in touch, too.
For Dylan, who also has juvenile arthritis, his time with the team is an escape from thinking about his pain, frequent bathroom trips and blood infusions. And it doesn't matter that he's younger than his Pioneers teammates.
"It's like, we all relate because baseball is what we love to do," said Dylan, who practices with his high school team but hasn't been well enough to play.
The day Dylan met his Cal State East Bay baseball team, they invited him to participate in warmups. Dylan caught pop flies in the outfield and took grounders with the infielders.
"He was surprising our guys," said Assistant Coach TC Fairfield. "At bat, he smoked some balls pretty good. It's the cherry on top of him being a nice kid all-around."
Dylan's mother, Bianca Gentry, is grateful for the program.
"Team IMPACT has really given Dylan hope, given him people to look up to, and taken his mind off what he's suffering from," she said. "He told me once, 'I'm tired of people asking me about it, asking me if I'm OK. I just want to be a kid and play baseball.'"
On the track and cross-country team, Bella has settled in since her ceremonial signing day last fall, when she proudly received a Pioneers jersey and other team swag.
Bella was diagnosed two years ago with neuroblastoma after doctors found a tumor in her abdomen. Surgeries, chemotherapy, radiation, a bone marrow transplant, and immunotherapy followed.
"But Team IMPACT has made her feel like part of something that was special, just for her."
Bella, who now celebrates that the cancer is in remission, missed more than a year of school during treatment, which means she began this year a grade behind her peers.
"It's just hard when you return to school and your friends are going to middle school and you are not," said Bella's mother, Joy LaVigne."But Team IMPACT has made her feel like part of something that was special, just for her."
There is no disputing Bella's place on the team. They've carved Halloween pumpkins together, enjoyed a summer swim, and watched "Incredibles 2." She recently joined the team for a pre-meet dinner of Subway sandwiches in Coach Tony Nicolosi's office.
Bella, who walked into the room wearing bright yellow Mickey Mouse leggings and a red T-shirt bearing the word "Happiness," was met by teammate high-fives.
"It's kind of cool that I'm the youngest one here, they all know my name," Bella says with a big smile.
As they ate, the team planned their next meet-up, probably a Halloween party. (Bella wants to go as Dipper from "Gravity Falls.") Then they sat in a circle on the floor and played Uno.
No one went easy on Bella, and her mother noted it's a sign that"she's really part of the team."
Runner Andrea Romero said Bella provides something important for the team, too.
"She gives us extra motivation and inspiration," Romero said.
Six more Cal State East Bay teams have volunteered to host honorary teammates and are awaiting their matches in the coming months.