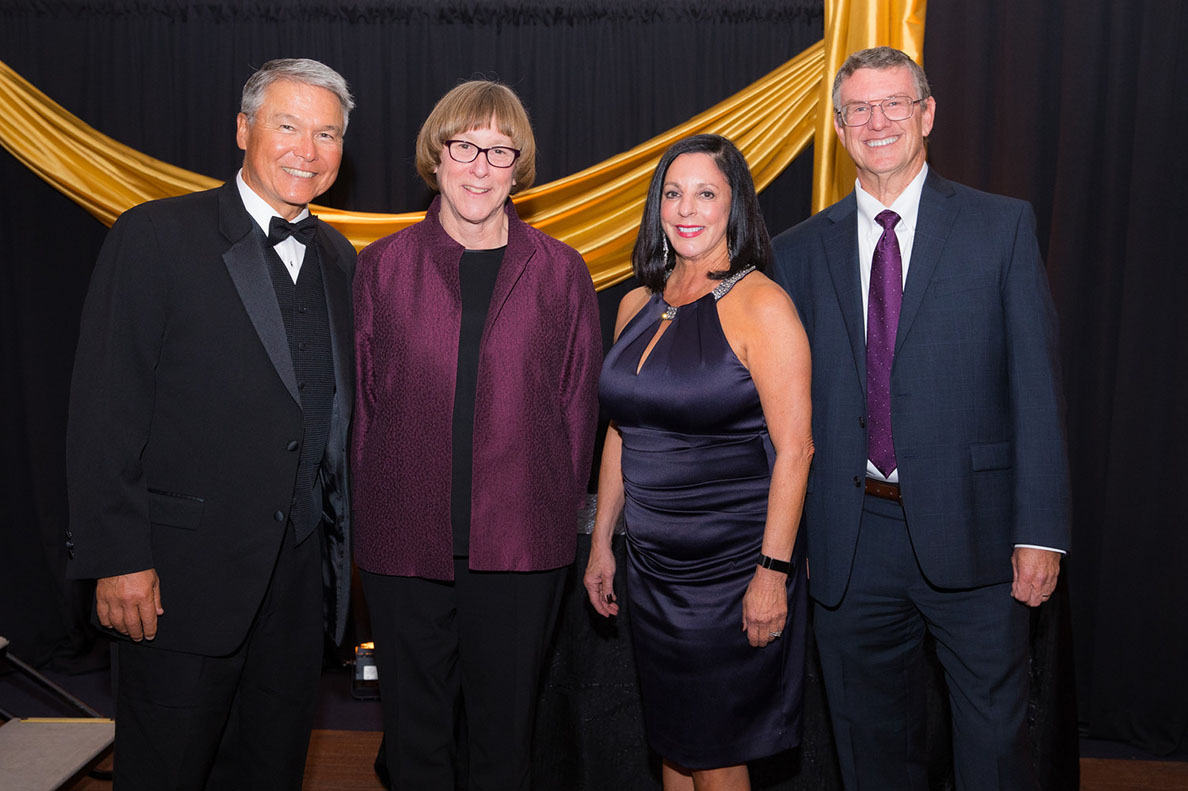 Meet Cal State East Bay's Distinguished Alumni
BY NATALIE FEULNER
PHOTOGRAPHY BY GARVIN TSO
October 22, 2018
Cal State East Bay honored four alumni this weekend at the university's annual Distinguished Alumni Gala. 
The Distinguished Alumni Award recognizes the accomplishments of individuals who have graduated from Cal State East Bay and made remarkable contributions in the areas of community or public service, or professional or personal excellence; demonstrate a commitment to the values of the university; contribute to scholarship, lifelong learning, and civic engagement; assume positions of ethical leadership within the regional and/or professional communities; and provide exemplary service to, or in support of, the university.
Find out more about each of this year's recipients in the videos below.
LESLEY DI MARE
(M.A. '82, SPEECH COMMUNICATION)
Di Mare was the first female president in the history of Colorado State University - Pueblo, where she served since 2011 after a lengthy career in higher education administration around the country. While there, she established a new financial system, implemented the university's first online degree programs and partnered with the CSU-Pueblo Foundation to conclude the institution's first comprehensive capital campaign, which raised $28.5 million.
DOUGLAS E. UCHIKURA
(B.S. '75, BUSINESS ADMINISTRATION, MBA '95)
After a lifetime in international business for oil and gas companies, Uchikura most recently served as Deputy General Director for Chevron Upstream Europe, based in Warsaw, Poland. From 1979 through July 1988, Uchikura worked on obtaining the necessary federal, state, and local permits for oil and gas exploration, development and production activities offshore California and onshore in Santa Barbara County, California.
RANDALL DAVIS
(B.S. '02, BIOLOGY; M.S. '06, BIOLOGY)
Davis is the co-founder of Genia Technologies as VP of Research and Development and helped build the company's single molecule DNA Sequencer. The firm was purchased by Roche Pharmaceuticals in 2014 and today Davis holds 20 issued or pending patents in molecular detection and DNA sequencing. Prior to founding his company, he worked in the semiconductor industry for 20 years in marketing, sales and applications management.
ANNE CAMPBELL
(M.S. '81, COUNSELING)
Campbell has devoted her 40-year career to public education, most recently as the San Mateo County Superintendent of Schools. She has been a major force in San Mateo County for expanding access to quality early education, most notably helping launch The Big Lift, a countywide effort to ensure all third-graders become proficient readers through access to two years of quality preschool, summer enrichment activities, school attendance, and family engagement.