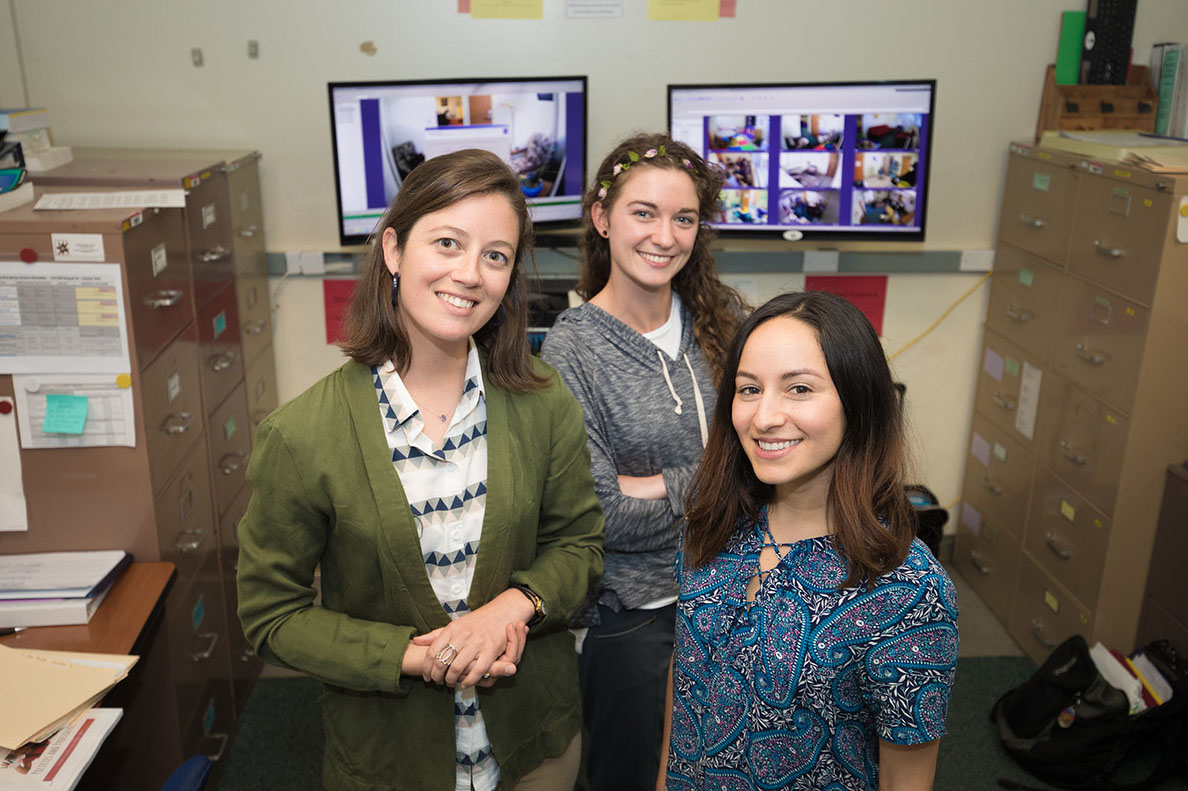 Slaying Monsters
BY BARBARA TANNENBAUM
PHOTOGRAPHY BY GARVIN TSO
October 2, 2018
On a Thursday afternoon at the Community Counseling Clinic on Cal State East Bay's Hayward campus, it is the calm before the storm. Graduate students and faculty alike, under the stewardship of clinic director and professor Janet Logan, are preparing to see between 200 and 300 community members from Hayward's nearby diverse neighborhoods over the course of the upcoming school year. Counseling sessions will be conducted in English, Chinese, Korean and Spanish, depending on the client's needs and the language skills of the clinic's trainees, although most typically Spanish and English.
Tucked away on the second floor of the Arts and Education Building, the facility was founded in the early 1970s to train graduate students pursuing a master's degree in counseling and earning two options: school counseling/marriage and family therapy or school psychology/marriage and family therapy.
"I knew our first priority was to work on community outreach."
The clinic was originally founded to serve both students and the larger community, but today those functions have been split off. Student services are part of the campus health services, while the "CCC" targets local residents and families partly in partnership with the Hayward Promise Neighborhood. Led by Cal State East Bay and funded by a grant from the U.S. Department of Education, HPN is a partnership of residents, local schools, colleges, government agencies, businesses and nonprofit organizations serving some of Hayward's neediest families.
For these community members, CCC is the only no-cost mental health clinic operating in the East Bay. Professor Greg Jennings of the school psychology program and a CCC faculty supervisor clarifies the clinic isn't "free," as people still have to pay for transportation and parking.
However, "the Bay Area is filled with private mental health practitioners," Jennings said. "Dr. Viola Mecke was the first person to make high-quality counseling available to the larger community. By giving the same access to services to people who can't afford it, we're continuing her vision and practicing social justice."
A NATIVE DAUGHTER RETURNS
Logan, CCC's director since 2006, knows Hayward's Jackson Triangle well. Growing up there, she attended Ruus Elementary School. Her mother was a single parent who worked in the glass factory off A Street. The family moved to Fremont when Logan entered middle school and went on to earn a degree from San Jose State University and a Ph.D. from the University of Wyoming.
"I came back to California because my roots were calling me," Logan said. Still, she was selective. The only position she applied for was at Cal State East Bay as a faculty member and clinic director after finding the clinic's two children's playrooms very compelling. "The other faculty, too, were a positive factor, but what perplexed me was the lack of incoming clients." 
There were 23 trainees that year and only seven clients for the entire year.
"It didn't make sense to me because the need was so great," Logan said. "I knew our first priority was to work on community outreach."
The number of clients soon climbed. But funding remained problematic. During the Great Recession, university officials considered closing the clinic and ended up changing some of the treatment rooms into office space.
To save the clinic in 2007, Logan and Jennings turned to grant writing, obtaining state support through the Cal Mesa grant and Hayward Promise Neighborhood program. Today, CCC has 12 first-year School Psychology and16 second-year School Counseling pursuing a Masters in the Counseling. These trainees take a full load of classes, conduct supervised, face-to-face sessions at CCC with clients, and spend two days a week working on-site in public school elementary, middle or high schools throughout the Bay Area.
"We see far more stress in the community than I remember as a child," says Logan. "There is more gun violence and homelessness. We have people who are afraid to seek services because they are worried about deportation and family separations." To counter that, Logan says counselors need courage, telling her students that "courage comes from the German root 'to take heart.'"
 A TRANSFORMATIVE CHALLENGE
Christina Perry is an Associate Marriage and Family Therapist who works full-time at TK Agency in San Mateo. As a 2016 graduate from Cal State East Bays counseling/MFT program, Perry trained at CCC.
On Tuesday and Thursday evenings, she drives across the bridge to begin a second work shift in the clinic as an assistant supervisor. Her night starts in the main reception area with a quick orientation from Susan Basanjav, CCC's outreach coordinator, on where to file paperwork and intake forms before handing over the keys to clinic's workroom.
Inside the windowless room, which is locked not only for safety but also to protect patient confidentiality, two graduate students conduct telephone screenings with potential incoming clients. A bank of computer monitors display live feeds from each of the six reatment rooms, currently empty save for two graduate students, seated on the coach, working on laptops, awaiting their shift.  
Soon, these rooms will be filled with adults, couples, and even their young children receiving help for grief, depression, anxiety, parenting challenges or marital issues.
Professor Jack Davis, the soft-spoken chair of the educational psychology department, lingers in the workroom to answer any questions before returning to a conference on the third floor. He is one of five faculty members who rotate on-call duties should difficulties arise.
"It can be a challenge for some students, but we're a training clinic. You have to treat to train. "
"We can't treat people who are suicidal, in imminent danger, or face complex issues such as substance abuse or anorexia," Davis explains. "We refer them out to specialized agencies or call the police," he says, patting a thick binder filled with contact information for Bay Area health agencies.
Sometimes serious issues arise after treatment begins. If so, the clinic is required to make mandatory reports to appropriate agencies.
"Although we've filed a few reports of child abuse and elder abuse, the majority of our work is seeing young families with toddlers and kids," Davis said.  "It can be a challenge for some students, but we're a training clinic. You have to treat to train. "
Like her mentors, Perry believes the act of working through a client's challenges can be transformative. She recalls working with a traumatized, 3-year-old child who'd been removed from her home after suffering abuse from her mother.
"At first, it was heartbreaking," Perry said. In their play therapy sessions, she wanted to hide from monsters from her imagination. "Then she wanted to kill them."
Worrying about her violent fantasy, Perry asked Logan for advice. "She said, 'Let her, the child is reenacting her trauma through play, and you will have a chance to intervene therapeutically to change the child's story.' So we did, and you could see a weight was lifted. She killed all the bad monsters but then announced there was a baby monster. We talked about helping it. She agreed and put it in the toy ambulance. We sent the monster to the hospital for help."
A few weeks later, Perry met the child's foster mom who told her, "I don't know what you guys are doing but she's been talking a lot more about accepting help and saying things like 'I'm on the way to help you!'"
Perry smiles at the memory. "It still gives me goosebumps," she said.