Why Zombies Have Taken Over
BY Cal State East Bay
October 10, 2018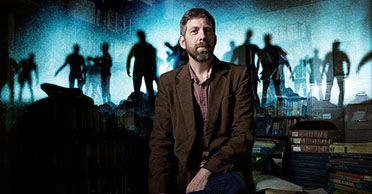 GARVIN TSO
Vampires have lost their bite. Over the last several years, zombies have become the most popular undead creature. According to Google, they came to life in a big way with the premiere of AMC's The Walking Dead in October 2010.  
What's with all the fright, rather…  hype?
Christopher Moreman, a Cal State East Bay professor and chair of the department of philosophy and religious studies, answers this in his new book "Dharma of the Dead."
"I think that zombies are fascinating because they are us," Moreman said. "Zombies are really just people who have died, often in horrible ways, and then rise up to remind us of their frailty. Zombies are weak and stupid and barely a threat individually. Their pathetic state often evokes sympathy from audiences and characters in zombie fiction, and sometimes the distinction between the living person and the zombie is impossible to discern. I think that of any monster of folklore, the zombie stands as the closest reminder for us of what we really are."
"Dharma of the Dead" is about the modern fascination with zombies. Moreman traces the evolution of the monster from Africa and its origins in the Haitian slave trade through today's iterations in modern popular culture. He argues the zombie can be viewed as an object of meditation on death, a memento mori.
Zombies are analyzed in the context of Buddhist thought, in contrast with social and religious critiques from other works.
"In the book, I draw out how core Buddhist ideas can be applied perfectly to the zombie," said Moreman. "For example, Buddhism says that we are all living and acting within samsara, an ongoing cycle of life, death and rebirth. The zombie embodies samsara in its being one that has lived, died and returned. We are stuck in samsara, which is a world of suffering, due to our own ignorance of impermanence and our cravings for things that we think will make us happy."