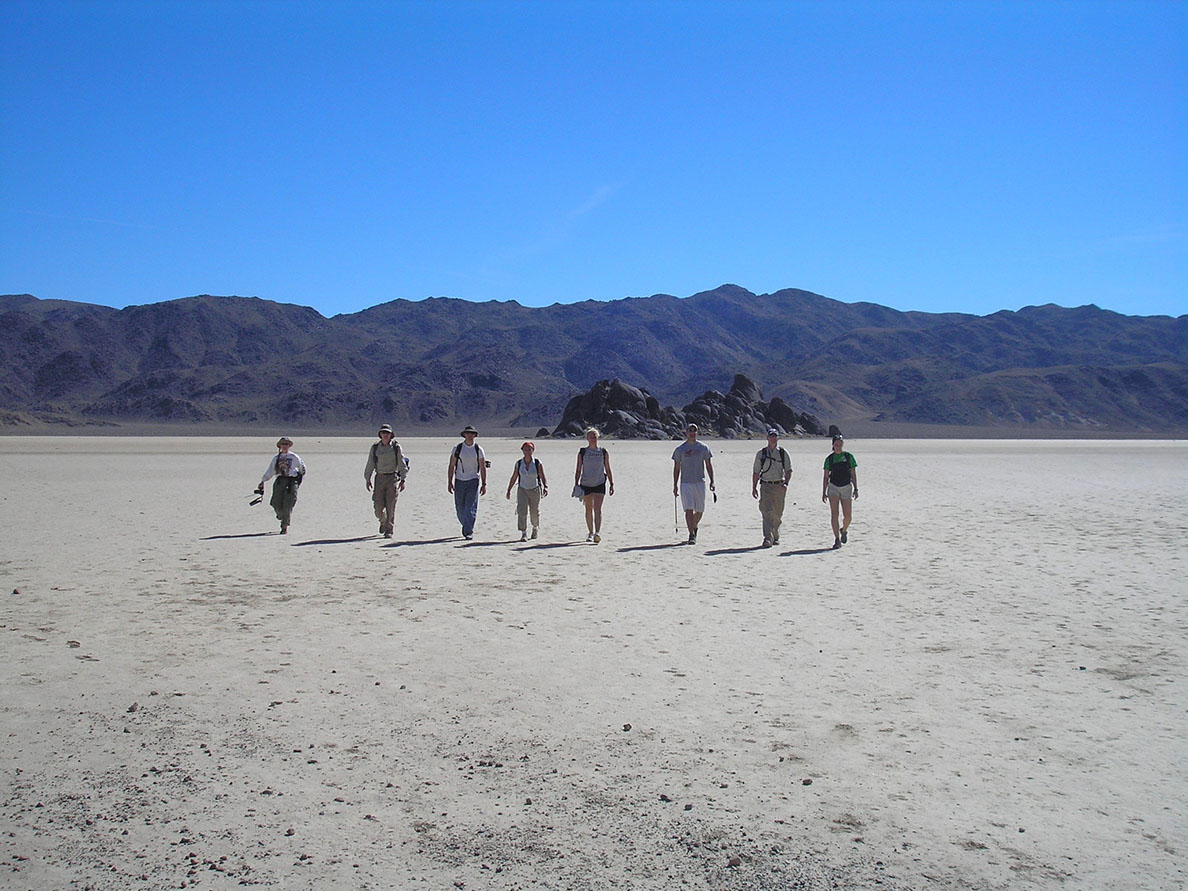 Environmental Security
BY NATALIE FEULNER
PHOTOGRAPHY BY COURTESY OF MELANIE KIMBALL
March 21, 2019
Lieutenant Colonel Mindy Kimball ('05 M.S. Geology) was going to be an astronaut. Her plan was laid out perfectly — finish high school, graduate from the U.S. Military Academy at West Point and then join NASA. Returning to her alma mater to teach the future leaders of the U.S. Army didn't figure on her life's roadmap. But sometimes life's detours have a way of surprising even the most meticulous of planners.
These days, Kimball is at the forefront of discussions and work on environmental security — the idea that the military has a role to prevent or respond to environmentally-caused conflicts as a means of peacebuilding.
"When Cadets graduate, they get commissioned as officers," she said. "So the hope is that when they have an understanding of how environmental systems work, they will apply it when they're on these deployments."
DREAMING OF SPACE
As a child, Kimball grew up visiting Napa County's Lake Berryessa and fondly recalls summers spent fishing and walking along the lake's shore. These experiences led her to develop a deep, almost innate appreciation for nature and the outdoors.
"I feel so fortunate it was a small department where I had a lot of one-on-one attention from faculty, could go on field trips and did field-based geology work."
"I've always loved the water and woods, and in school, I loved the environmental sciences," she said.
After graduating fromWest Point in 1996, Kimball served in Bosnia and Korea as part of the Army's Adjutant General's Corps, which is similar to what civilians might consider human resources.
She said it was a great few years during which she was able to travel the world, occasionally writing articles about space research and applying to transfer into the space program. But when West Point offered her the opportunity to go to graduate school and come back to the academy to teach, she swerved and took the detour.
"I knew I wanted to get back to California and sought out the good geology programs, which ended up being at Cal State Hayward," Kimball said. "I feel so fortunate it was a small department where I had a lot of one-on-one attention from faculty, could go on field trips and did field-based geology work. I just loved it."
Her mentor Jeff Seitz, now Cal State East Bay's Associate Vice President of Research and Sponsored Programs, said he remembers Kimball as one of his favorite students, one who excelled despite having several commitments outside the classroom, including to her family and the military.
"She had a positive attitude and worked extremely hard in her classes," Seitz said. "She always projected the attitude that her education was a top priority."
DISCOVERING ANOTHER LOVE
After graduating from Cal State East Bay with her master's in geology, Kimball's life took another short detour while she completed a doctorate in sustainability at Arizona State University. By the time she returned to teach, the Army had sharpened its focus on environmental security as a way of preventing conflict before it happens.
Kimball, armed with two new degrees and an interest in geology (thanks to her fieldwork at Cal State East Bay) and sustainability, asked if she could teach both. Her West Point students have now traveled to and studied in Hawaii, Death Valley National Park and Iceland, among other locations, working on projects similar to the ones she did with Seitz and professor Luther Strayer.
That work can take the form of everything from decreasing a unit's environmental impact on the country it is based in to finding ways to work with existing systems in a country that may experience a threat to resources which could result in conflict.
"We look at the stability of other countries and what sort of environmental hazards threaten to lead to conflict — whether that's hunger, disease, food scarcity, energy, etc.," Kimball said. "We look at whether taking care of those, taking care of the environment, can be a way of peacebuilding instead of peacekeeping."
West Point's mission is to "educate, train and inspire" its corps of 4,200 cadets. But Kimball said that since she's been teaching there, more often than not, inspiration goes the other way as well.
"It's very rewarding because every day you see cadets hungry for becoming a leader," she said. "They talk about how they can't wait to get their platoon and have this drive to serve in the Army, and I can come into the classroom and leave feeling energized by them."
And while she never planned on going back to teach at her alma mater (she wanted to be an astronaut, after all), Kimball said she'd found a new love.
"When I was selected to teach, I discovered another love and found out that I love teaching, which changed my long-term goals," she said.
LEANING INTO ADVOCACY
In addition to teaching, Kimball has become an advocate for women in the military and in the geological sciences, both fields that skew predominantly male.
She recently had a research project published that looked at gender representation in professional geological publications. Looking at monthly newsletters produced over the past 20 years by the Geological Society of America, Kimball evaluated the ratio of women to men featured as authors, and whether or not photos included women in the field or just their portraits.
She found that while women are increasingly being included, there's still work to do until the association's publications accurately reflect the percentages of women in the geosciences.
At West Point, she's contributed to efforts to prevent sexual harassment and sexual assault at the academy following a report released by the Pentagon in January 2019 that showed the number of sexual assaults at the top three American military academies has risen sharply over the past two years.
As for her mentors from Cal State East Bay, Seitz said he's not surprised to see Kimball is not only rising in the ranks in her profession but that she's also advocating for others. It's how she's always been.
"When she was a student here, she was a leader among the students in our program … she set a tone and standard for other students that focused on academic achievement, service and civility," he said. "Mindy exemplifies East Bay's Pioneer spirit."