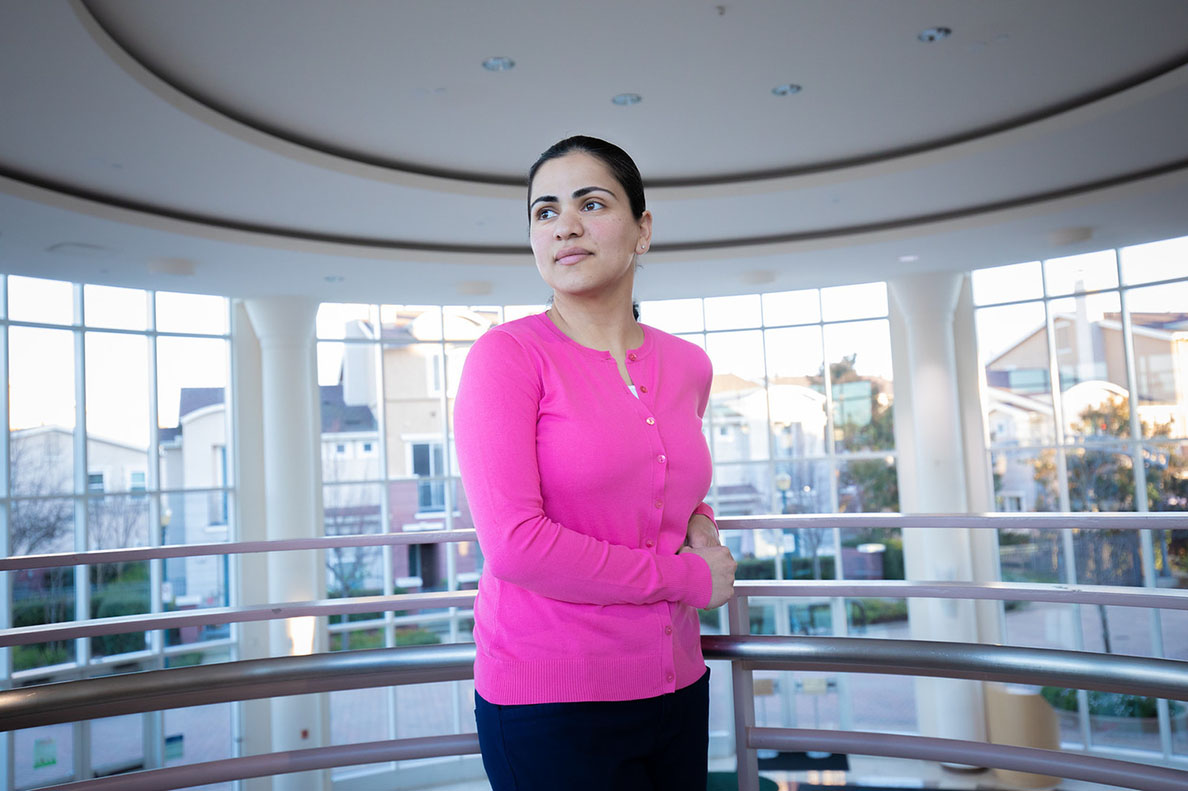 One of the First
BY DAN FOST
PHOTOGRAPHY BY GARVIN TSO
March 21, 2019
The year 2018 was a historic one for women. The #MeToo movement inspired thousands around the world to speak out about their experiences with sexual assault. Sandra Oh became the first actress of Asian descent to be nominated for a Primetime Emmy for Outstanding Lead Actress in a Drama Series. And a record-breaking number of women, particularly women of color, ran for and were elected to office for the first time.
Congress may have gained Alexandria Ocasio-Cortez, but Hayward gained Aisha Wahab, who earned an MBA at Cal State East Bay. In November 2018 she became the first Afghan-American, millennial and only renter elected to Hayward's city council.
Wahab shares the honor of being the first female Afghan-American elected to any office in the U.S. with Safiya Wazir, who won her race for New Hampshire's state legislature in the November election as well.
Yet for all the groundbreaking firsts, Wahab is focused on what lies ahead, not what she's pushed past to get where she is.
"I am proud of it; however, it does not change who I am, what I want to do, and the impact I want to make," she said. "Because at the end of the day, for me, it's about the work."
Wahab was the top vote-getter in a field of seven candidates, beating out two incumbents (only one of whom was re-elected in ranked-choice voting). Her priorities include pushing for more affordable housing, improving mental health and de-escalation training for public safety personnel, and improving the overall economy.
FINDING HER WAY
It was economic issues that led Wahab to Cal State East Bay. The daughter of immigrants, Wahab was born in New York City, and she and her sister were largely raised in foster throughout the Bay Area — a fact she now sees as a strength.
"My personal life has been far more complicated than the average person's," she said. "But my upbringing allowed me to see all sides of an argument, and all sides of the community. I absolutely love what my sister and I took from it. Everybody has their highs and lows."
Wahab's adoptive parents ran a small shop in Oakland. Her father stressed the importance of women achieving their potential, holding up Madeleine Albright and Hillary Clinton as examples.
"I'm exercising my right to push the issues I care about."
Wahab earned a degree in political science at San Jose State University, but after graduation she still wasn't sure what she wanted to do with her life. The economic downturn of 2008 had occurred right as she was starting college, her parents' store closed a few years after and Wahab was laid off from her job as an environmental consultant and sales director.
While she pondered law school — which she sometimes still does — Wahab opted for the one-year master's in business administration at Cal State East Bay.
"I liked Cal State's one-year program primarily because … I'm a relatively impatient person," she said.
While there, she worked as a program coordinator at the university's Diversity and Inclusion Center, which focuses on multiculturalism, service and social justice. She helped organize some of the first events for other first-generation college students, as well as a "Tunnel of Oppression," which guides participants through activities designed to teach them about oppression, privilege and power. Both events continue to this day.
"Being a kid that grew up in foster care, from an immigrant family, voices like mine have not been heard."
Stan Hebert, who was Cal State East Bay's associate vice president and dean of students at the time, said Wahab stepped in for a staffer on paternity leave and "was extremely important in keeping the programming and operations in our diversity program going at that time."
"It was great to have someone with her level of maturity and understanding of how a center like that could work," Hebert said. "She also looked for ways to help our associated student officers have a better understanding of the role they could take in fostering inclusion at CSU East Bay."
Wahab earned her MBA and ultimately found work as a business and IT consultant, helping leverage technology companies' work to benefit the public sector.
FINDING HER VOICE
She decided to run for office because she wanted to see the city council in Hayward do more. She didn't use any political consultants; instead, she knocked on doors all over the city — her favorite part of campaigning. She also managed to garner endorsements from the Democratic party (although the election was nonpartisan) and from Our Revolution, Sen. Bernie Sanders' political action organization.
The campaign was a learning experience, and her education continues now that she's holding office for the first time.
"There are certain limitations," Wahab said. "There are so many things I can't do. Conversations need to be had."
But she still exhibits her trademark tenacity.
"I'm exercising my right to push the issues I care about," she said.
Her position on the city council doesn't pay enough for Wahab to quit her day job, but the demands of public office in a city of 161,000 keep her busy almost around the clock.
She's also gained attention outside the city. California state Assemblyman Bill Quirk recognized her earlier this month as his district's Woman of the Year, and she joined other honorees in Sacramento. And she was recently included on Cal State East Bay Alumni Association's 40 Under 40 list and the 2017 San Francisco Business Times' Most Influential Women in Business.
"Being a kid that grew up in foster care, from an immigrant family, voices like mine have not been heard," she said. "That's important. Everyone should have their voice heard. At the end of the day, if you can say, 'This is my story,' and own it, and use it in a powerful way, that's one reason people pay attention to what I'm doing or saying."