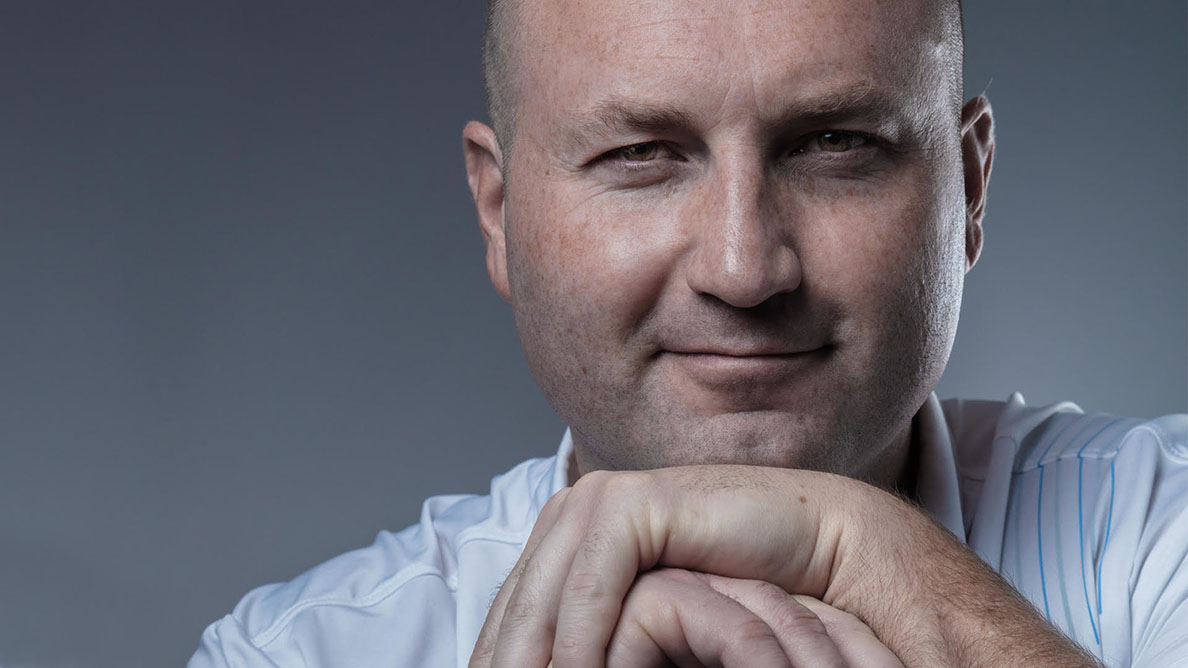 Robots That Golf
BY NATALIE FEULNER
PHOTOGRAPHY BY GARVIN TSO
March 21, 2019
Nate Weidner is bringing golf to China.
The country of 1.3 billion is relatively new to the international golf scene, but it already boasts the world's largest golf club and is expected to have as many as thousands of clubs in the next 10 years.
Weidner, a Cal State East Bay alumnus (B.S. '05, Broadcasting) and former golf pro who moved to China for the golf boom, has exclusive rights to install and run RoboGolfPro throughout the country. RoboGolfPro is a tech startup training program that uses a robot to teach golfers proper alignment and correct their alignment mistakes.
"Golf is a very new game in most parts of Asia, but it's a fast-growing game, especially among the elite level earners," Weidner said. "I've only been in China for six months … [but] I'm shocked at how many very uber-wealthy people there are at the top, and all of those guys love golf."
HUMBLE BEGINNINGS
Twenty years ago, the loquacious and enthusiastic Weidner had no idea he'd someday be living in one of the world's largest cities teaching golf. Until he took a quintessential post-graduation trip to Europe in 2007, he'd never been out of the country.
"I've always had a sense of wanderlust, I was that kid who would wander away from my mom in the grocery store just to check out the next aisle over, but nobody in my family travels," Weidner said. "That first trip [to Europe] triggered this long-dormant designer to be out there and see the world."
Weidner grew up in Castro Valley and played football and baseball as a youth and teen. But after not making the baseball team one year in high school, he gave golf a chance, showing up at tryouts with a bag of old wooden "demo" clubs his grandfather had picked up a garage sale. And he made the team.
From there he was recruited to play football and golf at Chabot before transferring to Cal State East Bay, where he led the team while pursuing a degree in media arts. It was during those years as a Pioneer that he grew to love not just the game, but also the social and networking opportunities the sport afforded him.
"Golf to me is fellowship; it's the camaraderie you have with people when you play," Weidner said. "It's an individual sport, but my most successful and fun moments were with a team. Any golfer can go out by themselves, meet three strangers and walk off the course four hours later with three best friends for life."
Coach Alan Sue said he recalls Weidner was a hard worker in the classroom and on the golf course.  
"He was a team leader and one of our top performers in competitions," Sue said. "His positive energy and loyalty to his teammates made him very popular with everyone on the team."   
ROBOTS FOR GOLF
According to Sue and several golf-focused publications, including Golf Digest and the United States Golf Association website, technology has changed nearly every aspect of golf, from the sensors used to determine soil moisture to techniques for improving a player's swing.
That's where RoboGolfPro comes in.
"Nate's success in anything would never surprise me. He just has that 'it' quality about him."
Dubbed as the first and only swing trainer that "allows golfers to feel their ideal swing," the RoboGolfPro is a training robot that first records a player's swing then creates an updated "perfectly planed swing" with the length of swing a perfectly adjusted based on the individual's flexibility.
"Instead of telling verbal cues to correct their swing, they can hold their club and feel their ideal swing," Weidner said. "Historically golf is a tough game to learn; this technology helps get people good at golf faster, and you enjoy the game more when you're good at it."
Over the past several years, RoboGolfPro has installed and trained golfers on more than 30 robots worldwide. At $150,000 the robots aren't affordable for the everyday golfer, so Weidner and others have focused on finding clients at driving ranges, universities and fitness centers. There are a few elite PGA Tour players, including Bryson DeChambeau, who won four PGA events in 2018, who have adopted the technology and incorporated it into their home training facilities.
FINDING HIS COURSE
After his stint on the Cal State East Bay team, Weidner joined the professional circuit and played in tournaments around the country for several years. His eventual goal was to play pro for a few years, then use his communications degree to transition into a career as a sports broadcaster.
"Nate's success in anything would never surprise me."
But after several tours, he was burned out.
"I worked my tail off, it was a wonderful experience, I got some amazing travel out of it, some great life stories, but on the golf side, it was quite disappointing," Weidner said. "I had goals of winning championships and meeting and beating Tiger Woods, and it didn't work out like that."
Weidner retired at age 27 and took a job in tech sales. But he always found his way back to the mecca of the golf world, Pebble Beach, every so often. And it was there he met Scot W.R. Nei, world-renowned instructor at the Pebble Beach Golf Academy. The pair hit it off, and after a round of golf (naturally) Weidner went on to work with the company at the PGA Tour's Safeway Open in Napa and continued on to promote and install the system at PGA Tour events, trade shows and golf courses before moving to London to expand the brand in Europe.
"Working for the tour is like working for a traveling circus, which is part of the work that I'd always admired, even if scares some people off ­ — on the road 40 weeks of the year. After just seven days at that first tour event, I realized I want to do this for the rest of my life."
Sue said he wasn't surprised to learn Weidner had found success in golf after all, albeit in a different way than he'd planned.
"Nate's success in anything would never surprise me," he said. "He just has that 'it' quality about him. If our student-athletes could see Nate's positive outlook and his work ethic from his college years and through his working years immediately after college, they would understand how he became successful."  
As for what's next? Now that he's settled into life in Shanghai, Weidner has some big goals in mind, starting with reaching out to golf clubs, fitness centers, universities and other places that might have the interest in and funding for the RoboGolfPro technology.
"I want golf and indoor golf facilities to become as popular as Starbucks with one on every corner and help as many people improve their lives through golf as possible," he said.