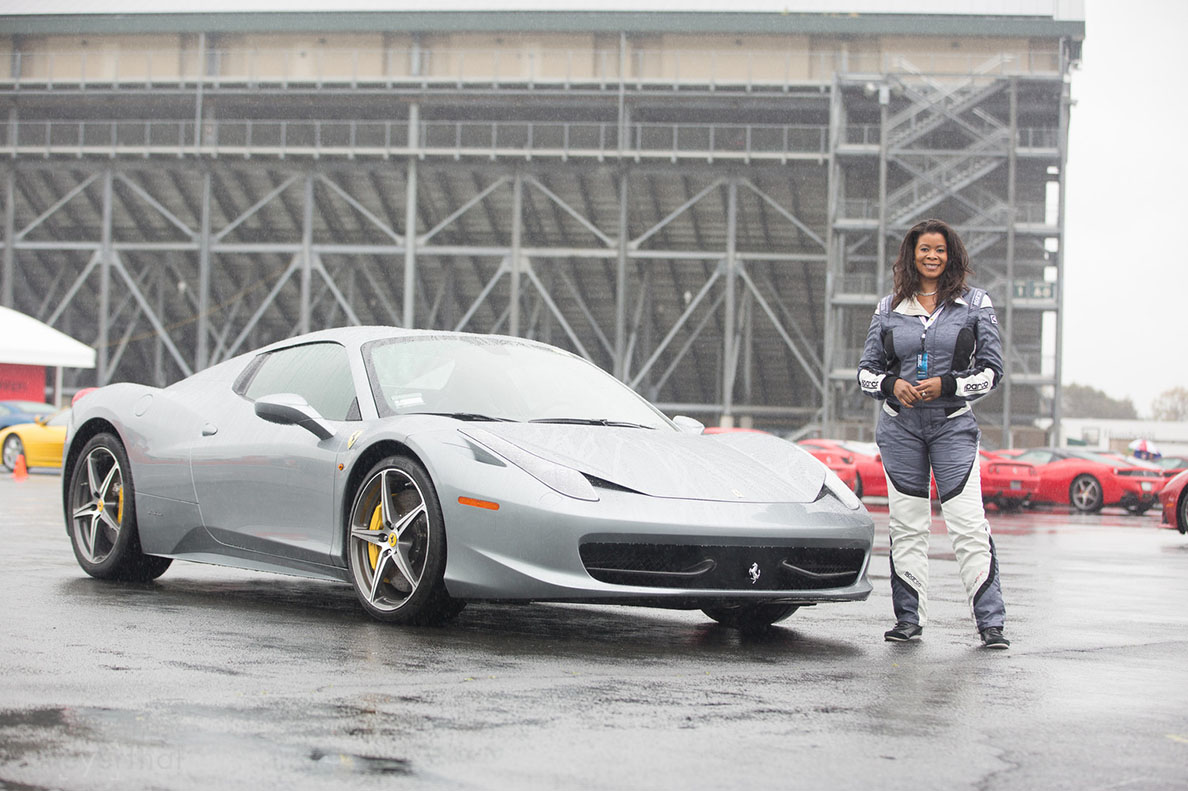 One Girl at a Time
BY NATALIE FEULNER
PHOTOGRAPHY BY COURTESY OF CHANTERRIA MCGILBRA
April 12, 2019
When Chanterria McGilbra was 12-years-old she wanted a pair of black and white Converse shoes. But her dad said no, it wasn't in the budget. If she wanted the shoes, it was up to her to find a job, make the money and buy them herself.
So she did.
And since that day, McGilbra, a Cal State East Bay alumna, entrepreneur and founder of the girls empowerment organization Prancing Ponies Foundation started working and now empowers the 12-year-olds of today to go after what they want.
"I credit my parents for their ability to give my sister and I what I call an 'experiential life,' which contributed to my success and fearlessness of going after what I want."
"I was a very willful child and I wanted what I wanted, a trait I certainly got from my father," she said. "That day, I ended up getting a job babysitting and after the first two gigs, was able to buy the shoes. It was the first time I was shown if you assert yourself and get out there, you can get what you want."
AN EXPERIENTIAL LIFE
Born and raised in San Francisco as the youngest of eight children (alongside her twin sister), McGilbra said her parents often depended on welfare and worked multiple jobs to make ends meet.
But they always tried to give their children access to experiences and opportunities they didn't' have.
"I credit my parents for their ability to give my sister and I what I call an 'experiential life,' which contributed to my success and fearlessness of going after what I want," McGilbra said. "Growing up in a very progressive city like San Francisco, I was exposed to amazing opportunities."
A natural student, McGilbra was placed in the Gifted and Talented Education program in fourth grade and said she's grateful for teachers who saw that she needed an extra challenge in the classroom.
"My fourth-grade teacher Ms. Handy was instrumental in developing me into who I am today," McGilbra said adding she also had the guidance of academic counselors at the San Francisco School of Arts where she attended high school. "As far as I knew, I didn't know what college was … but Mr. Chalmers fought for low income and disadvantaged students like myself and I owe my college assertiveness to him."
After taking a gap year to see if she wanted to dance professionally, McGilbra returned to the Bay Area and started classes at then-Cal State Hayward.
"When I arrived [on campus] I remember having this overwhelming feeling of being home," she said. "I was so comfortable on the campus; I had never been on a college campus but still I felt very comfortable there."
CLIMBING THE RANKS
Like many students, college was a time of discovery for McGilbra. After first pursuing political science (in an effort to one day practice law), she switched to sociology and around the same time discovered a knack for statistics.
From there she was mentored by the university's information technology department and taught herself programming, which helped her land her first job as a LAN administrator for a law firm. She also took four years of Italian with a professor who left her with an insatiable desire to travel and live abroad, something he 12-year-old self could never have imagined.
"It was all amazing and I look back as that time really laying the foundation for the life I have today," McGilbra said.
As she gained professional experience, McGilbra moved up higher within the industry at companies including Kaiser, Charles Schwab and Arthur Anderson, among others. Many times, she started at the bottom, even if it meant taking a job for less pay.
But it was the purchase of a car that ultimately changed McGilbra's life.
In 2014, she walked into Ferrari of San Francisco and test drove a 458 Ferrari and 562 horsepower. A few hours later she signed on the dotted line and according to the research she's done and what the showroom employees told her, became the first African-American woman in Northern California to own a Ferrari.
Similar to going to college, it was a dream she didn't realize she had.
"I never wanted a Ferrari but I didn't know to want one," McGilbra explained. "Our upbringings give us a narrative, a lot of which we think we don't have a choice about. Our narrative was that we were poor and poor people don't dream of having a Ferrari. That dream is too expensive to have."
That really hit home when one day stopped at a bus stop near Galileo High School in San Francisco, two girls yelled out to McGilbra that they liked her car.
Surprising them and herself, she called back
"I expect you two to get one too."
And since that day, she's worked to open the doors for young women like herself to change their narratives, to see success in business as not just a dream but a possibility.
BUILDING WOMEN LEADERS
The Prancing Ponies Leadership Acceleration Academy accepts up to 10 third-year STEM young women each summer for a six-week long intensive skill building program. Based on McGilbra's own experience seeing how long it took her to learn business skills such as how to run a meeting or create budgets, the young leaders learn everything from presentation skills to salary negotiation and conflict management.
"I started looking around and realized I could do more good in the world by helping the next generation … [because] you absolutely can change your narrative," McGilbra said.
After graduating from the program, Prancing Ponies scholars then mentor incoming students to the program attend various events throughout the year. Since its inception in 2015, Prancing Ponies has received recognition and support from dozens of well-known philanthropists and companies including Oprah Winfrey and Microsoft. 
"We are accelerating girls on a path to leadership, we don't just give them the skills, we try to connect them with companies that are actively recruiting women in leadership," McGilbra said.
And why Prancing Ponies? Well because of Coco, the Ferrari of course.
In addition to the leadership academy, Prancing Ponies hosts yearly all-woman car shows and executed the first all-female Ferrari rally in the word in 2016. The events, McGilbra says, not only inspire girls, but show that women can be just as passionate about their cars (and business) as men.
"It's been a really fun journey starting with our world record Ferrari race, but more importantly, it's been a journey that allows me to live my life's purpose," she said.