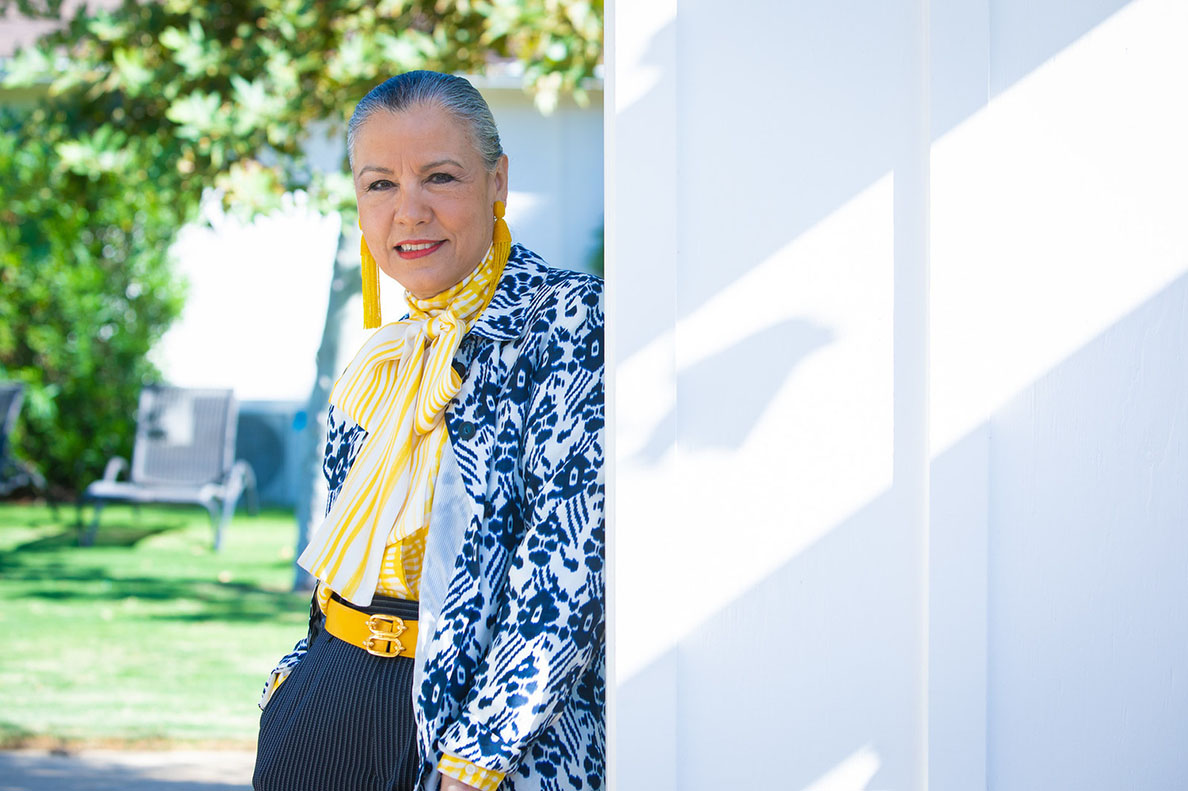 Meet Karen Oliver
BY NATALIE FEULNER
PHOTOGRAPHY BY GARVIN TSO
October 22, 2019
Karen Oliver knows a thing or two about the power of beauty.
After graduating from then-Cal State Hayward, Oliver dreamt of going into fashion and opening a fine designer sportswear boutique with a prestigious cosmetics line in San Francisco. But she needed money to get started.
So as a self-described "precocious 20-something-year-old," she called high-end skincare company Erno Laszlo to see if she could get the brand onboard with her concept. However, Laszlo disrupted her business plans with a different opportunity, a job at I. Magnin in San Francisco selling their cosmetics. Not long after, Oliver was promoted to the position of the store's assistant department manager, followed by a promotion to cosmetics buyer. It was then she realized she loved the industry and discovered what beauty meant to customers.
"Makeup can really empower someone in terms of helping to build their self-esteem," Oliver said. "Beauty is powerful. It's not just lipsticks; beauty has real potential to make people feel better about themselves, and I've been fortunate to have seen it happen many, many times throughout my career."
From Erno Laszlo, Oliver went on to hold executive positions at prestigious brands, including Christian Dior, Lancôme, Helena Rubinstein (L'Oréal), and Shiseido. These days she is the founder and CEO of Karen Oliver and Associates, a trusted boutique public relations agency in New York City.
Since opening in 2004, KO&A is especially noted for putting premier European beauty brands that aren't well known in the US, such as Eau Thermale Avène and Klorane, front and center with the American media.
As for Oliver, she has been highlighted by numerous media outlets, including "Coveteur.com" and "FabOverFifty.com," not only for her impeccable style but also for her ingenuity and drive.
Her advice to young people? "Work hard, say yes to opportunities when they arise, and stay motivated."
"If you let fear paralyze you, you're never going to recognize that there's an opportunity in front of you," Oliver said. "Being fearless and walking through the door of opportunity that comes to you is a big part of being successful."
It's a lesson Oliver learned in part during her time at Cal State Hayward, where she'd often find herself spending long days in the art studios, tapping into a side of herself she'd explored as a child, but never considered for a career.
"Because of my exposure [to art], and my great classes at East Bay, it was imprinted on my spirit and soul that I could go through my life looking at it through a lens of art and creativity," she said.
And since then, she has let art and her passion for living a creative, authentic life be her guide.
"I think you have to be true to your own self; it can't just be a job is a job, and a salary is a salary," Oliver said. "In the end, you have to look back on your life and say, "Was I fulfilled, did I make a difference, did I do it my way," as Frank Sinatra would say. And if you can say that and you can look in the mirror and like yourself, I think that's success."
"For me, there's also more to living an authentic life than being successful in business. I've always been a strong believer in the importance of showing my gratitude for all my blessings, giving back and paying it forward.  To quote one of my role models, the iconic actress and great humanitarian Audrey Hepburn, 'As you grow older, you will discover that you have two hands— one for helping yourself, the other for helping others.' It's always been a core part of my personal philosophy to go through life reaching out with both hands."