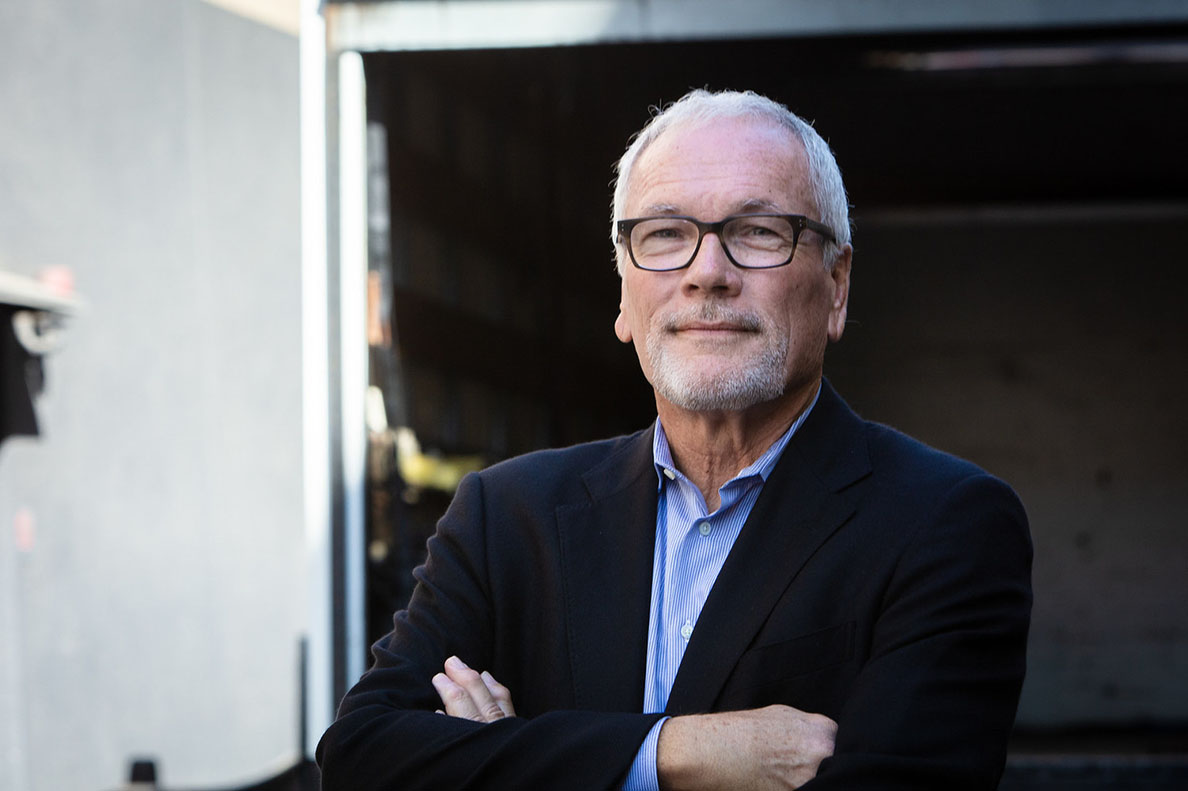 Meet Ken Kahrs
BY NATALIE FEULNER
PHOTOGRAPHY BY GARVIN TSO
October 22, 2019
Ken Kahrs is a people person. 
The retired executive vice president of human resources at Universal Studios has an easy smile and knows seemingly everyone on the backlot from the security guards in the parking garage to employees having lunch at the on-site grill. 
"When I was in college, I wasn't studying to go into human resources, but the part that connected for me … was working with people, it was the spot where I felt most comfortable and where my skillsets lay," Kahrs said. 
As a student at then-Cal State Hayward, Kahrs was studying recreation. But a case-study style class about leadership and management put him in the "fast lane" toward a career in human resources, eventually overseeing everything from the hiring and training of 20,000 employees to company-wide diversity programming. 
"Every day is a new day," Kahrs said. "Normally, you have a certain predictability about a job, but in human resources, you know that during the day there will be things that happen that you couldn't have anticipated and I like that." 
First an executive at various organizations including the Cerebral Palsy Center in Oakland andLockheed Missiles and Space Companyin Sunnyvale, Kahrs said moving into the entertainment industry was a sort of byproduct of his career trajectory. Part networking, part taking his own advice to "just say yes." 
"I sort of fell into it," he said. "I had an early mentor who I'd worked for in recreation who'd moved over to entertainment, and he offered me a job at Viacom (a mass-media conglomerate). Once I got into it, I really loved it [because] it melded the skills I had in human resources with an industry I found fascinating, fun and interesting." 
In his role at Universal, Kahrs often traveled around the world and said he always loved talking to everyone about how his work at Universal connected to them. 
"I loved the idea that I could be in Osaka, Japan, getting a cab ride and ask what someone's favorite movie was, and it could spark an entire conversation," he said. "That's one of the great benefits of entertainment, it transcends a certain culture, even a certain country, and has this global appeal." 
Now five years into retirement, Kahrs said he feels proud of the career he built, particularly his work around increasing diversity at arguably one of the biggest names in the entertainment industry. 
"Really starting in the 80s I was in a position to impact the diversity of the company I was in through hiring practices, programs and training," he said. "And I was able to carry that through and see not only the initial phases but the long term impact of those efforts at a company that embraces diversity." 
He says there's still work to do around diversity and inclusion in the entertainment world, but he's hopeful. 
"We all know and hear a lot about diversity in Hollywood and the challenges of inclusion in an industry that's quite frankly dominated by white males, but the good news is it's getting a lot of attention and there is increasing diversity at all levels, but the challenges ahead are immense." 
As for what's next? For now, Kahrs is enjoying retirement, spending time with his grandsons, golfing, and yes, still enjoying plenty of movies and television.