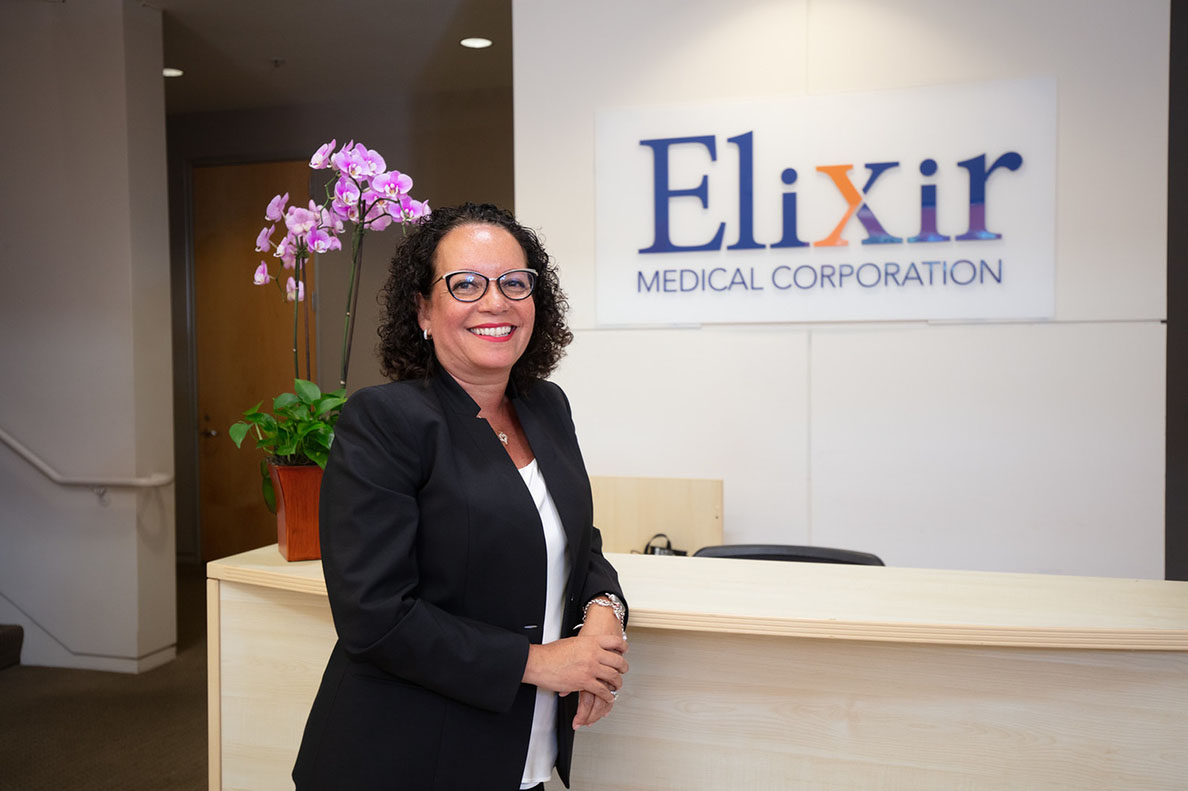 Meet Sara Toyloy
BY NATALIE FEULNER
PHOTOGRAPHY BY GARVIN TSO
October 22, 2019
Sara Toyloy has always enjoyed a challenge. In fact, it was a challenge from a cousin at 15-years-old that led her to attend then-Cal State Hayward. 
After graduating from high school early, Toyloy was gifted a trip by her older cousins Joan and Ernest Simien from her island home, St. Vincent and the Grenadines, a small island in the Caribbean, to visit them in Fremont, California. It was during that trip, her cousins took her up to the university's Hayward campus to admire the bay view and asked her whether she'd ever want to attend school there. 
Not long after, with approval from the university's president because of her young age of 15, Toyloy enrolled in classes. 
"It was absolutely frightening those first few days, walking around a huge campus," she said. 
Now the president of new therapies and chief regulatory officer of Elixir Medical Corporation, Toyloy oversees the clinical, regulatory and quality teams. In short, ensuring the devices Elixir creates — drug eluting stents for heart attack patients — are approved as quickly as possible for use nationally and around the world. 
It's a challenge that suits her just fine. 
Although Toyloy started out as a research scientist after graduating, she transferred into the regulatory affairs department where she quickly gained a reputation for finding success where others previously hadn't and started getting assigned the "disaster projects." 
After learning through many difficult assignments, Toyloy landed one  of her greatest successes — a device that received U.S. Federal Drug Administration approval in 113 days, which at the time was a record for the industry. 
The work is intrinsically satisfying too, although Toyloy admits it can take stepping back from the day-to-day sometimes to see that. 
"In reality, everything that we do on a daily basis, also has a great impact on human life, not just in the U.S. but around the world," she said. "Heart disease is still the number one cause of death, but slowly and surely, we're reducing that year over year." 
Her tenacity and drive, which helps push devices through the FDA regulations and other global approvals, started long before she ever took a job in the industry. And comes with a healthy sense of duty. 
"Looking at the opportunities I was given to come to the U.S., and attend university … I felt I needed to earn my opportunity and make good on that, not only in graduation but also in every opportunity that I have since had in my career, " Toyloy said when asked what drives her.
As a student, that meant taking classes such as the history of jazz that would help her, not just in school, but as a student of life. 
"I would write to all my friends back home and tell them what I was learning," Toyloy said. "[Cal State East Bay] gave me a well-rounded foundation, not only in my subject matter, but as a human being." 
One class, in particular, an organic chemistry course with Leroy Chauffe was particularly poignant. After receiving a 93 on an exam and realizing someone she regularly competed with in class received a 94, Toyloy went to Chauffe's office to contest the grade. But instead, he asked her a question that she still references today. 
"He said, 'Why are you here trying to get a 94 instead of being happy with your 93, which is your highest score yet? Stop and take a minute to enjoy what is good,'" Toyloy recalled. 
And it's a reminder she said current students should hear as well. 
"Never underestimate your capabilities," she said. "You should be very proud of the education you are receiving at Cal State East Bay. It is a strong, solid foundation, and it can allow you to compete at the highest level in all career choices."