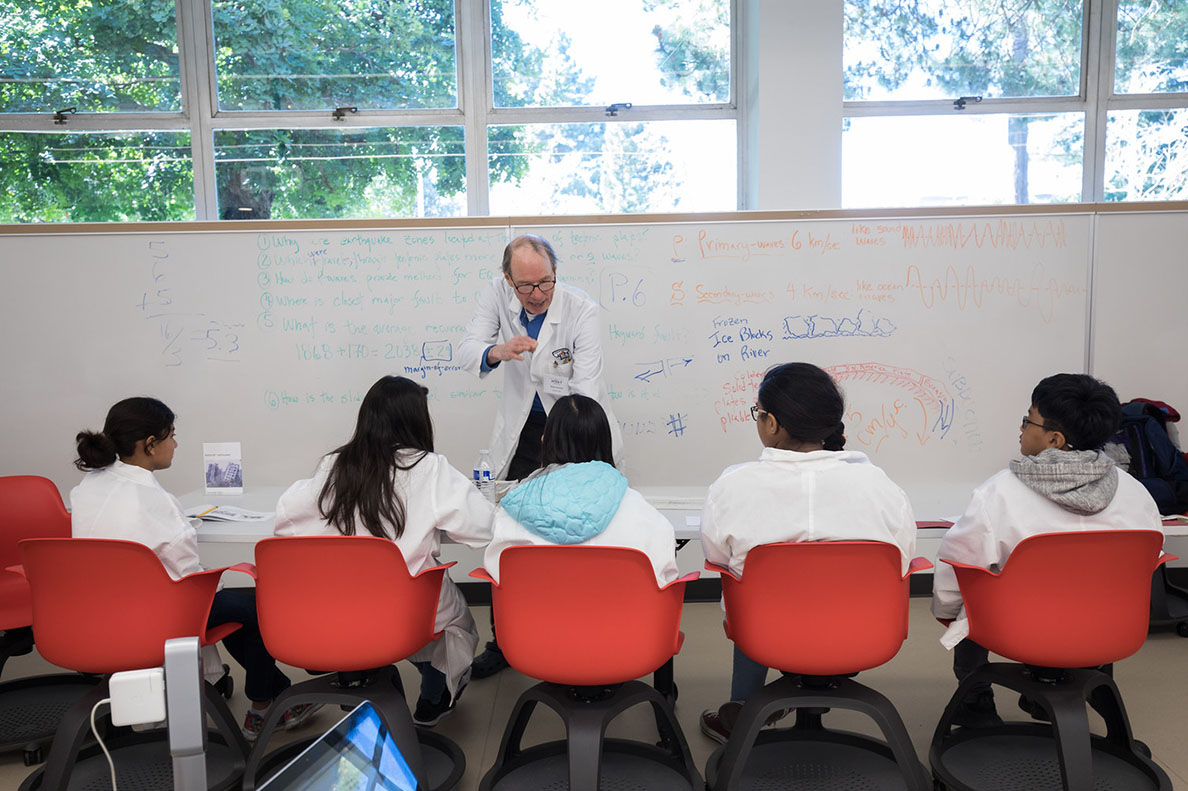 Training the STEM Teachers California Needs
BY ILENE LELCHUK
PHOTOGRAPHY BY GARVIN TSO
October 1, 2019
Wearing pristine white lab coats and safety glasses, 29 sixth graders from Fremont's Ardenwood School rocketed into a morning of planetary science at Cal State East Bay's Hands-On Science Teaching Labs.
They rotated and revolved on office chairs. They speculated about space junk. They plunged into a physics lesson about impact craters by dropping different sized metal balls from various heights into a bucket of flour topped with blue powdered paint.
"In the end, they were covered in blue flour," laughed Emily Holley, a Cal State East Bay junior and "science guide." "The coolest and most memorable thing was their excitement to learn science — their evolution and growth."  
Holley is one of several undergrads who, as liberal studies majors on the teacher preparation path, get to experience HOST at the lab on the Hayward campus.
"I think everyone should do it even if science isn't your focus," Holley said about the course. "It forces you to 'host' something. You have to be confident. It's about being organized and finding your teaching style. In just one lab, I already learned so much about myself and my teaching style."
Coming this January, even more Cal State East Bay students will have an opportunity to become "science guides" as the HOST Labs program expands to the university's Concord campus.
Marathon Petroleum Corp., which runs a refinery in Martinez, made this second lab possible with a $70,000 grant. The donation includes funds for school field trip transportation costs. (Hiring a bus can cost the schools up to $1,000 – a big barrier for some districts.)
Not only is the acclaimed program becoming more accessible to Contra Costa County 6th-8th graders, it is becoming more attainable to area undergrads who otherwise would have an hour-long commute to Hayward. The student teaching course is a graduation requirement for liberal studies students on the Teacher Preparation Pathway. 
During an era of acute teacher shortages, the expanding HOST Labs program bolsters Cal State University's mission to entice and train more college students for careers in education.
As much as 80 percent of California school districts grapple with staffing scarcities, according to the Learning Policy Institute. 
The shortage is especially dire in low-socioeconomic communities and in STEM instruction – science, technology, engineering and math. California is projected to need at least 33,000 new math and science teachers in the next decade.
In response, the California State University system announced this fall it will pump $10 million into its Mathematics and Science Teacher Initiative during the next four years to recruit new students, provide scholarships, and create other resources for soon-to-be credentialed teachers. 
 Cal State East Bay takes that mission seriously.
"We probably are the largest producer of teachers for Contra Costa area schools. Most of our alumni are working somewhere in this county or on the edge of Alameda County or Solano County," said Robert Phelps, director of the Concord campus.
During last academic year alone, the Concord campus counted 65 single subject and multiple subject credential program graduates. 
HOST Labs first launched in 2014 in Hayward thanks to grants from the S. D. Bechtel, Jr. Foundation and the National Science Foundation, said Associate Dean Danika LeDuc from Cal State East Bay's College of Science. 
Each year, about 30 undergrads complete the course at Hayward, learning how to create and execute creative earth science lessons. Roughly 400 local students from diverse schools come through per year.
No boring lectures for these middle schoolers. They learn about viscosity by creating Mentos and soda volcanoes, they test cabbage-infused gelatin cubes with pH indicators, and they master the concepts of mass by balancing playdough planets and stars on skewers.
Holley, who hopes to teach elementary or middle school science someday, described the 1.5-hour sessions as "speed dates with science." 
Classmate Maria Candido, a junior, said the HOST Labs course opens her eyes to the possibility of a teaching career. She recently instructed a crew of kids about the difference between planetary revolution and rotation. 
"The students were very engaged. It made it really fun to work with them," Candido said. 
The HOST Labs course puts budding teachers like Candido and Holley "way ahead of the curve," LeDuc said. 
"When they go on their job interviews, they already have experiences to talk about. They have had that opportunity to think about how to make engaging science activities for students. That's what I'm really proud of."
Middle school teachers love the program so much that when registration opens each year, all field trip slots fill within 24 hours. 
Jan Robertson, a science instructional coach for Mt. Diablo Unified School District, can't wait to send students to the new Concord lab.
"It's an opportunity for kids to see real science in action, which often lacks in a classroom because of limited resources," Robertson said. "And they get to work with professors and people who have worked in STEM fields – just the wonder of how cool it is to work in a room filled with science equipment."
An added benefit of a HOST Labs field trip is exposing young students to a university campus. 
"They get to see these college students who are often from their neighborhoods who are doing really interesting things," Robertson said. "They could find a mentor or get a vision of themselves there." 
The program's impact reaches deeply into East Bay communities. The university also has begun sharing its student-created lesson plans and materials, recently putting together a package for Children's Fairyland in Oakland, for example.
"HOST Labs has been a really good investment," LeDuc said. "And it will be a good investment in Concord as well."