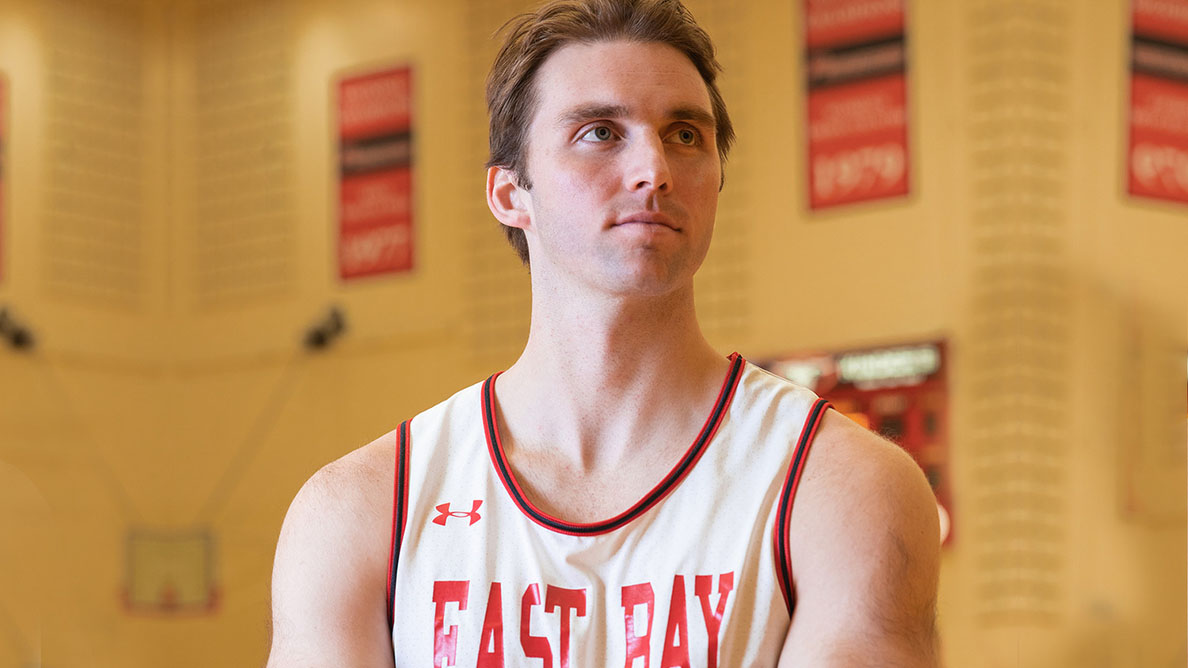 Back From a Battle with Cancer
BY KIMBERLY HAWKINS
PHOTOGRAPHY BY GARVIN TSO
January 27, 2020
The summer of 2018 was good for Ben Wood. He had plans for his life, all laid out in front of him. 
He'd just joined the Cal State East Bay men's basketball team and was working toward his business degree. But in September, severe lower back pain benched him. Wood tried to push through the pain and figured at worst, it was a bulging disc. But after an MRI ordered by team doctor ordered an MRI, scans showed something far more serious — a cancerous tumor on his spine.
Cancer. 
"My world stopped," Wood said. "That was one of the scariest moments. It wasn't on my radar at all."
Wood grew up in Walnut Creek with seven brothers and was part of a basketball team and the Cal State East Bay community. But still, he says, during and right after the diagnosis, he felt alone. It was his disease to fight.
"I thought it was going to be all on myself to get me through the battle, but when it all came down to it, it was the people around me who were the ones who were strong and carried me through it," Wood said. "When you get humbled to the point of people needing to do everything for you, it gives you a new perspective."
 Wood spent six months going through chemotherapy for osteosarcoma. The tumor and his L-5 vertebrae were removed and replaced with a metal cage and pins. During this time, the team checked on him and his brothers shaved their heads in solidarity as Wood's hair started falling out.
"Ben is the greatest example I have ever seen of 'walking the walk,'" Cal State East Bay head coach Bryan Rooney said. "Over the past year and a half, he has been given every opportunity to ask 'why me' or feel sorry for himself. He has not done either one time. Instead, he has attacked every challenge with an unrelenting spirit and in doing so he reminds us daily of what true strength and courage look like." 
Wood watched the Pioneers basketball games live-streamed as he went through treatments, which he said helped him feel connected to the team and remember that life doesn't stop for anyone or anything, including cancer. 
"Before cancer, it was about the wins and losses and personal performance," Wood said. "If I am not doing well on the court, things are not good. I enjoyed playing the sport because it fed my ego, but that has changed. I realize basketball is a great part of life, but success in life and being part of a team is more important than the game." 
The surgery and chemotherapy worked and as soon as he felt well enough, Wood started playing basketball with his brothers. 
Last week, 16 months after that fateful scan, Wood's doctor cleared him to start working out with the team. He is expected to play in his first game on Jan. 30 against Chico State. In addition to getting back on the court, Wood is engaged and planning his wedding with his fiance. 
"I'm like the happiest guy," Wood said.  "I think I've got the best life, the best people in my life. I wouldn't trade places with anyone."