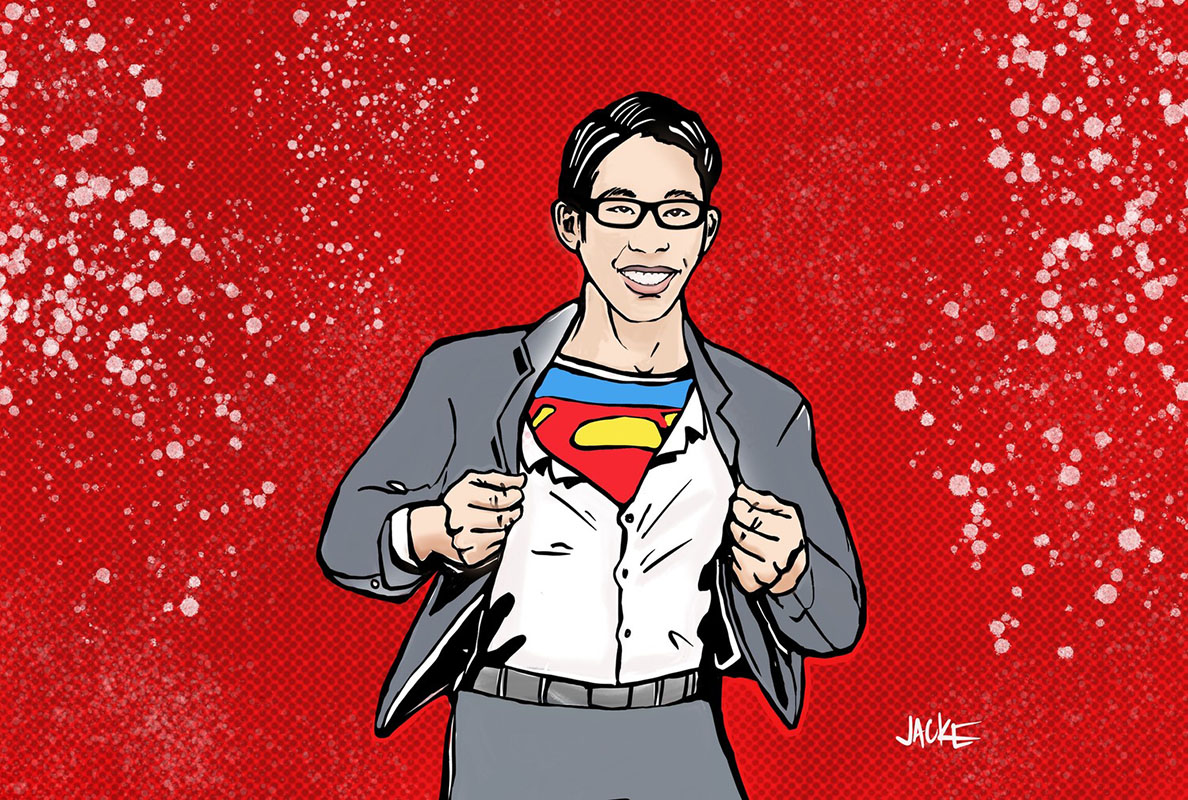 Becoming Dr. Yang
BY DAN FOST
PHOTOGRAPHY BY JACK EASTGATE
January 8, 2020
Gene Luen Yang always felt he let his parents down. Sure, he earned a bachelor's degree from UC Berkeley and a master's from Cal State East Bay. But while he toiled away writing comic books and graphic novels, his younger brother became a doctor.
"He's always been the academic achiever," Yang said. "I tried. It didn't work."
Now Yang, 46, can call himself "doctor" if he chooses. At the most recent commencement, Cal State East Bay bestowed an honorary doctorate on Yang, adding to a long list of accolades for its distinguished alumnus.
Yang has already won a MacArthur "genius" grant, was named the Library of Congress' fifth National Ambassador for Young People's Literature, and has twice been a National Book Award finalist. His landmark graphic novel "American Born Chinese" won the Printz and Eisner awards and was named to NPR's Top 100 Best Comics and Graphic Novels list
He may still reach greater heights. Yang was one of the few chosen to help reboot the greatest American superhero of all, Superman. He's already done 10 issues of monthly Superman for DC Comics, including a new character, "New Super-man," in which he said "a Chinese kid in Shanghai inherits some of Clark Kent's powers and becomes the Superman of China."
Late last fall, the first installment of  "Superman Smashes the Klan" was published, in which Yang retells a story first told on radio in 1946 about Superman protecting an Asian American family from the Ku Klux Klan.
Yang said that growing up as a child of immigrants "colors almost everything I do, even if it's not explicitly about that." That, in part, explains his fascination with Superman.
"What draws me to the character is, he's actually an immigrant, from outer space," Yang said. 
DRAGON HOOPS
Yang will also branch out into nonfiction with the publication of his book, "Dragon Hoops," telling the true story of the outstanding 2014-15 basketball team from Bishop O'Dowd High School in Oakland, where he taught. The Dragons' stars included Ivan Rabb, now on the NBA's Memphis Grizzlies, and Paris Austin, now playing for Cal.
"The team had 14 players — one was white, one was Punjabi, one was an exchange student from China, and the rest were African American," Yang said. "I felt like the team was all these different people, all united in one goal."
Yang was born in Alameda and raised in the South Bay, and while he loved the area's diversity, he was not a basketball fan.
"I came to it late," he said, first with his son's youth leagues, then with the epic O'Dowd team. "When I looked into the history, I saw that basketball began as an outsider sport. They were the ones who could not afford to maintain a field. All you needed was a hoop and a ball and concrete."
That was something Yang could relate to. Much of his work deals with themes of the outsider, the immigrant, the desire to belong.
His mother was born in mainland China, his father in Taiwan, and they met at San Jose State University, where both were in graduate school. His mother wanted to be a teacher.
"The college counselor told her that was a bad idea because of her accent," Yang said. 
So she learned computer coding and had a long career as a programmer for Santa Clara County. His father was an electrical engineer and worked for tech companies in Silicon Valley.
CLASHES WITH DAD
"My dad and I definitely butted heads all the way through my childhood over what I was going to do as an adult," Yang said.
Yang had fallen in love with comics at a young age, and his father worried.
"How was I going to feed myself? He knew how hard it was to sustain a family in America, especially in Silicon Valley," he said.
To appease his father, Yang majored in computer science at Cal (but minored in creative writing). He worked as a programmer for a few years, but ultimately decided to become a teacher.
"I was always interested in education," Yang said. He taught in church youth groups, and said that since high school, he considered a career in education.
In 2003, he earned an online master's at Cal State East Bay, focusing both on how to incorporate comic art into a classroom setting, and also on learning in an online environment. As an online student, he wasn't on campus much, but he frequently stopped at the library on his way from Bishop O'Dowd to his home in Fremont.
"In that library, I was able to locate an issue of the Journal of Educational Sociology from the 1940s, where the whole issue was about using comics in the classroom," Yang said.
That movement ultimately petered out, he said, but "now we're in the golden age of using comics in classroom."
LIVING THE DREAM
While teaching, Yang kept drawing, and in 2006, he published his first graphic novel, "American Born Chinese." 
The ambitious book masterfully weaves three distinct story lines — a Chinese folktale about a hubristic monkey king, a Chinese boy struggling with his outsider status, and an apparently Caucasian teenager, tormented during visits from a cousin who blatantly represents many Chinese stereotypes. The story lines come together in a surprising way, poignantly grappling with that feeling of wanting to assimilate.
The book was a critical smash, winning all sorts of honors. Yang kept teaching, and kept drawing and writing. He has written a series of graphic novels called "Secret Coders," and another series based on the Nickelodeon cartoon "Avatar: The Last Airbender," among many others.
He lives in San Jose with his wife, Theresa Yang — a former teacher who founded a nonprofit called Literacy for Youth — and their four children, a 15-year-old boy and three girls, ages 12, 9 and 7.
MORE HONORS AND ACCOLADES
For years, Yang worked out of coffee shops and a desk in the corner of his bedroom.
But then one day in 2016, on his way to the coffee shop to draw, he got the phone call that changed his life: He had been named a MacArthur Fellow. The prestigious program, commonly called a "Genius Grant," gave him $625,000, no strings attached.
"It was a complete shock when they called me," he said. "It freaked me out."
All kidding aside, what the grant really did was allow Yang to flip the equation. Now he can write and draw full-time, and he still teaches part-time, at Hamline University in Minnesota, mostly online.
And then, last year, Cal State East Bay President Leroy Morishita — whose children were Yang's students at Bishop O'Dowd — bestowed the alum with an honorary doctorate.
Yang's father came to the ceremony.
"He was really happy," Yang said. "He said it was one of the best days of his life."
For an encore, one must wonder: In this day and age, when superhero movies fill screens of all sizes, can a Yang screenplay be far behind?
Don't bet on it.
"You have a lot more control in comics than in movies, and you can be more intimate because of that," Yang said. "I'm a comics guy."