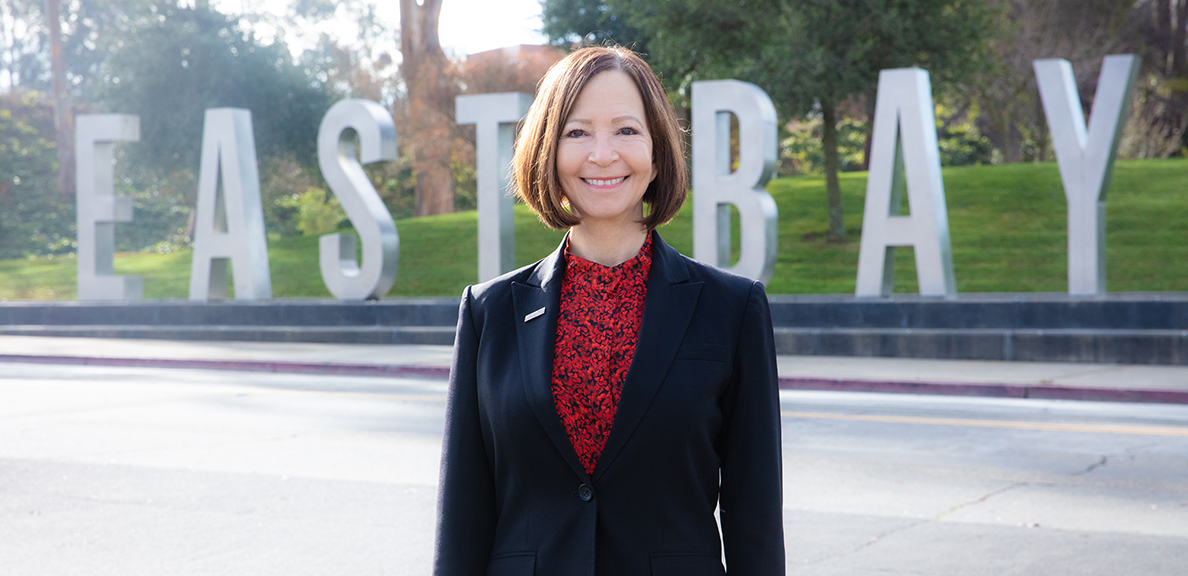 A Presidential Homecoming
BY Natalie Feulner
PHOTOGRAPHY BY Garvin Tso
January 4, 2021
Cal State East Bay President Cathy Sandeen is home.
The San Leandro-raised leader begins her tenure at the university amid a raging global pandemic, state budget cuts, and another virtual semester.
But, she's ready.
Hailing most recently from the University of Alaska-Anchorage, Sandeen has taken tiny prop planes landing on remote beaches, reeled in 30-pound king salmon, explored the crevasses of the Matanuska Glacier, and, two months after arriving at UAA, led the university in response to a 7.1 magnitude earthquake.
Now, it's time to return to the East Bay.
The journey to here
"The Hayward campus is less than seven miles from where I grew up, and as a graduate of a CSU, I feel fortunate to be able to work in a system that emphasizes access and opportunity … to be able to pursue my calling at a place that has a lot of meaning to me," Sandeen said. "[My story] is a long story, but it is a very circling back story, and I feel so fortunate."
Sandeen's journey to Cal State East Bay began in 2006 while serving as the dean of UCLA's extension program, one of the largest nationwide. There, her advisory board of industry leaders encouraged her to follow the internal tugging she felt to eventually become a university president.
A few years later, she was an American Council on Education fellow, assigned to study at none other than Cal State East Bay under then-president Mohammad H. Qayoumi.
"I knew this was a place where the values resonated with me," Sandeen said of her year as a fellow learning from leaders at East Bay and from the two dozen-plus information-gathering interviews she did with presidents and chancellors, many in the California State University system.
It was also the first time she and other leaders began talking about how to better serve a specific type of student — those who are the first in their families to attend college. 
"It was an 'aha' moment for me because I realized I am a first-generation student," she said. "That feeling of uncertainty of whether you belong and not having people at home to guide you or help you figure out what courses to take, those are the same feelings our students go through."
The heart of why
 While Sandeen's resume is bursting with accomplishments, she said the best part of her job is working with students, many of whose stories echo her own.
"Fundamentally, I work in higher education because I care about the students," she said. "I want to have meaningful conversations with students and listen to their stories."
Based on the listening she's done at universities nationwide, advising for first-year students is high on her priority list.
"We know that it takes making sure advising is accessible, and it helps if advisors are close in age to our students and come from the communities they come from," she said. "We don't want those connections to be random either. We want to create an environment where everyone has the opportunity to connect with someone who can take them under their wing, and that's part of the culture."
Cal State East Bay's work regarding students' social mobility and the focus on social justice were key factors in Sandeen's interest in the university. She believes the university has the ability to dismantle the systemic factors leading to the murder of George Floyd, and touched on the importance of the nationwide response and Black Lives Matter movement that followed.
"The economic mobility and emphasis on social justice at Cal State East Bay goes to the heart of why I'm in public education, especially the part that is more student and access oriented," she said. "Given the social and economic conditions that exist in the East Bay and the true opportunity for a university like Cal State East Bay to make a difference, that was very exciting to me."
Sandeen said she's also drawn to the work the faculty at Cal State East Bay is doing in the community and beyond.
"The type of research and scholarship faculty here do tends to be applied and focused on solving the region's and California's problems," she said. "I'm inspired and respect that kind of work and look forward to enabling it."
The human side of things
In an interview just a few weeks before starting as president, Sandeen quickly acknowledged she's starting at the university during a tumultuous time. But she's looking forward to the challenge, some of which is familiar.
As the former dean of university extension at UC Santa Cruz, for example, from 2000-2006, she experienced the 'dot com bubble' burst, which resulted in a swift and dramatic enrollment decline and her first introduction to rapid budget management changes.
It was in those moments, Sandeen said, that she learned to trust and lean on her pillars of leadership.
"My guiding principles, especially in challenging times, are to be open and transparent to the highest degree possible, to be highly data-informed when making decisions, and to remember the human side of things," she said.
Adding that she always prefers an open consensus-driven leadership style, Sandeen said she recognizes the challenging times the university faces may require tough decisions.
"Sometimes new leaders will avoid making decisions and continue to analyze, but I'm willing to make decisions when I need to," she said. "I realize not everybody is going to like that approach, but I think people will accept your decision if they understand what factors into it and that they've had the ability to provide input and feedback."
In the coming months, Sandeen is planning a listening tour of sorts, meeting (virtually) with key groups and individuals on campus from students to other administrators. And in the meantime, she hopes to soak up the California sunshine, spend her free time hiking, practicing yoga, and enjoying time with her daughters, son-in-law, and 1-year-old grandson.
"My daughter recently said to me, 'Mom, wherever you move, you embrace it,'" Sandeen said. "That's true, and it'll be true about East Bay too. There are many new things to explore, and I will dive in; that's just who I am."
Fast facts about President Sandeen 
Education: University of California, Los Angeles; University of Utah; San Francisco State University; Humboldt State University
First Job: As the oldest of five children, babysitting her younger brothers and sisters
Family: Two daughters, son-in-law, grandson
Hobbies: Hiking (she's particularly eager to go back to Yosemite and the Sierras), reading, yoga, walking, cooking for and with others
 Recent books: "Angle of Repose," "Where the Crawdads Sing," "The Vanishing Half"