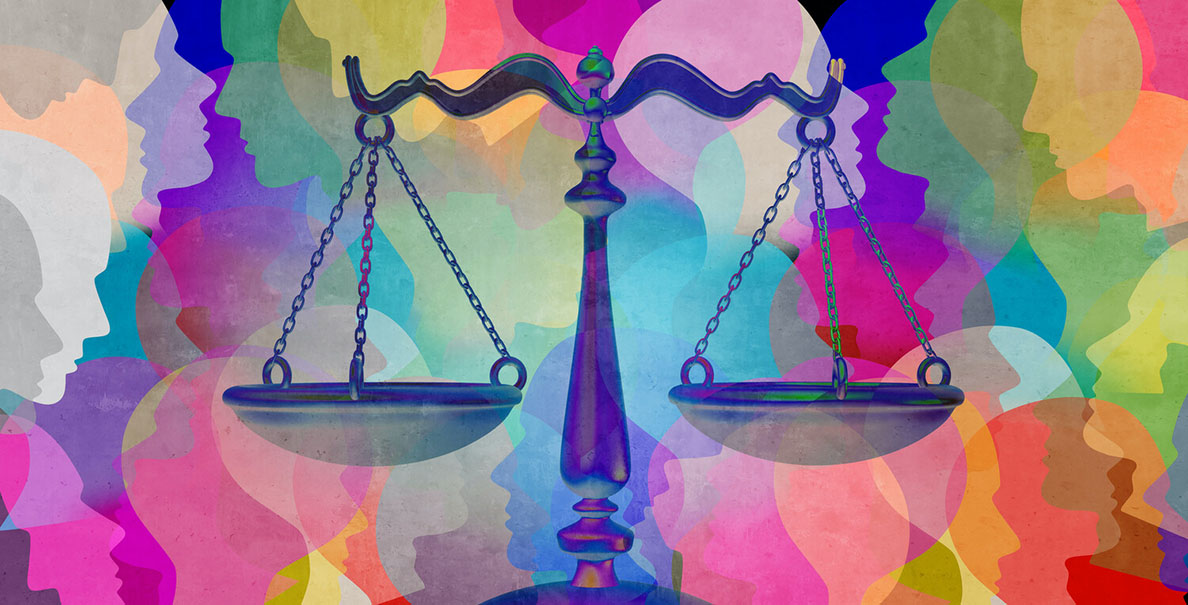 A Fight for Equity, Equality
BY DAN FOST
January 5, 2021
Cal State East Bay once had so few minority students, faculty or employees that it was known as "Whitey's school."
That reputation is nearly inconceivable today, when Cal State East Bay stands as one of the most diverse college campuses in the country, with more than two-thirds of its enrollees students of color. 
SPURRED TO ACTIVISM
Cal State East Bay's former President Ellis McCune said he had to work to overcome the "whitey" stigma attached to the school he arrived at in 1967, when it was still Hayward State College. But he was not alone: Spurred by a culture of activism that defines the university to this day, McCune and many others transformed the university over the years to a place that celebrates its diversity.
The work to achieve both equity and equality continues, although activist Larry Brooks—who earned a bachelor's in 1977 and a master's in 1984 from then-Cal State Hayward—said, "I would still say they've got a ways to go."
Brooks and other activists from the past several decades at Cal State East Bay recently participated in a panel about the university's history of activism. Panelists shared their memories of protesting and pushing for more equity on campus and their thoughts on ways to continue the work started by those who came before them. 
"I would like to see more indications as to the contributions people of color have made on campus," Brooks said. "There are no buildings, no statues, that recognize the history of African American people on campus. That's something that certainly should be done in order to make people feel like they're represented on campus."
Similarly, more recent graduates have fought for an African American Student Resource Center. When they raise their voices, they don't always feel they're heard. But they continue to raise them, and say they've made progress, in part thanks to the support of faculty and staff. 
Stacia Echols, a 2020 graduate, said she and her fellow activists worked with Alison Richardson, executive director for Cal State East Bay's Student Equity and Success Programs, to incorporate the center into existing programs such as the Sankofa Scholars Program to give Black students support while the university proceeds with plans to build a dedicated center. 
Sankofa is an innovative access and retention program aimed at smoothing the transition process for community college transfer students to Cal State East Bay and increasing the number of students who earn their baccalaureate degrees. Students in the program participate in a one-year cohort educational experience that includes intensive counseling and mentoring.
"It was definitely refreshing and made me feel like we didn't do all this for nothing," Echols said of her work with Sankofa and Richardson.
Echols said she was not only part of a team that kept pressure on administrators to establish the center, but that she also built on the work of student activists who came before her. And like them, she passed the baton to those still on campus to keep the work going.
BUILDING ON PREVIOUS WORK
Echols said she built on the work of Alyssa Steverson, a 2017 graduate. They met in the Alpha Kappa Alpha sorority, which Steverson said "helped to fuel my activism, helped me to learn about my history."  
Both women say they worked informally on campus — checking in with other Black students to see how their studies were going and what sorts of pressures they were facing in their lives.
"I built credibility in my community so I could be trusted," Echols said. "I had people reaching out to me at events, saying, 'I'm struggling finding food on campus. Can you help me?'" 
She would help find resources on or off-campus, whether that meant psychological support or even help with housing.
Similarly, Steverson had always been active and engaged, so when she noticed in her sophomore year that many of her African American friends were leaving school, she started wondering why the university did not offer more social, emotional and academic support.
She also experienced a microaggression that offered a clue to how other African American students often feel on campus. She was waiting to see a counselor, a white woman, and the Latinx student in front of her had the same issues. The counselor gave that student a long answer and some pamphlets, but then brushed off Steverson. 
So she teamed up with some friends to take action. 
"In my dorm, I started creating a list of demands that I felt was necessary," Steverson said. 
Some of the demands include an increase in funding for the university's ethnic studies department, an increase in the number of African American-identifying academic advising and career counselors, and mandatory cultural awareness/racial sensitivity training for all employees. Many sound like the actions Larry Brooks and his colleagues on the Student Unity Coalition were fighting for in the 1970s. 
Over the ensuing months, she met with administrators and faculty, but said she felt many patronized, stalled or watered down her proposals. 
"We had meeting after meeting without anything happening," she said.
But she and her classmates soldiered on, using the social media hashtag #blackatthebay. They established Black Tuesdays—a chance to get together, put out tables, and let Black students know they had a community at Cal State—and ultimately got the university to commit to the African American Student Resource Center.
The university has taken many other steps as well, including establishing a diversity officer in 2013, and offering anti-racism and social justice resources. In light of recent events involving anti-blackness and police violence, the university has held virtual support groups for students, faculty and staff. 
A FUTURE IN ADVOCACY
Steverson now lives in Los Angeles, where she works at a talent agency, writes scripts and novels, and is a freelance producer and director on the side. And she maintains her activism.
"In my field, I try to make sure that if I participate in something, it is going to accurately represent my people," Steverson said. "That is my form of activism. We've been misrepresented in so many ways for so many years."
Similarly, Echols said she plans to devote her life to service, with plans to become a social worker. After her pandemic-forced virtual graduation, she was at her childhood home in Sacramento when George Floyd was killed, and she joined the protests at the state capitol.
Now she has started work with City Year, an AmeriCorps program that has her helping shrink the achievement gap among underserved children in a San Jose school. "I sit in on classrooms and create relationships with the students, so they know they are not alone," she said.
Larry Brooks' experiences at Cal State East Bay also helped ingrain activism into his life and work. First, he needed to figure out a career path. He remembers having a debate with university president McCune about the purpose of a college education.
"We had a difference of opinion about why people go to college," Brooks said. "The president thought people went because they need to broaden their awareness. I thought, people are going to get skill sets so they can get jobs. He didn't quite see it that way."
Brooks said he felt McCune's understanding of education was centered around the notion of students gaining enlightenment. However, Brooks felt that didn't match the reality of many students' lives.
"For those of us people of color, in many cases we were the first in our families to go to college," Brooks said. "We were being urged to get a college education so we wouldn't have to take jobs like our parents had."
Brooks earned his degree in speech pathology and audiology, and later returned for a master's in public administration, which he saw as a ticket to stable government work. After graduation he worked in code enforcement in Sacramento, and ultimately wound up back in the Bay Area, where he runs the Alameda County Lead Poisoning Prevention Program. 
"I felt my gift from God is service," he said. "I have always been oriented toward some type of service. My education at CSU East Bay and my activism primed me for this role of advocating for safe and healthy housing for all." 
He also served on Cal State East Bay's alumni board as a way to give back—and to remind people today of the struggles that took place before. 
"This an opportunity to look at how funding might be redirected in the university to be more supportive of students of color."
"They have to bring people together culturally and ethnically, especially in this time of Black Lives Matter, with the protests," Brooks said. "There is really going to have to be some strategies put together to acknowledge that on campus."
Ever the activist, he remains hopeful that people's voices will be heard and institutions will change.
"Just like people are calling for redirecting funds from law enforcement into programs helpful to the Black community, this is an opportunity to look at how funding might be redirected in the university to be more supportive of students of color," Brooks said. "Part of the healing that needs to take place can be inspired by the actions of the university."
The protest movements of 2020 have stirred memories of the movements that came before them, most notably the civil rights and antiwar protests of the 1960s. Cal State East Bay is no stranger to such activism.
Indeed, the activists have often aimed their ire at the university, seeking change in their own campus community. These efforts continue to this day.