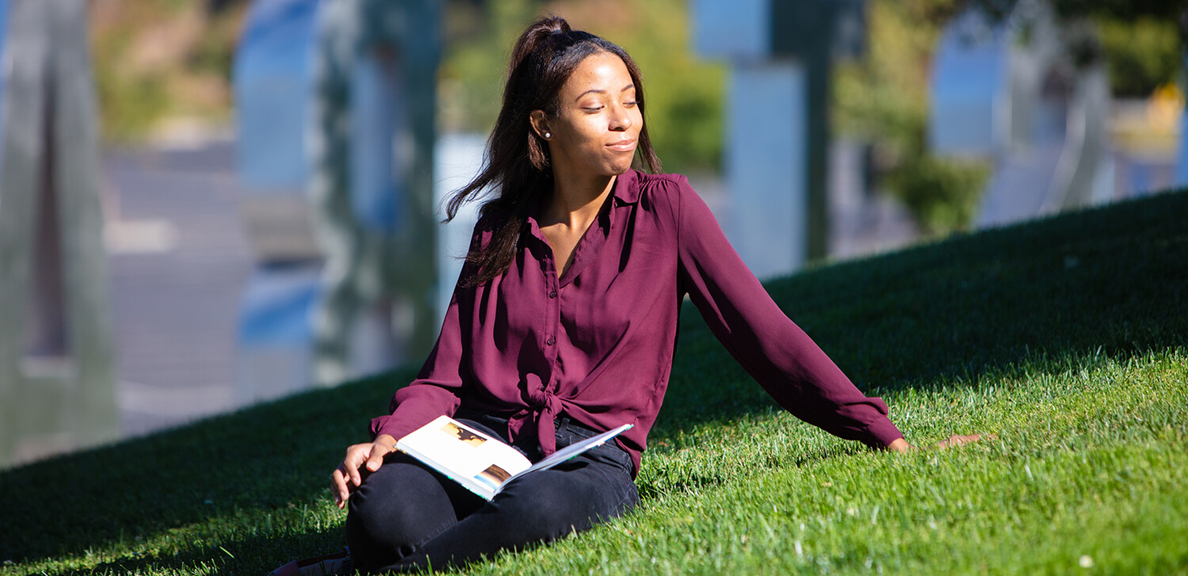 Advocating for a Hidden Population
BY Natalie Feulner
PHOTOGRAPHY BY Garvin Tso
January 12, 2021
Dian Rodriguez was a senior in high school when she entered the foster care system. Three months and six homes later, she found herself walking the Cal State East Bay campus.
"I remember thinking 'I can see myself walking this campus every day, I feel comfortable, this is going to be my home for the next four years,'" Rodriguez said.
And home it was.
A Renaissance Scholar and human development student, Rodriguez not only found a home at Cal State East Bay, but she also found a community and a family.
Her story and that of many other Renaissance Scholars is one of persistence and grit in the face of adversity. And through each, a common thread of a program started almost two decades ago, that has been key to the success of dozens of former foster youth.
A HIDDEN POPULATION
According to the National Foster Youth Institute, only half of the youth raised in foster care end up finishing high school, and less than 3 percent graduate from a four-year college despite seven out of 10 foster children saying they want to pursue college.
"Foster youth are kind of a hidden population," said Lael Adediji, former program coordinator for the Renaissance Scholars Program. "It's not like they tell people [they're in foster care], and because they're kids, they aren't advocating for themselves, so it becomes up to the adults around."
Cal State East Bay's Renaissance Scholars Program began in 2006 with around 20 students and focused on advising and counseling. These days, close to 50 students are actively involved in the program, which has given upwards of $55,000 to students in scholarships and emergency funding.
Esther Fultz, 25, a hospitality, recreation and tourism alumna, recalled a time during her first few years at Cal State East Bay when she needed to have emergency dental work performed. The procedure cost several thousand dollars, money Fultz didn't have. But through Renaissance Scholars, she was able to secure enough support to pay for the procedure and had people checking in on her as she recovered.
"It was a really scary time [and] I am so grateful for Renaissance Scholars because I didn't have the money to pay for a procedure like that," she said.
According to Adediji, students who receive a scholarship or financial support through the program, are far more likely to graduate or continue their education than their peers who do not receive financial help.
In addition to scholarships, the Renaissance Scholars program offers students priority placement in on-campus housing and an amended payment plan so they aren't paying as many fees upfront. Students are allowed to stay on campus during school breaks and often receive food and other household items to help them transition into living on their own. A textbook lending program provides assistance with securing learning materials, and students receive priority registration and regular check-ins with academic counselors to ensure they're on-track toward graduation.
"A lot of kids have the support of their families, but especially with foster youth, the transition is oftentimes really hard because they don't have those types of resources, so to have that from a college campus was really helpful and impactful," said alumnx Lottie Fultz and Esther Fultz's twin.
Since its inception in 2006, the Renaissance Scholars program has grown and joined a national movement to support foster youth. Staff report to an advisory board that includes Barbara Hedani Morishita, former university President Leroy M. Morishita's wife, and donor Jodi Servatius.
"They've been a really important group," Adediji said. "We have people in the community who are ready to help us grow, and I think we're ready to take that and go with it."
Over the years, Renaissance alumni have gone on to be nurses, project managers, audiologists and business owners.
"I'm proud of their accomplishments," Adediji said. "The things that the students do [after Renaissance Scholars] are my greatest pride."
A PLACE TO CALL HOME
For the Fultz twins, having a place to land and begin rebuilding their lives after an abusive childhood was "life changing."
 Esther Fultz was diagnosed with complex post traumatic stress disorder when she was 23 and now advocates for other scholars to seek therapy. Before her diagnosis, she said she often relied on the support of Lael Adediji and Renaissance Scholars Director Saleem Gilmore. 
"I came from an abusive foster family, so college was my way out; it was the only way I knew I could have a chance, so I ran to college," Esther Fultz said.
And Lottie Fultz shared similar sentiments.
"Being here meant being able to process the yellow house blues as I call it," Lottie Fultz said. "Any family will have issues, but what happens to kids who grow up in places like the yellow house I grew up in is that when you get space from it, you can begin to process it."
In addition to the support they received from the Renaissance Scholars program, other initiatives on campus such as the Diversity and Student Inclusion Center allowed them to settle into their new life on campus and begin healing.
"Working at the DISC, I was put in an environment where all of the things I was personally experiencing around my identities and mental health, was normalized," Lottie Fultz said. "I was able to access resources on campus because there wasn't a shame or stigma when it came to accessing what [resources] for the needs you might have."
For Rodriguez, who'd had her eyes set on college since her mother died when she was 11-years-old, attending a university with an active Renaissance Scholars program was crucial.
"I knew [college was] what she wanted for me, so I would tell myself it's going to be worth it in the end," she said. "And, I wanted to be at a school where I would have the support I needed."
This summer, Rodriguez will graduate debt-free. Since joining Renaissance Scholars four years ago, she has worked to apply for scholarships and funding for everything from books to tuition.
"Through the program, I was able to find good scholarships, and I just applied and applied," she said. "I was very big on scholarships. I figured I'm already struggling as it is, so if there's money out there, I was going to apply for it."
But the support was more than access to scholarships and funding. Rodriguez said some of her fellow scholars became friends, and even those who weren't always maintained a sense of community and leaned on each other for support.
"It was a community that felt good, and we made it safe. Whatever was said there was kept there," she said.
A CALL TO GIVE BACK
For some of the former foster youth who go through the Renaissance Scholars program, graduation is a chance to give back and support the next generation of students.
Lottie Fultz, for example, volunteers in the summer at a program called Camp Phoenix, which helps close the academic achievement gap for Black and Latinx youth. Esther Fultz is currently working with youth at the YMCA, speaks at Renaissance Scholars events, and serves as an advocate for former and current foster youth through California Youth Connection.
"I advocate for youth now because, for me, I almost didn't make it because of the effects it had on my mental health; it was beyond overwhelming," Esther Fultz said. "I didn't know my rights when I was younger. If people in high school knew I was in foster care … there were so many instances where someone could have stepped in. They would have been able to better help me, and I would've been able to better advocate for myself."
Rodriguez volunteers with several programs in San Mateo County and has found many local foster youths appreciate having an older mentor to look up to who can relate to their experiences.
"Knowing what I went through, they can talk to me," Rodriguez said. "It may not be the same story, but I can understand on a certain level."
Each of the scholars are now on their individual journeys but look back fondly at the formative years they spent at Cal State East Bay and the sense of community and support they found with one another and the staff who supported them.
Esther Fultz recently moved into her own apartment. Before she graduated, Adediji continued to help her with the transition out of college connecting her to resources and transitional housing.
"For the first time in my life, I have a safe place," Esther Fultz said. "I have my own safe place, and that in and of itself is phenomenal; I never thought this would be possible."
Lottie Fultz is a teacher's assistant for a Mandarin immersion program with hopes of becoming a certified behavioral aid.
And for Rodriguez, who is finishing up her last semester of classes and looking forward to graduation, she hopes people realize the strength of foster youth and the determination it takes to not only start college but earn a degree.
"Foster youth who are in college are strong, there's a small percentage of us, and we are thriving," she said. "We are so thankful for the programs that help. It's hard, but I wouldn't be where I am today without the support I had."