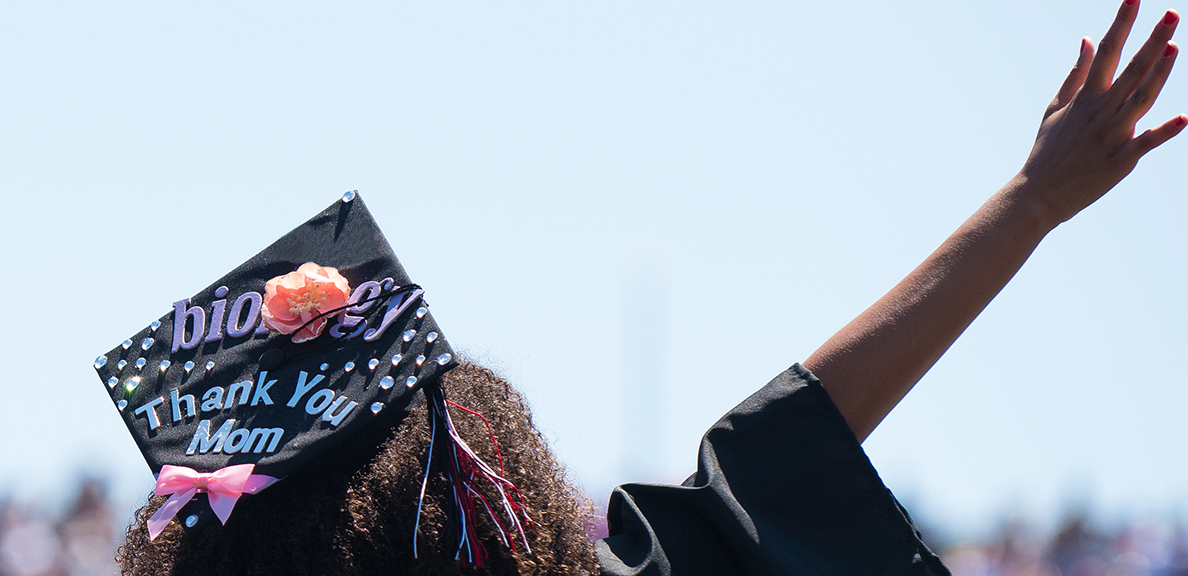 Cal State East Bay plans to honor 2020 and 2021 graduates with Car-mencement ceremony
BY Cal State East Bay
April 7, 2021
Cal State East Bay will host a "Car-mencement" May 14-16 on its Hayward campus to celebrate its graduates from the classes of 2020 and 2021. 
"Earning a degree from Cal State East Bay is a life changing milestone for our students and their entire families," said Cathy Sandeen, university president. "While we would love to honor them with our traditional in-person event, we are working closely with the county to ensure the safety of our students, guests and employees. It is just not yet safe to have a large event in Pioneer Stadium. Our creative solution of a "Car-mencement" ceremony has been so well-received by our graduates and we look forward to celebrating their achievements in this unique way."
Graduates from both years who register by April 9 will schedule a time to arrive on campus by vehicle. They will proceed in their cars to a special staged area where graduates will have their names recognized via loudspeaker and pose for a professional photo. Graduates are encouraged to wear regalia. 
Graduates will be allowed one car to participate in the celebration, and will need to abide by state vehicle codes for safe seating and occupancy, including seat belts for each passenger. Guests will be required, per Alameda County ordinance, to remain in their vehicles at all times, and only the graduate will be allowed to exit the vehicle for recognition in the staged area.
The celebration event is planned in accordance with current public health guidance in Alameda County, which restricts large gatherings throughout the county. Although state and local guidelines are fluid, the university needed to solidify plans to provide graduates and their families time to plan, as well as secure additional staffing and event logistics resources.
Cal State East Bay's plans are based on the current Alameda County Public Health vehicle-based gathering ordinance. The plans have been approved by the Alameda County Department of Public Health. 
Updated information will be posted on the university's Commencement website, as well as emailed directly to students who filed for graduation in either 2020 or Spring 2021. 
Update
Check out the photo gallery from our 2021 "Car-mencement" ceremony.