Creative Performance in a Post-COVID World
BY Cal State East Bay
April 2, 2021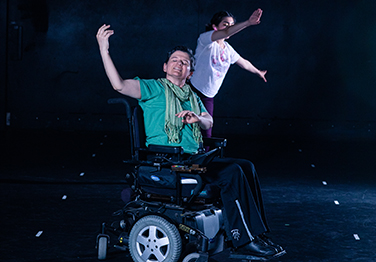 Cal State East Bay's Department of Theatre and Dance is hosting its first ever Inclusive Performance Festival. The  grass-roots, radically inclusive event kicks off Tuesday, Apr. 6 and runs through Saturday, May 8. 
"As far as I know, this is the only festival of its kind in the world," said Department Chair Eric Kupers. "We are committed to radical inclusion of artists and activists with and without disabilities of all kinds, of all shapes and sizes, from all cultures, all gender expressions and all art forms and modes of communication. And we have a special focus on honoring the indigenous people and cultures that have tended the lands where each presenter lives and works."
Kupers said putting together this event has taught students, faculty and other organizers important lessons on how to sustainably support the creative community in a post-COVID world.
"Like many aspects of our society, the world of performance is faced with radically shifting how we do things to provide for more safety, accessibility, and flexibility in the wake of the pandemic and other global troubles," said Kupers. "We are experimenting with how to preserve what is most vital, essential and transformative about live art and letting go of the aspects of performance that no longer seem relevant or sustainable."
Planned collectively by a council of artists who identify as Queer, BIPOC, Autistic, Disabled, Jewish, Neurodivergent, Fat, Young, Elder, Outsider, and uncategorizable, the festival will present virtual, in-person, and hybrid dance, music, theatre, drag, ritual, educational events, participatory performances, discussions, workshops, ceremonies and more. Kupers is hoping this will be the first of what will become an annual event.