Ethnic Studies professor publishes award-winning book
BY Cal State East Bay
May 27, 2021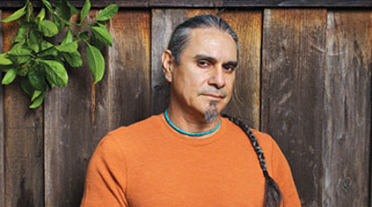 Enrique Salmón describes his family as a living library of plant knowledge, which informed his newest book, "Iwígara," an anthology of plants native to the Americas. It details the cultural, culinary and medicinal significance these ingredients have to the tribes that use them.
"Human society is facing increasingly devastating impacts of climate disruption and ongoing destruction of natural habitats," Salmón said. "I feel that in order for us to be able to adequately mitigate these problems we need to alter our relationship with the natural world, especially plants. They feed us, they offer beauty, and they can help us decrease greenhouse gases, but only if we work to care for them."
Salmón identifies as Rarámuri (Tarahumara). As an ethnobiologist, he studies the connections between climate change and Indigenous traditional food ways. Salmón hopes readers who read the book walk away with curiosity about the complexity and sophistication of American Indian plant knowledge as well as the level of deep relationships that native peoples maintain with our plant relatives.
Iwígara was given the 2020 Award of Excellence in Botany (and floras) from the Council on Botanical and Horticultural Libraries. 
He has also written "Eating the Landscape" focused on small-scale Native farmers of the Greater Southwest and their role in maintaining biocultural diversity.