Today Toward Together: Kathryn Palmieri of AACE
BY Cal State East Bay
July 14, 2021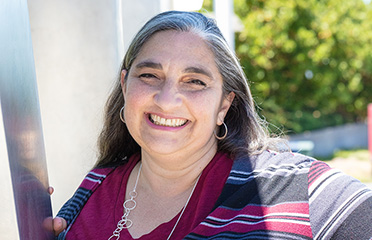 Kathryn Palmieri, the Executive Director of Academic Advising and Career Education at Cal State East Bay.
As we gear up for Fall 2021 and a return to more in-person activities, staff, faculty and students share a look inside their Cal State East Bay programs. This Q&A series highlights the activities happening today, but also what to expect as we work toward being together again. 
For more information about Cal State East Bay's reopening procedures, vaccine information and more, visit the Today Toward Together website.
Kathryn Palmieri is the Executive Director of Academic Advising and Career Education. 
What does today look like for AACE? 
We are currently serving students via Zoom appointments. This is the safest and most convenient for students, and makes it easy for advisors to share documents and links online while limiting paper and increasing our sustainability practices.
How are you working toward fall?
AACE is returning to campus, following public health protocols set forth by the university, county, state and CDC. Most advising and career work will still be virtual for fall. We will staff the service desks with REAL live people — and will have an option for students who want to meet outside in person initially. We will still encourage virtual meetings since sharing materials is easier. 
What does this next school year look like when we are together? 
We hope that spring will look a lot different, with more in-person appointment options, as well as hybrid events for the career education side, depending on employers' interest to return to campus vs. online Handshake Career Fairs.
Internships are student-generated, so we provide students with boot camps and workshops to share detailed information on how to prepare themselves for their internship (and later, job) search.  
What's different…or what is the same in AACE?
AACE used to offer general advising for undergrads, but we have become a hub for FASST advising — the Freshman and Sophomore Success Team. All first and second year students have a FASST advisor, and stay with that advisor for GE and lower division progress toward the major until they reach 60 units. 
Once those 60 units are reached, we help them transition to a major advisor or college advising center for more specific upper division advising. With the availability of degree roadmaps online, transfer and continuing students have resources available without having to make an appointment (unless their major requires it).
We are also happy to teach students how to check their Degree Audit Report (also known as DAR) — that is located on MyCSUEB and shows exactly what classes a student needs for GE and graduation requirements 24/7.
The career education piece is still helping students prepare for the world of work in multiple ways — resumes, cover letters, LinkedIn profiles, practice interviews, searching for internships and jobs on and off campus using Handshake and the Student Opportunity Center (SOC) platforms.
What's one thing about you, personally or professionally, that has changed about you since March 2020? 
Something I learned about myself personally and professionally during the pandemic, is that I need structure to be successful. I use checklists for all tasks, whether work or home related. I also learned that it is less than ideal to start a new job, move homes, and rescue a puppy all in the same three month timeframe! 
What's one thing you'd especially like the university community to know? 
One of the best things to know about AACE is that the people here are huge advocates for East Bay students! That does not mean they can always say "yes" to what students are asking, but it does mean we have their best interest in mind. We have all been there and want to help!