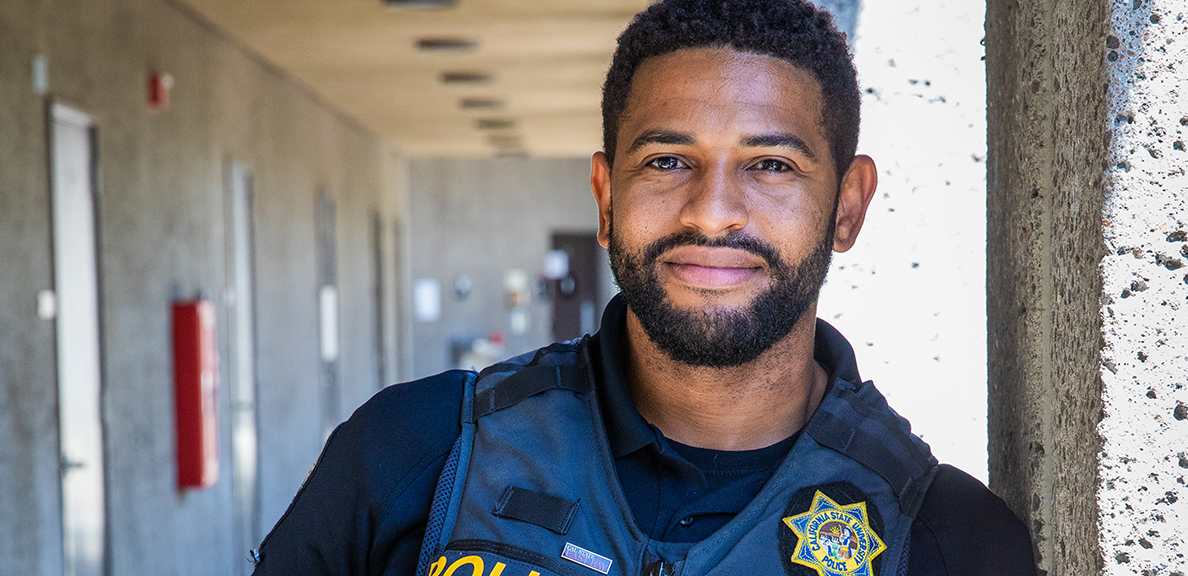 Today Toward Together: Michael Elder, University Police Department
BY Cal State East Bay
July 30, 2021
As we gear up for Fall 2021 and a return to more in-person activities, staff, faculty and students share a look inside their Cal State East Bay programs. This Q&A series highlights the activities happening today, but also what to expect as we work toward being together again. 
For more information about Cal State East Bay's reopening procedures, vaccine information and more, visit the Today Toward Together website.
Michael Elder '10, 16 MPA is a sergeant with the University Police Department.
What does today look like for the University Police Department (UPD)?  
Officers and the team from UPD have been on campus throughout the pandemic, patrolling the campuses and responding to calls. Because so many people are remote, much more of our contact has been online this year, as students have reached out with concerns about disturbing calls or emails, and we work with these students to make sure they are safely managing the situation, whether they are here in the East Bay or out of the area.  
How are you working toward fall? 
We are getting ready to see students and more faculty and staff in person. Our entire force has been doing training on de-escalating situations, diversity awareness and public health best practices. Since it has been a while since many people have been on the campus, we are also reacclimating our campus community on processes and procedures to keep everyone safe. 
What does tomorrow look like? 
We're really excited to have students back and help them get to graduation. In my role, I am focused on Pioneer Heights and University Housing and I look forward to building a bond with students. It's about safety and how to live and learn on campus. 
What's different…or what is the same for UPD?
Our police force is community oriented. Our main job is to see the students succeed and graduate, not to be punitive. Our students are impressionable [at this stage in their lives] and we help more in a guidance way, helping them understand the gravity and impact of their actions. 
What is something you learned/did during the pandemic?
I'm finding more of a balance between work and life. It's really important and during the pandemic I had time to relax and unwind, and I'm going to continue it. 
What's one thing you'd especially like the university community to know? 
UPD is here for our students. I know there is a lot of negative publicity about police officers out there, but every department is different, and every individual is different. Here we are focused on safety and getting them to graduation. I don't want any of our students to think they can't approach us so we can work together to find the answer.