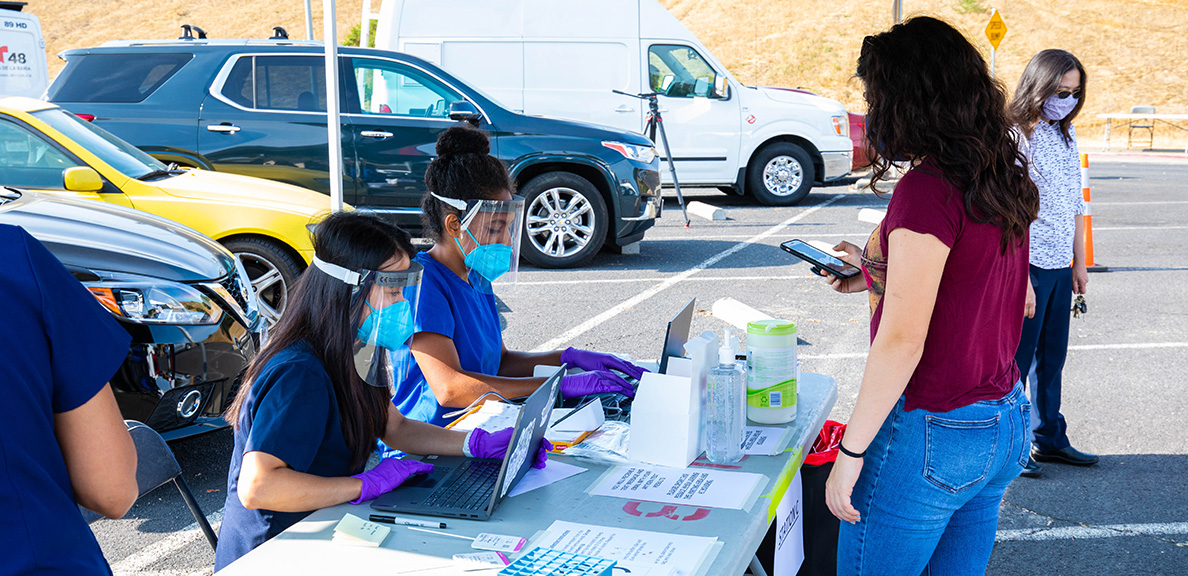 Cal State East Bay Offering On-Campus COVID-19 Vaccinations, Testing
BY Cal State East Bay
August 13, 2021
As fall semester begins, Cal State East Bay will host two on-campus COVID-19 vaccination clinics as well as regular on-campus COVID-19 testing for its students, faculty and staff at its Hayward location.
La Familia will administer the walk-in COVID-19 vaccination clinic on Aug. 17 and Sept. 14 from 10 a.m.-2 p.m. in the Old University Union, Lobby and Room 102. All three vaccines — Pfizer, Moderna and Johnson & Johnson — will be offered. Individuals can get their first or second dose. 
Students, faculty and staff should bring a government issued ID such as driver's license or Bay Card (hard copy or digital). Check in is at the West Loop Road entrance of the union. 
A COVID-19 vaccine (or valid exemption) is required for all Cal State East Bay students, faculty and staff accessing campus this fall. 
Students who are taking in person classes or will be physically accessing campus facilities are required to be vaccinated for COVID-19 and upload proof of vaccination in MyCSUEB. Faculty and staff should complete their vaccine self-certification on MyHR. Students, faculty and staff are required to report their vaccination status by September 15, 2021.
Individuals who have claimed a valid medical or religious exemption or are still undergoing their vaccination series will be required to be tested weekly.
On-campus testing begins the week of Aug. 16 in front of the Student Health Center. Registration is required. 
More information and frequently asked questions about vaccinations and testing can be found at the university's Today Toward Together website.