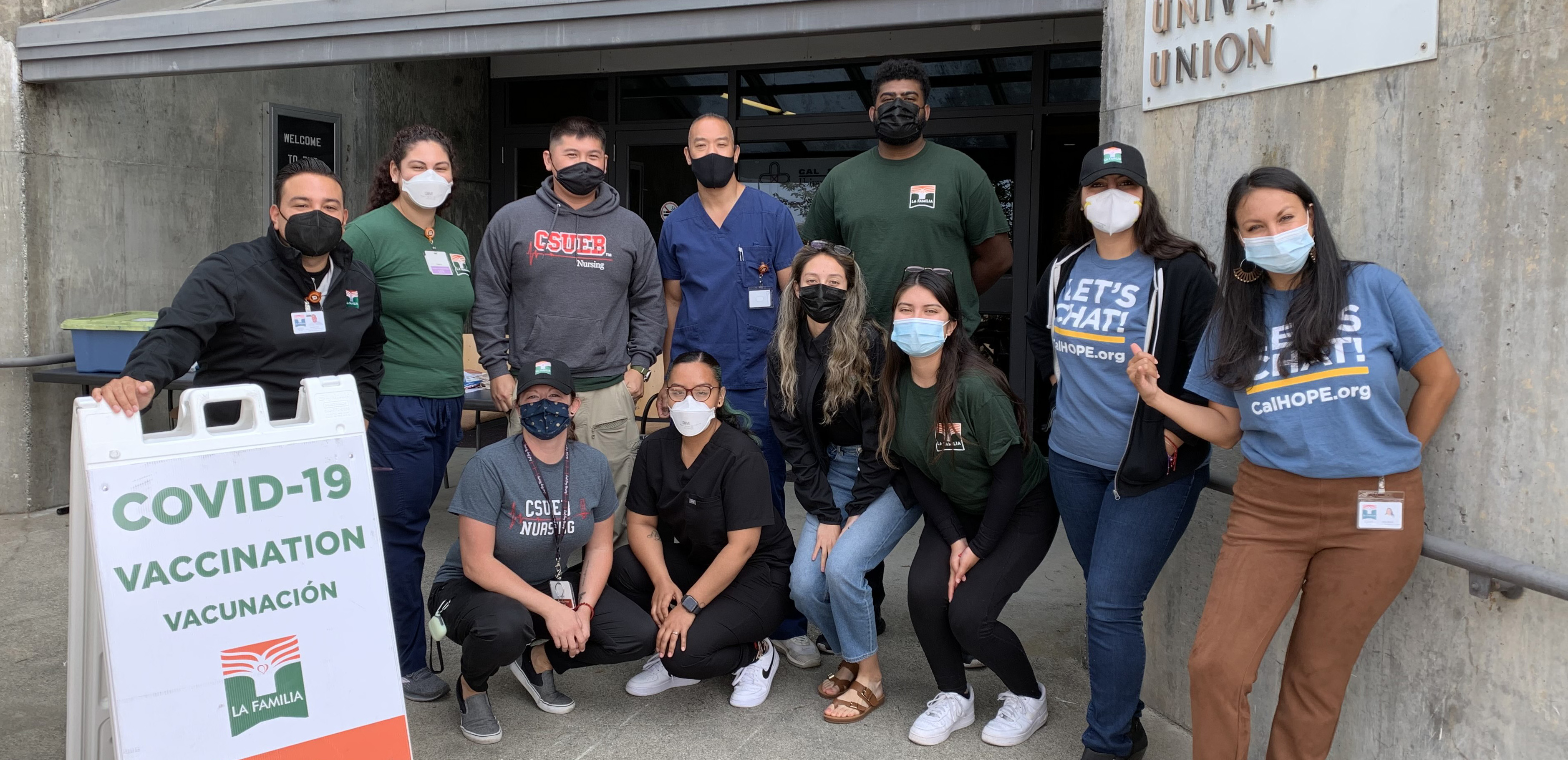 Nursing Pathway
BY Adelina Elo
September 13, 2021
When the opportunity to help out with COVID-19 testing arose, Rachel Maier '20 stepped up to be one of the volunteers helping the Hayward Fire Department at the Cal State East Bay testing clinic from May-July last year. 
Maier's volunteer position came by way of a summer rotation to learn how to swab clients. But she wanted to do more than just screen for COVID. She wanted to directly interact with community members and be a source of information. 
"There is a lot of misinformation out there about COVID-19 and it can be overwhelming," Maier said. "I wanted to support these efforts [to educate the community while administering COVID tests]."
As the six-week clinic at CSUEB ended, Maier was asked to stay longer to help La Familia administer more testing and vaccine clinics throughout Hayward. First at Skywest Golf Course, then at a location in the Cherryland neighborhood, and later at a pop up at Eden United Church of Christ near Mission Boulevard.
Promoted through the ranks and now the Clinical Health Director for La Familia, she continues to manage and run both clinics at Skywest and Cherryland locations with outreach to other venues at any given time. 
In this leadership role she provides the same exceptional care to the community but has also created opportunities for other Cal State East Bay students and graduates to get experience in the nursing field.
While Maier's team consists of folks from a variety of schools and backgrounds, she has recruited CSUEB nursing graduates Nemrick Morales '20 and Scott Hays '20 to be part of her leadership team as Operations Managers and filled other staff positions, like the Results Delivery Coordinator, with another East Bay grad, Dominick Archilla '20.
She has also provided a pipeline to the industry by bringing in Cal State East Bay students through community health rotations. There are about eight to ten students onboarded at a time. 
Mair does all this with a strong focus on providing a good environment for her staff and co-workers.
"I want to make sure I create a safe and comfortable workplace where people feel they can learn and grow," Maier said. "I want them to feel comfortable talking and asking questions."
For her, there is a strong connection between supporting teams and helping the community — they go hand-in-hand. Maier believes good community healthcare comes from staff that feel supported.
"Community and teamwork are really important to me," Maier said. "If my staff and co-workers are in a happy environment, then they are more able to support and help the community." 
Maier credits her time as a Bachelor's of Nursing student and Nursing Skills Lab assistant at Cal State East Bay as one of the places where she grew her passion for helping create that positive workplace.
"The nursing program at Cal State East Bay was awesome," Maier said. "Faculty and staff were interested in how you were progressing. You weren't just a number. It was a good, supportive vibe."
Maier herself helped facilitate this supportive environment at the university as a Nursing Skills Lab assistant helping other students learn the class material while encouraging them that there was a light at the end of the tunnel, and she was there to help them.
But being a healthcare leader wasn't always a clear path for Maier. She was interested in the field, but never thought it was going to lead to where she is today. 
After finishing her military service with the U.S. Coast Guard in 2012, Maier first pursued Emergency Medical Technician (EMT) courses at Merritt College and earned her Associate of Science (AS) degree before transferring to CSUEB.
"I heard a lot of students talk really highly of CSUEB's nursing program, so it was my top school," Maier said. In fact, it was the only nursing program she applied to.
For Maier, it was the faculty and staff that really made the nursing program special because there was ongoing support beyond what the program required. 
An example of that was Sahar Nouredini, Assistant Professor and Community Health Course Lead. According to Maier it was Nouredini  that connected her to the initial COVID testing volunteer opportunity with Hayward Fire and La Familia last year. 
In some ways it has come full circle. Maier was a graduating nursing student that was looking for her next opportunity and now she's in a position where she's helping other Cal State East Bay students and graduates get real-life experience in a supportive environment.
"Rachel has given our graduates and students opportunities to be part of the solution," said Dr. Monika Eckfield, Chair of Cal State East Bay's Nursing Department. "She and other nursing alumni are role models demonstrating how nursing knowledge, combined with strong leadership, organizational and communication skills, can and directly and positively impact the health of our communities, and lead to amazing and unpredictable career opportunities."
---
La Familia staff talk in this video about their pride partnering with Cal State East Bay to keep our communities healthy.