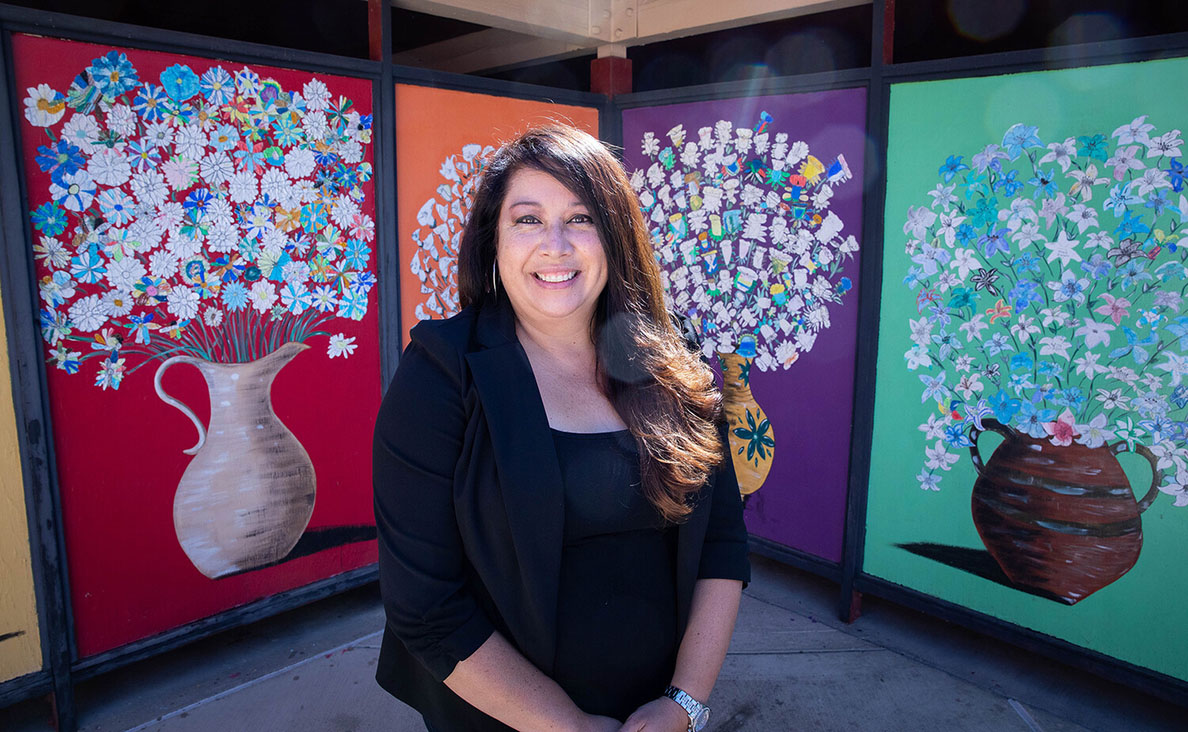 A Passion for Education
BY STEPHANIE HAMMON
PHOTOGRAPHY BY GARVIN TSO
October 18, 2021
Christie Carnahan was inspired to go into teaching by the women in her family.
Her mother was a pregnant teenager and married Christie's father just before her birth. Her parents never went to college. Her grandmother and her family were part of the Bracero Program and worked long hours in the fields each day.  Their family immigrated to the Central Valley from El Paso,Texas after arriving from Aguascalientes, Mexico. She, too, never received a formal education. 
"I decided to make it my life's path to help others gain literacy because our education is what gives us life."
"[My grandmother] never learned to read or write in either language, Spanish or English," Carnahan said. "And so I decided to make it my life's path to help others gain literacy because our education is what gives us life."
For the past 27 years, Carnahan (B.A. '95, Liberal Studies; Multiple Subject Teaching Credential '96, M.S. '05, Education) has been striving to make a difference in the lives of elementary school students at Valley View Elementary, a Title I school in Pleasanton. As a dual immersion kindergarten teacher, Carnahan is working with students whose backgrounds aren't much different than her own.
"I understand where my students are coming from," she said. "I understand what it means to be a student in need. I understand what it means to have parents who are not in academia and how to [have to] fight for yourself, for your community and make change."
Carnahan completed all of her higher education at then-Cal State Hayward, receiving her bachelor's degree, master's degree and teaching credential as a first-generation college student. Carnahan said the education she received at the university through what at that time was one of the few bilingual teaching credential programs in the state helped prepare her to serve the student population at her school. 
"I feel like [CSU] Hayward gave me knowledge that I wouldn't have gotten somewhere else because we had hard conversations," she said. "We had deep conversations about the trials and tribulations that families of migrants are facing every day in our classrooms. I was prepared to go into the classroom to give my students and families what they need."
She's now back at the university once more, this time a part-time lecturer in the Department of Teacher Education. 
Carnahan has had several mentors during her time in the teacher education program, both as a student and now an instructor. She said former dean James Zarrillo and teacher education department chair Eric Engdahl helped give her the confidence she needed to support up-and-coming teachers while Professor Lettie Ramirez was an important role model for her as a fellow Latina educator.
"Lettie gave us empowerment as teachers of color to really be leaders in our community and be the change in our classroom for our students," she said. "I think students need to see themselves [at the head of] the classroom and she always reiterated that." 
One of Carnahan's passions as an educator is making science and technology accessible for all of her students. She's written grants totaling $125,000 to bring technology into her classroom and her school. 
Carnahan's dedication to her students hasn't gone unnoticed. She was recognized as the Pleasanton Unified School District's 2013-2014 teacher of the year. She characteristically used that moment to bring attention to the needs of her students and give them a voice, but it also brought about a personal realization. 
"It was a momentous moment for me to receive that award. I feel like I have broken the chains of illiteracy and bondage that have plagued my family for generations," she said. "That was the moment that I realized the women in my family's story has changed."