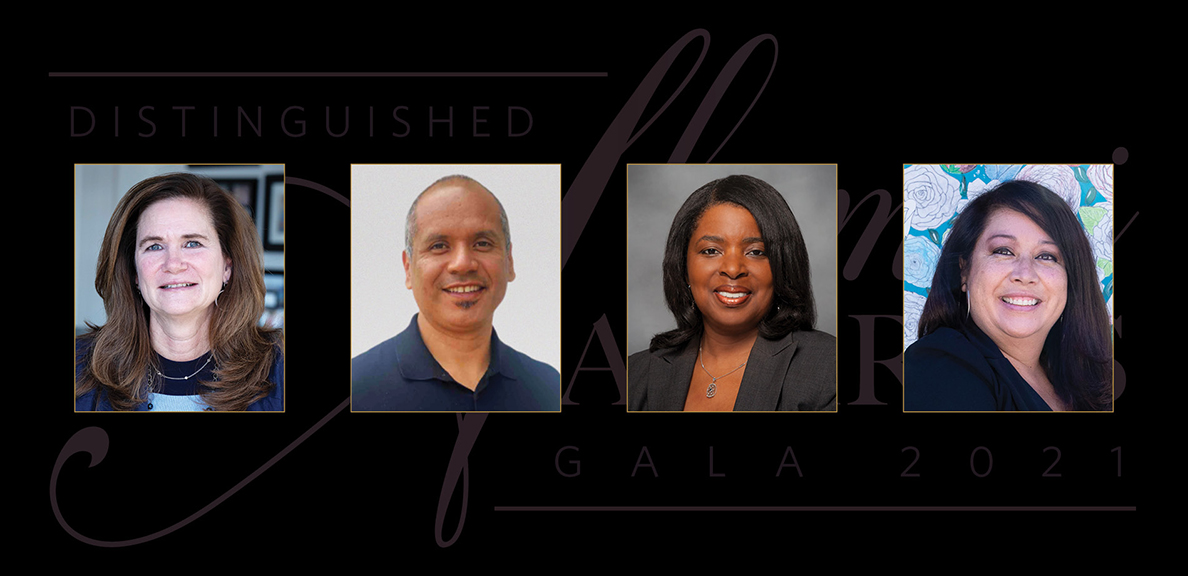 Announcing the 2021 Distinguished Alumni Award Recipients
BY Cal State East Bay
October 1, 2021
Cal State East Bay will honor Amy Schioldager, Roberto Hernandez, Jr., Yvette Radford and Christie Carnahan as its 2021 Distinguished Alumni Award recipients. 
The Distinguished Alumni Award recognizes the accomplishments of individuals who have graduated from Cal State East Bay and made remarkable contributions in the areas of community or public service, or professional or personal excellence; demonstrate a commitment to the values of the university; contribute to scholarship, lifelong learning, and civic engagement; assume positions of ethical leadership within the regional and/or professional communities; and provide exemplary service to, or in support of, the university.
This year's honorees will be recognized at an outdoor ceremony on Friday, Oct. 22 at the Music Lawn on the Hayward campus. If you plan to attend, please RSVP to the event by Oct. 15.
College of Business and Economics
Schioldager retired in January 2017 from BlackRock after more than 25 years as Senior Managing Director and Head of the Index Equity business. In that role, she managed $2.5 trillion in assets and $3.5 billion in revenue. Amy was responsible for managing all aspects of the evolving Global Index equity business: overseeing investment portfolios, managing the operating and investment risk across a global platform, advancing technology solutions and managing client relationships across multiple client segments.
College of Science
Hernandez is currently the Support and Services Leader at CommScope communications. For 22 years, he has been engaged in network communications, network architecture and network security technologies. He has been part of lead consultative technical teams in over 14 countries to design and implement international communications networks. He contributed as a technical resource to the book "Juniper MX Series" and helped design mission-critical networks that still operate today on the biggest service providers around the world.
College of Letters, Arts and Social Sciences
As the Regional Vice President for External and Community Affairs at Kaiser Permanente in Northern California, Radford is accountable for the organization's $1.2 billion Community Benefit portfolio, Community Relations Program, Regional Government Relations and Community Health strategy. She leads Kaiser Permanente's efforts to tackle the pressing issues facing our community's most vulnerable residents: reducing mental health stigma, addressing affordable housing and homelessness, building economic security for all, eliminating health disparities, and creating safer and more equitable communities. 
College of Education and Allied Studies
Carnahan has been a public educator for 27 years. She is currently a kindergarten teacher at Valley View Elementary in Pleasanton and former Teacher of the Year. She pioneered her district's Dual Immersion Program, named by the California Association of Bilingual Education as a Seal of Excellence Program. Her passion for grant writing has brought almost $125,000 for science, technology and literacy into her school, students' homes and her classroom. Carnahan is one of 1200 SMART Exemplary Educators across the world.