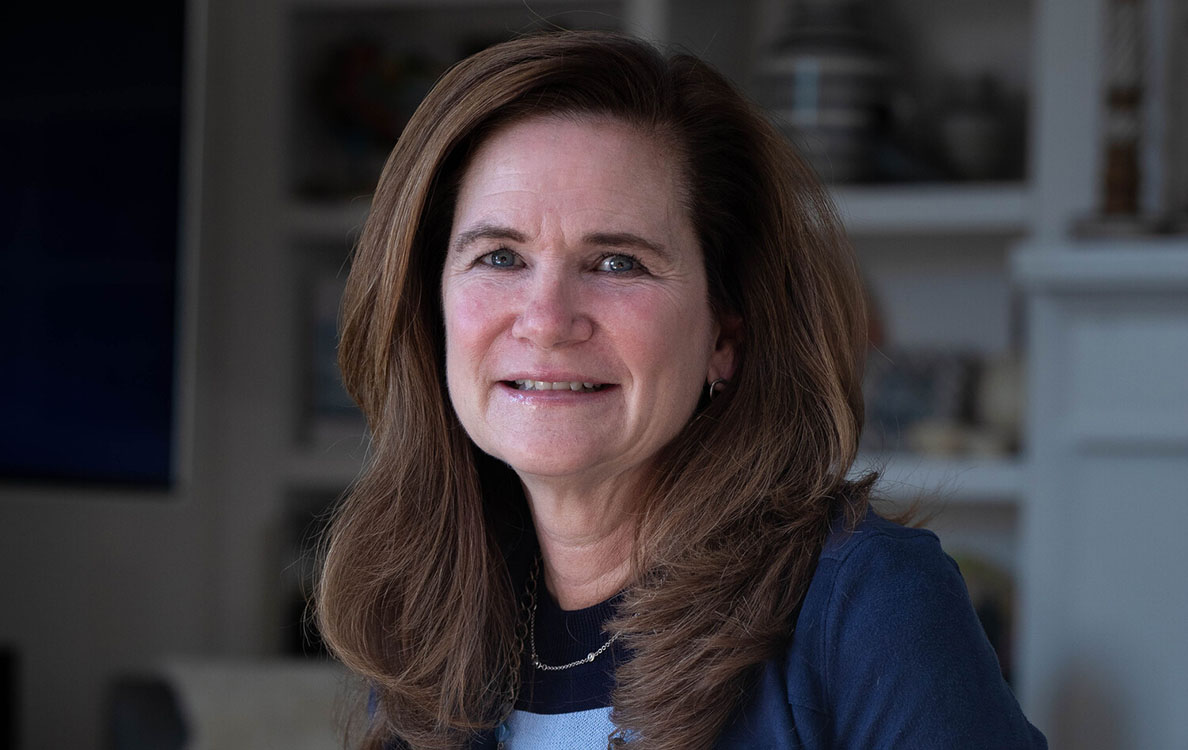 Leading the Way for Women
BY LORI BACHAND
PHOTOGRAPHY BY GARVIN TSO
October 19, 2021
Amy Schioldager is a framer, builder and architect, except that she is not in construction. While she spent nearly three decades building portfolios at BlackRock as a global investment manager, her real craft is engineering a network of mentors and coaches who advance women in leadership roles. 
"Women tend to be head-down workers and not use the people around them as well as they could in terms of making connections and building a network," Schioldager explained. 
In starting at BlackRock following college, Schioldager (B.S. '89, Business Administration, Finance) watched the trajectory of female role models and recognized that leadership opportunities for women ebbed and flowed. She saw that her peers lacked the tools and pathway to leadership, and started building a foundation within the organization. Her efforts influenced hiring and human resources policies, and ultimately, she organized an internal women's leadership program and network.
When the College of Business & Economics' Women in Leadership program emerged a few years ago, Schioldager quickly found a connection. Her professional experiences and personal vision aligned with the program's efforts to help students and graduates navigate their careers and create a network to foster engagement and leadership in communities and businesses.
"Network is hugely important," she said. "The other thing I would say is to take risks. Don't be afraid to take risks."
"Women tend to be head-down workers and not use the people around them as well as they could in terms of making connections and building a network."
Similar beyond-the-classroom opportunities gave Schioldager's leadership skills a jump start. She joined the Financial Management Association (FMA), a student organization for networking among finance majors. Early on, she assisted with social events and eventually took on a role as the club's president. 
"It gave me a lot of leadership skills that allowed me to be more successful in the business world. FMA is definitely one of my one of my fondest memories and it was a large part of the culture at Cal State East Bay at the time," she said. 
Schioldager guest lectures at Cal State East Bay and was just named to the university's Educational Foundation board, where she joins 25 other volunteers who provide strategy for philanthropy and relationships that advance the university in the region and beyond. 
She also sits on the leadership council of Rise Up, which activates women and girls to transform their lives, families and communities for a more just and equitable world. Some of the issues they tackle through local investment and coalition-building include education for girls, health and reproductive rights, and advocacy against child marriage.
"It's really supporting women and girls across the world. But it's using people on the ground who already are doing this work and providing them the skills to have a greater impact," Schioldager  said. 
She continues to mentor rising female leaders, and it's clear from her enthusiasm that the impact she can help make also means more than simply developing the next generation of women executives. 
"I talk to a lot of the women that I have mentored through their careers. I have stayed in touch, in some cases for many years," she said of her relationships and the programs she has created. "The people who completed it were like, 'This was so wonderful! It was life changing.' That's exactly what you want to hear."