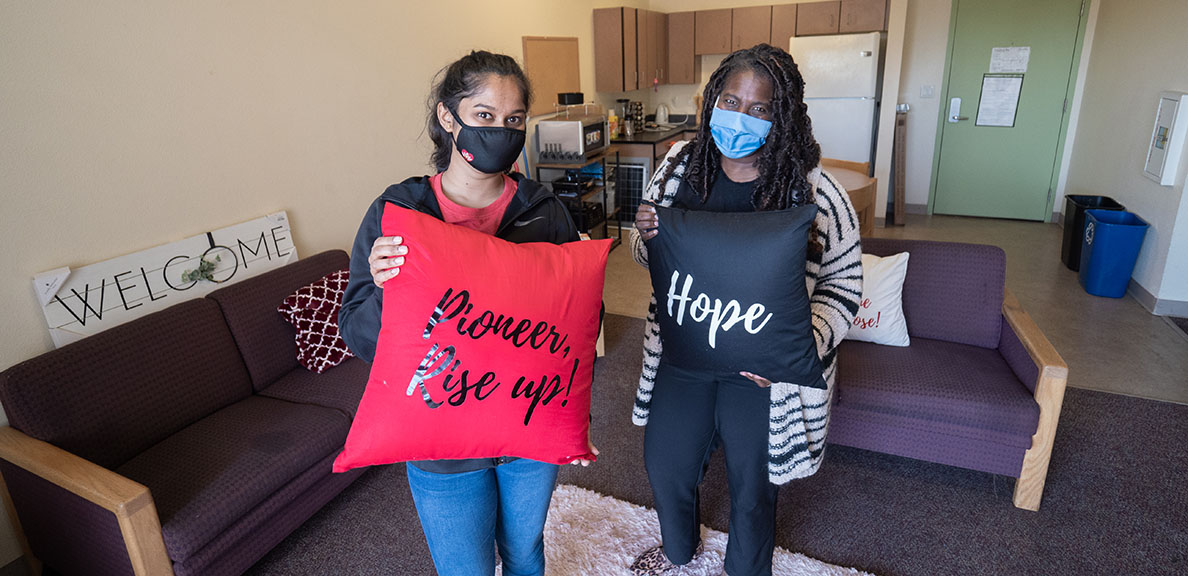 'It is Difficult to Be Our Best When Hungry'
BY Stephanie Hammon
PHOTOGRAPHY BY Garvin Tso
November 16, 2021
Each year, Hunger and Homelessness Awareness Week brings a broader understanding of something Ryan Gamba sees all too often — students lacking basic needs as they pursue their education.
The Cal State East Bay public health professor has taught students who have not eaten all day and are sleeping in their cars on campus or wherever they can find a safe spot to park. He has also interviewed students for research about their experiences with food insecurity and homelessness and has heard tragic stories of hardship.
"I think a lot could be gained on campus if everyone in our community recognized that food insecurity is challenging many of our members, and it is difficult to be our best when we are hungry," Gamba said. "In the classroom, in the parking lot, in meetings and social clubs, hunger is everywhere. So when interacting with community members, try and remember we are not all at our best because some of us have not eaten anything all day."
Cal State East Bay has a week's worth of online and in-person activities planned Nov. 15-19 to bring awareness to these issues, help those in need and accept donations from those able to give. Events include a campus resource day, presentations on mental health awareness and living a zero-waste lifestyle, and a "Hopesgiving" meal swipe donation drive. 
At Cal State East Bay, assistance is available beyond Hunger and Homeless Awareness Week. The university created the Pioneers for H.O.P.E. basic needs program in 2016 after a CSU study showed that 1 in 5 students in the university system didn't have consistent access to food. 
Pioneers for H.O.P.E. operates an on-campus food pantry, helps students sign up for the food stamp program CalFresh, provides emergency assistance and more. Gamba says he hopes more students pursue the resources available to them through the program.
"I know students who are dealing with food insecurity often do not want to pursue assistance because they don't believe missing a meal here or there is an emergency — I would argue it is," he said. "When you are dealing with food insecurity, research shows this is associated with an array of negative academic and health outcomes including lower GPA, missing classes, anxiety and depression, etc.  Please consider pursuing resources — you pay for them in your tuition and they are there for you."
Hunger and Homelessness Awareness Week is also a time for those who do have enough to help. Part of that is simply gaining an awareness of others' situation.
"Hunger is in your class, in the library, everywhere," Gamba said. "Please treat each other with an extra layer of compassion and understanding given that so many of us are struggling with basic needs."