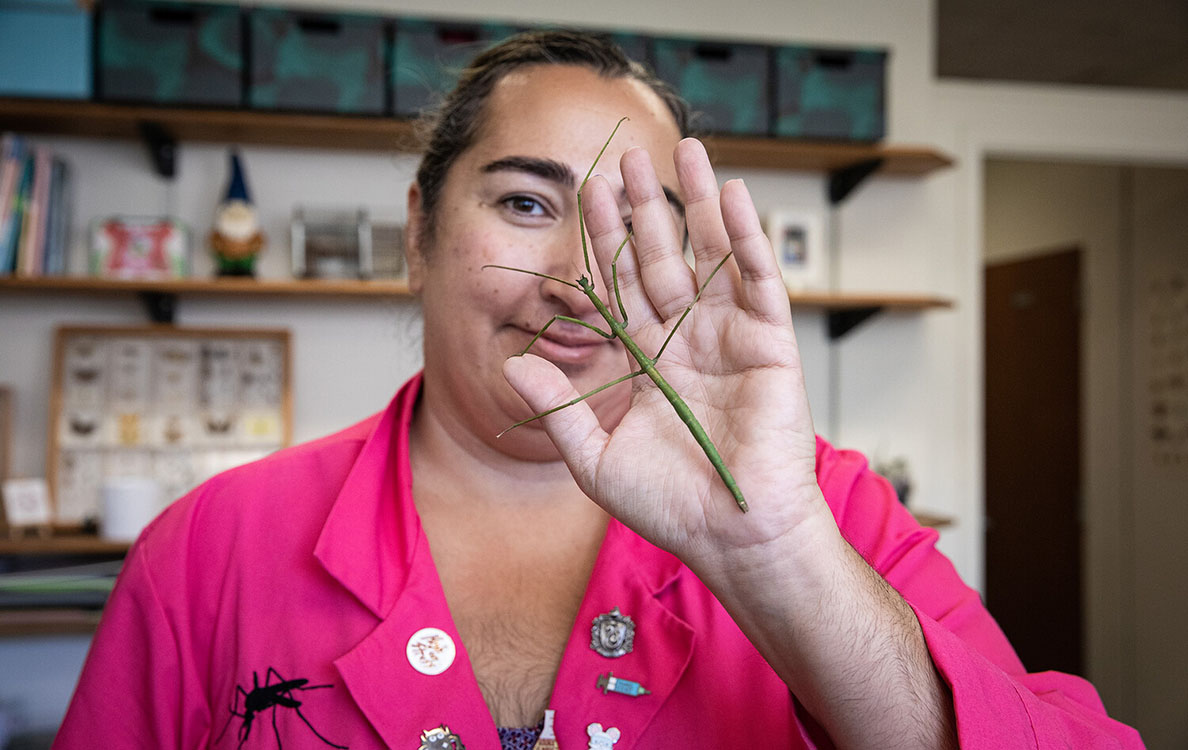 Curious Creatures
BY Cal State East Bay
PHOTOGRAPHY BY GARVIN TSO
November 4, 2021
Cal State East Bay Assistant Professor of Biology Nazzy Pakpour is the brains behind the university's ever-popular insect zoo. The zoo, which brings a variety of bugs such as Australian walking sticks and Madagascar hissing cockroaches into local elementary schools, has been running since 2018. To date, 1,381 students have had the chance to learn the basics of entomology through the wonder of observing and interacting with live, six-legged creatures.
Pakpour, along with the biology students who help her, are buzzing with excitement to be  sharing the insect zoo with Hayward elementary students once again after the hiatus caused by the COVID-19 pandemic.
"It just sparks so much curiosity and interest about the natural world,"
Pakpour values the zoo visits as a unique educational opportunity, but she is also passionate about how exposure to the insect zoo can complement existing curricula. 
"A lot of what they're learning scientifically in those grades has to do with life cycles, evolution, ecology, and there's a lot you can get from that by playing with insects … It just sparks so much curiosity and interest about the natural world," she said.
Classroom visits from Pakpour's insect zoo are a thrilling, albeit sometimes nerve-wracking experience for the elementary students. "I would say by the end of the visit, every kid has gotten up the nerve to hold them," Pakpour said.
Younger kids are not the only ones getting involved. Pakpour's Cal State East Bay students receive special training in how to maintain the insect zoo and handle the bugs, and also take them into classrooms independently.
"I want teachers and the public to know how much joy it brings our Cal State East Bay students to be involved with the insect zoo. It's a really awesome thing to go into a classroom as a student and be reminded of how much you know and have learned," Pakpour said.
The experience has gained enough renown over the past four years that to meet demand, Pakpour and her Cal State East Bay students will now be doing both in-person and virtual visits with multiple cameras and angles.
Increasing the availability of the insect zoo is important to Pakpour, who believes the experience offers a prime way to promote college and potential STEM career paths to younger kids in Hayward and surrounding areas. 
"It's really lovely to see the diversity of students we have at Cal State East Bay. It doesn't really fit the elementary students' ideas of who a scientist is. It's nice because they can see their futures ahead of them. These are students that look like them and come from their communities, that speak their languages, and they're doing science, so it makes it much more accessible."
Visits from the insect zoo are free for all teachers and can typically be scheduled Monday through Friday, with advance notice. Teachers and other educators can choose in-person or virtual visits on the insect zoo website, where the program also accepts donations that go directly toward maintaining the insects.