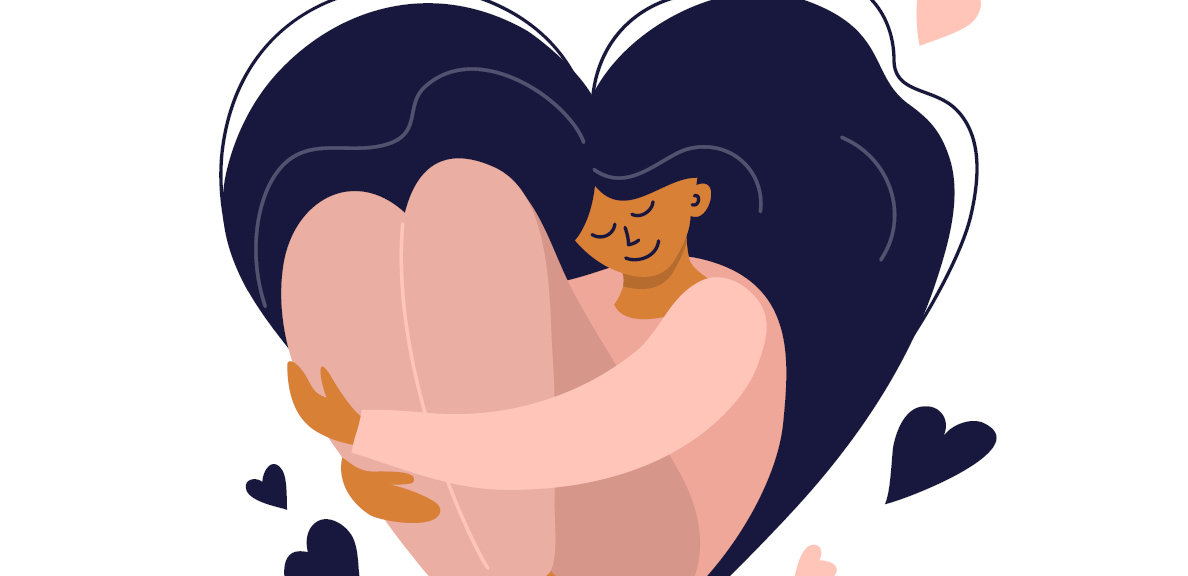 Self Care: Lessons Learned After Two Years of the Pandemic
BY Cal State East Bay
March 16, 2022
It has been two years since California's stay-at-home order went into place — starting a ripple effect that is still being felt today. 
Since 2020, the COVID-19 pandemic has resulted in the death of more than 87,000 Californians, and 6,000,000 worldwide. Businesses have closed–some for good–and students, teachers and parents waded through the immense challenges of distance learning. First responders, including nurses, doctors and social workers, are still working tirelessly to tend to the needs of patients, despite vaccines and other public health practices. 
We asked leaders in the departments of social work, education and nursing to talk about how COVID-19 has changed the lives of those in their industries. More importantly, they shared how professors are ensuring self-care is part of the conversation with students–our future health care professionals–in their classrooms. 
Social Workers
Sarah Taylor, MSW, Ph.D., Chair, Department of Social Work
March is Social Work Month, and as we approach the two-year mark since our state shelter in place order, it's a good time to honor social workers who have been working on the front lines of the pandemic in health care, mental health, housing, schools, youth services, older adult programs and many other sites where people seek support. 
There's been a workforce shortage for social workers for many years, and the demand for social workers is anticipated to grow as people recover from the disruption and trauma caused not only by COVID-19, but also racism, transphobia, ableism, and other forms of oppression.
Self-care tips for social workers:
The best self-care for social workers would be working within a more just society that causes less harm and having the resources needed to do our jobs well, including manageable caseloads, supportive supervisors and appropriate compensation for the high level of expertise and commitment we bring to the job.
While advocating for these things, here are some self-care tips for social workers:
Use whatever influence you have, whether as the leader of a work group, head of a department, or team member, to support work-life balance. We need to work together to counter a culture of overwork that leads to burnout.

Reject toxic saviorism and practice passing the mic.

Engage in at least one daily practice that nourishes you. These practices can be as simple as taking ten minutes for some deep breathing, spending time in nature, making art or whatever else brings you a moment of peace.

Make space in your life for authentic connections with people you really care about, whether they are family members or close friends.
Educators
Eric Engdahl, Ph.D., Chair of Teacher Education
Teachers are nurturers. They join the profession because they want to help others. We know that the last two years have been challenging for students in all grades. Many have been traumatized by their experiences during COVID and most have lost some social and emotional skills necessary for school. The same is true for teachers.
So we are faced with the problem of teacher burnout. They are teaching and caring for their students and because the majority of teachers are women they are often caring for families as well. 
Self-care tips for educators
The easy answer is to take "me time," and while relaxation and time to "check out and chill" is great, it is not enough. One may have a day at the spa or a night out but that really doesn't do much to address the problems underlying the burnout. 
Understand what coping skills you have to address issues that arise during the day. These include quiet times, breathing exercises, knowing what your emotional triggers are and how to circumvent them. One simple breathing exercise for relaxation and calming is to sit quietly, breathe into the belly for 5.5 seconds and then exhale for 5.5 seconds, emptying the lungs. Repeat ten times.

Resiliency is rooted in relationships. Perhaps the best thing teachers can do for themselves is to focus on their relationships with their students. Are teachers taking time to talk AND listen to their students? Frankly, "catch-up" learning has to wait while students and teachers rediscover how to be with each other. A student who was a 4

th

grader when the pandemic started is now in middle school! That student needs help in processing those changes. At the same time, teachers need to remember that they are human and they need to stay connected to family and reconnect with friends. Teachers need to give themselves and their students a break, it took over two years of COVID for us to reach this point and it is going to take time to heal from it.
Nurses
Claire Valderama-Wallace,MSN Program Coordinator and Assistant Professor of Nursing
Marissa Rafael, Clinical Nursing Instructor and Lecturer 
The lives of nurses have been forever changed. Nurses have lost their lives due to inadequate protection. Nurses have lost patients, taken care of whole families who have gotten sick, and have had to deal with "running on empty." They are tired, and have learned to lean on each other. Teamwork is what has gotten people through. 
Self-care tips for nurses
Take care of yourself in order to care for others

Go back to the basics — Safety of others and respecting others is what will ultimately help through the hardships.