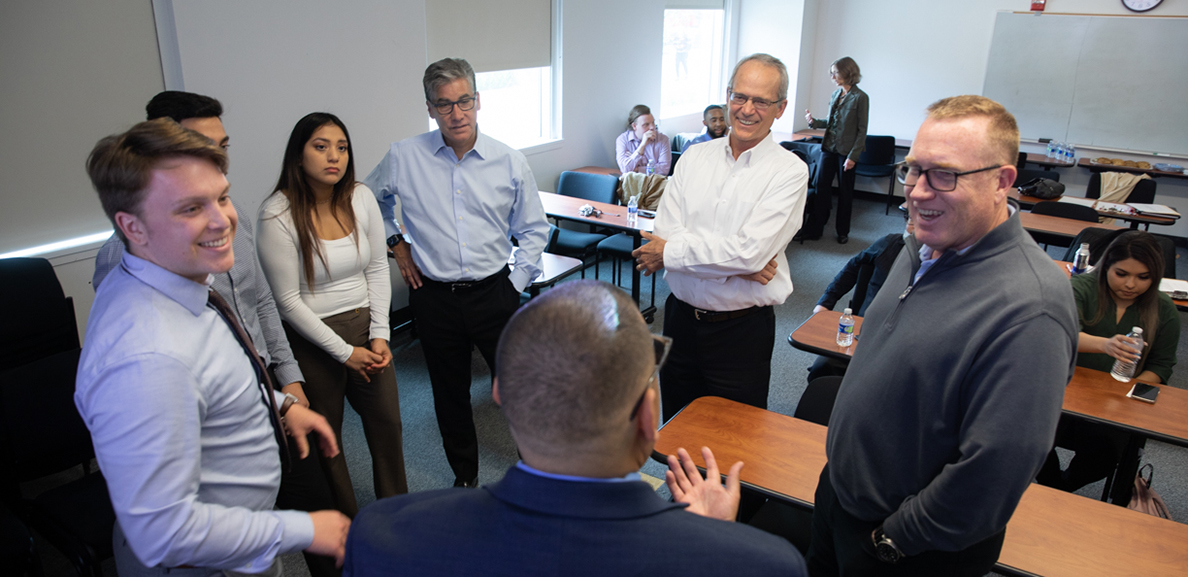 An Investment in Students
BY Stephanie Hammon
PHOTOGRAPHY BY Garvin Tso
May 16, 2022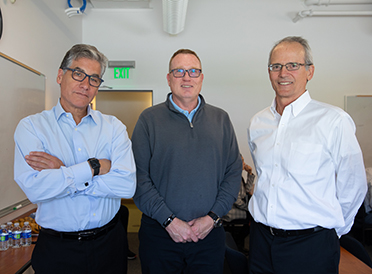 Contributions from donors Ken Pereira, Mike Coke and Mike Dance helped launch the Student Investment Fund.
Garvin Tso
Dressed in sharp business attire and equipped with sleek powerpoint presentations, the students in Brian Du's Finance 425 class pitched their recommendations for an investment portfolio. Each student was trying to make the case for their carefully selected stocks to be part of the initial Cal State East Bay Student Investment Fund.
The fund — made possible by alumni donors Mike Coke, Mike Dance and Ken Pereira — benefits Cal State East Bay students in multiple ways. It gives finance majors hands-on experience with building a real investment portfolio. And that real money will — if the students' investment choices are wise — grow, eventually benefiting more students in the form of scholarship funds. 
Coke and his wife Shirley's initial investment helped get the Student Investment Fund off the ground. George Low, the College of Business and Economics' (CBE) dean at the time, shared the idea during a meeting to try to re-engage Coke with his alma mater. Coke was immediately on board.
"I always thought every school should have one of these funds," Coke said. "(Dean Low) walked me through what his vision was and I thought it was excellent. I told him I could contribute money, I could help raise money, I would help get involved with the students if you want me to. Now it's finally been executed and it's super exciting."
As part of the course, Du's students were each assigned an industry segment to study and were tasked with recommending a handful of equities each to a board of directors consisting of the three donors as well as three CBE faculty members. Coke, Dance and Pereira as well as the finance faculty asked questions and gave feedback about the stock recommendations after each student's presentation.
"I was impressed with the thoroughness with which each student analyzed their assigned industry segments and how well they researched and understood the specific businesses they recommended," Pereira said. "They took this assignment seriously, deeply understood the companies they were recommending and presented their recommendations enthusiastically."
A majority vote was needed for a recommendation to be selected into the fund. Of the 39 recommendations, 29 were approved by the board and will be part of the initial Cal State East Bay Student Investment Fund.
"Based on the students' hard work and diligent analysis, I'm confident of our final picks," Du said.
Coke was similarly pleased with the students' preparedness, seriousness and thoughtfulness. 
"It was just a great moment," he said. "I was really happy. I went home and told my wife that I was really glad we got involved with this."
In his role as president and co-founder of the Terreno Realty Corporation, Coke has worked with students who have been a part of similar funds at other universities. He hopes the Cal State East Bay Student Investment Fund continues to evolve, providing students with unique real-world opportunities to make connections and gain experience in the business world.
"These students got to learn not only about how you should value a company and how to invest, but they also got the experience of going out and talking to companies," Coke said. "How do you act in a meeting? How do you dress for the meeting? What's the right way to ask questions? All those little things. I saw that as a wonderful thing for students to get exposed to. It's an opportunity that's much more than learning a skill."